Management Assistance Program
The Practice of People Law
By Jim Calloway
There is people law, and there is business/corporate law. Over the years, there has been a greater divergence in these two types of law practice focuses. But today I'm going to make the case that increasingly, these are completely different types of law practices, with different types of challenges and processes.
Some will believe this is obvious. I believe it is not only true but profound. I view it as profound because consideration of the differences should inform and impact the method of legal service delivery depending on the type of client.
So why so different?
People Law
The lawyer practicing people law may have a few long-term clients, but mainly represents individuals with their personal legal problems. This type of practice, by necessity, features a revolving cast of clients. Clients come in with a problem. The lawyer resolves the problem. The client pays the final bill and then becomes a former client, hopefully a satisfied former client who becomes a source of referrals for the lawyer. Many who hire lawyers are often seeking help from the lawyer
with something about which they know little to nothing. And some of what they "know" is not correct. While individuals can certainly get themselves entangled in very complex legal situations, the bulk of this work can be somewhat routine. An increasing portion of this work can be delegated to subordinates or technology-automated tools. Constant marketing efforts are required to keep the practice functioning well.
Business/Corporate Law
Many attorney-client relationships in this sector are long-term relationships. This complex work is often very intellectually stimulating and emotionally rewarding. This lawyer succeeds by developing deep expertise and frequently showcasing that expertise by speaking at industry events and other CLE programs. But the big difference between this and people law is the client representative. Often the outside firm is hired by corporate general counsel. A status report to another lawyer is quite different than explaining matters to a client not familiar with the system. Even if hired by a company officer, it will still likely be someone familiar with many aspects of the legal system and the firm's past experiences. While the lawyer practicing corporate/business law should be actively pursuing new engagements and new clients, much of a lawyer's billable time is devoted to working on existing clients' matters.
So, the people law client needs much more basic information on what happens next, what action should or should not be taken and how the entire process will play out. Repetition to assure the client has a clear understanding is important in many cases. By contrast, repeating items to an assistant general counsel frequently may bring a good-natured response that you seem to be padding the bill.
Trends in People Law
Many of my thoughts on the shifts in practicing people law are based on the research of Professor Bill Henderson, professor of law at the Indiana University Maurer School of Law where he holds the Stephen F. Burns Chair on the Legal Profession. Professor Henderson is a great writer and his Legal Evolution site contains a large amount of data about the legal profession and analysis of the data.
Professor Henderson notes in his post "The Decline of the PeopleLaw Sector (037)": "Although total law firm receipts increased from $225 billion to $246 billion, [from 2007 – 2012] receipts from individuals declined by almost $7 billion. That's a staggering sum."
There are several possible reasons for this. It may be that some access to justice efforts to reduce the cost of some legal matters have been effective. It may reflect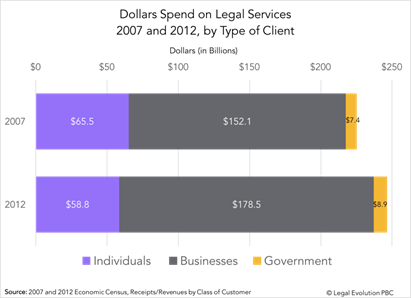 significant inroads by the online legal services providers that are not attorneys. But it's inescapable that corporate and government spending on legal work increased during this period while law firm revenue from individuals declined.
Professor Tom Sharbaugh¹ has highlighted the importance of those he calls "primary-care lawyers." In his post "In praise of the primary-care lawyer (194)," he observes some differences between urban and non-urban lawyers:
The non-urban lawyers whom I have encountered through the clinic are generally far less specialized than urban lawyers. The non-urban lawyers generally break down into two broad categories: those who do litigation of every type (personal injury, criminal, divorce, and commercial) and those who do everything else (buying and selling businesses and real estate, loans, leases, employment, tax and estate planning, etc.). Urban lawyers often belittle the skills of the non-urban lawyers, but based on my experience in both worlds, the non-urban lawyers deserve much more credit. They are the primary-care lawyers who develop recurring relationships with their clients and need to field a much broader range of questions and projects than specialists living in urban locales.
I like the term "primary-care lawyers." This may be one of the biggest differences between people law and corporate/business law. Business lawyers can have a very narrow expertise, particularly if they are in a large firm where other lawyers have expertise in other areas. With people law, one must have a much broader perspective covering a wide range of substantive areas. Another medical analogy would be triage. Sometimes emergency advice is needed. Sometimes the law firm can handle the case. Sometimes the matter needs to be referred to another lawyer. Sometimes one must explain to the client the legal system doesn't offer a remedy for the harm they have suffered.
Professor Henderson's post "Eight updated graphics on the US legal services market (285)" incorporates more data and reveals several trends that he says should give those of us in the profession pause. I'd encourage you to read it. Here is one of the eight graphics.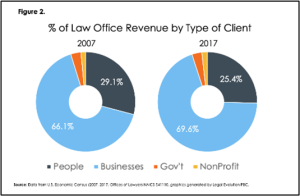 So, having considered the data, let's cover a few possible action items lawyers may want to incorporate into their people law practices.
Building an Improved People Law Practice

No doubt many lawyers already use some or most of the following ideas.
Beginning the Attorney-Client Relationship
After the lawyer has been retained and an attorney-client agreement has been executed, steps need to be taken on the underlying legal matter. But throughout the representation, we want to continue to have a client focus, not just a focus on the legal issue.
There is frequently a lot of emotion associated with many people law matters. People law involves individual clients, many of whom had no idea they would have this legal problem. Being sued, fired, arrested or foreclosed isn't planned. The client may have no idea what to do and may receive bad information and poor advice from well-meaning friends and relatives. Being evicted from your home or having a court determine who gets custody of your children are deeply personal events, and the emotion is understandable.
Empathy is an important attitude for the people lawyer. For many clients, their legal peril feels like the most challenging situation they have ever encountered, and for many it is.
For generations, lawyers have attempted to reassure their clients by saying things like, "You've been worrying about this for a long time, and now that you have retained our firm, you should try to let us worry about it while you worry about it less." That's still a good tool in today's times. You should also consider near the end of the initial interview asking the clients specifically what they are worried about and addressing the points they raise.
I think the new client should leave with several physical documents. First is a copy of the executed attorney client agreement. I also believe your law firm should prepare and distribute general client handouts about each type of matter. Part of the anxiety about the legal process is uncertainty about the future. While lawyers cannot predict the ultimate outcome, they are certainly aware of the steps ahead in the process. So, a timeline of how generally things proceed may be very helpful.
I'm all for paperless processes and handing things electronically when possible. But I think it's a positive for the client who has just hired your law firm to leave with physical documents, including perhaps the initial projects the client needs to work on. If you are using client portals, certainly place digital copies of the handouts there as well.
But more law firms will be using on-demand videos to inform clients because many people today would prefer to learn from a video than read a document. So many law firms will be creating client videos for certain situations. These tools for existing clients are different than videos the law firm might use for marketing. These videos should cover basics like "giving a deposition" or "appearing in court." You will probably want to store the videos in a "client-only" area.
Letting the client watch a "long" (e.g., 15 or 20 minute) video before an office conference with the attorney in person for something like deposition prep can reduce the client's bill and focus the face-to-face meeting on the unique issues with this deposition. Some lawyers may be concerned about the impact on revenue from providing part of your client advice at no charge via video. But this relieves you from a routine task, allowing you to focus on the important aspects of this deposition when meeting with the client.
Automation
There are many non-billable tasks associated with representing a client. Every one of those that can be automated saves the law office time and money. You personally probably send out a dozen "form" emails regularly with just names, dates and matters differing. But your staff likely sends out many more. Set up Outlook email message templates to insert template language into a blank email with one click. Allowing online scheduling of appointments is a big plus for the people law clients, especially those who have been reviewing your website after business hours. Automated document assembly is also important, particularly on flat-fee work.
Marketing
The people lawyer must be constantly marketing to replenish that revolving cast of clients. Increasingly that means online marketing. (Although cultivating a strong referral network is also very important.) Despite its drawbacks, social media is extremely useful in this regard. Targeted ads on Facebook can be narrowly focused. But a website is still very important. Today I believe the site must have pictures of all the firm's lawyers. While you may really like that great picture of you taken 15 years ago, consider having a professional photographer take some new pictures of the team. The pandemic has clearly boosted shopping online, and people now shop for everything online, including legal services. If you want someone to purchase your services, you need to be where the potential clients are.
The Client Experience


Here's an opportunity to do some research on your law firm's services. Pick a few good former clients who you believe will be candid with you and invite each of them to a one-on-one lunch with you. Ask them what they liked about the representation, what they didn't like and if they have any suggestions for improvement. At worst, you get to enjoy lunch with a former client who will be reminded they can refer new clients to you. At best, you get some great suggestions about aspects of your service delivery you can improve.
Discussing Fees

The people law sector is very sensitive to prices. This is especially true for those clients who have never hired a lawyer before but have heard for years that lawyers are very expensive. It is important to explain your method of billing and any required retainer during the initial consultation. Flat fees are very popular with the consumer market because they easily understand how much this will cost. If the lawyer is doing flat-fee work that has some contingencies that would increase the fee, make sure that information is very prominent in the fee agreement. You might even have your client initial those provisions. Then on flat-fee cases, one uses delegation to staff, templates, document assembly and other tools that reduce the time the lawyer personally spends on a matter to make these matters profitable while still maintaining quality control.
The Office Phone Lines
When I first started practicing law, it was customary for some small law firms to not answer the phone during the lunch hour. If you are doing that and it works for you, please continue. But people sometimes need to call their lawyer over their lunch hour and, even if you are unavailable, it is better for them to talk to a person than have an unanswered phone call or be offered only voicemail. Virtual answering services are affordable and can be given information like available times to schedule appointments. But let's not forget so many people hate talking on the phone so an alternative, such as a secure form on the website to send text inquiries to the lawyer, should be considered as they can operate 24 hours a day.
The Office Environment
Large law firms tend to have impressive office space and reception areas. This is appropriate and necessary. People law practices have a bit more of a tightrope to walk. Obviously, the premises need to be clean and inviting. But you may want to avoid an office so well-appointed that the first thought of a prospective client is whether they can afford you. I have always been a fan of having brochures in the reception area covering all the major practice areas of the firm.
CONCLUSION
If you primarily practice people law, you were already aware of much of this and use many of these practices. Hopefully this gives you ideas on what possible improvements you should explore. People law can be both emotionally challenging and emotionally rewarding. Once a former client stopped by my office just to tell me she had turned 18 and was no longer involved with the juvenile system. I had been appointed to represent her in a matter that was fairly simple to resolve and hadn't seen her for a few years. She just wanted me to know how much she appreciated my advice and counsel, not just about the legal matter but about life. We visited about her plans going forward.
So that was one of those non-cash returns from a people law practice.
——————————————–
But wait, there's more!
Special bonus offer to those who read all the way to the end.
If you haven't watched my CLE program from last summer, "The Changing Dynamics of a 'People Law' Practice," we have a special offer for you. Log in to the OBA-CLE website, search for "people law" and add this program to your cart. Then at checkout enter the code HelpPeople2022 to get a $25 discount, so you can watch this program and obtain an hour of Oklahoma MCLE credit for only $15. The offer expires at midnight on June 15.
Mr. Calloway is OBA Management Assistance Program director. Need a quick answer to a tech problem or help solving a management dilemma? Contact them at 405-416-7008, 800-522-8060 or jimc@okbar.org. It's a free member benefit.
Endnotes
[1] Tom Sharbaugh is a professor of practice at Penn State Law and the director of the law school's Entrepreneur Assistance Clinic. 
Originally published in the Oklahoma Bar Journal — May, 2022 — Vol. 93, No. 5