Management Assistance Program
Shortcuts – The iOS Automation Tool You Didn't Know You Needed (May 18, 2020)
Technology give us the ability to automate many things. But most iPhone and iPad-using lawyers have not looked at the many things that can be easily automated on their devices with Shortcuts.

These tools that chain together various operations can be triggered by you, often with Siri, or can be set to happened automatically, such as when you arrive at a certain location. (e.g. When I arrive at the courthouse parking garage or get out of my car with 50 yards of the courthouse, mute my iPhone's ringer.)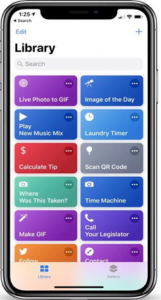 One lawyer has four things set to happen when he enters his gym, including the phone beginning his workout playlist.
Learning Shortcuts is easy because many Shortcuts which have been created by others are available in the Gallery for you to use. So, it is easy to get started and see how Shortcuts work. And if someone has already created the exact automation you wanted, you just install the Shortcut and you are ready to go.
Famed iOS-focused legal tech consultant, David Sparks has created a Shortcuts Field Guide, iOS13 Edition. You can subscribe to his course for $29. Apple has a free basic user guide as well.