Management Assistance Program
iPhone Users Should Pay Attention to the Many New Features of iOS14 (September 23, 2020)
Some iPhone users can't wait to see what the new iOS update will bring. Others don't like that changes come to their phones with software updates. I know one lawyer who refuses to let automatic updates install because "the last thing I want first thing in the morning is to learn my phone changed overnight."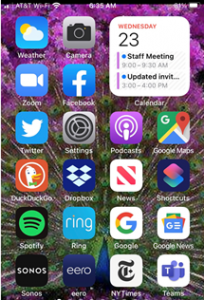 But iOS14 is worth the effort. Just look at the graphic of how you can improve your home screen to show your next two scheduled events by using the improved widgets on the home screen. Doesn't every lawyer want to do this?
The Verge calls it a Revolution— iOS 14 and iPadOS 14 review: iPhone revolution, iPad evolution (Subtitle) It's time to blow up your iPhone's home screen.
C|Net's You need to know these 9 hidden iOS 14 and iPadOS 14 features is a great starting place to learn of the possibilities.
iOS14 itself installs a widget to See What's New in iOS14.
IPhone JD's Jeff Richardson recently posted an In the News Item with links to his review of the features and posts from many others.
You can unlock your phone and see your next two appointments without clicking on anything (or click on the widget to open your calendar.) That's a good starting place for customizations.