Management Assistance Program
Send Link to Request Files from OneDrive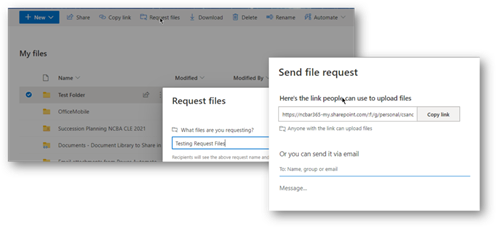 By this point you have likely learned how to use Microsoft OneDrive to share files with clients in a more secure manner than email attachments. In addition to that, now you can send a link to a client to request that the client securely sends files to you. This could be really helpful if a client needs to share personal information with you.
In MS OneDrive, create a folder and then select that folder and look in the options at the top of the screen. Choose "Request Files".  A dialog box will appear, and you can specify the files you are requesting, for instance: "Please send us a copy of your driver's license, proof of current address and three paystubs" then click Next. In the next dialog box, you can add the person's email address and instructions to send the request via email, or copy and paste the link into a document.
The recipient of the link does not need to have a Microsoft account. Once the files have been uploaded you will receive email notification and the uploaded files will have the name of the sender appended to the file name (e.g. jim_calloway_paystubs), which is handy if their file names aren't very descriptive. Here are the full instructions.
Request files is only available for OneDrive for work or school accounts and your MS 365 admin must enable Anyone links in OneDrive. Please contact your admin if you don't see this feature. This feature is not available for Office 365 Government, Office 365 operated by 21Vianet, OneDrive for home, or Office 365 Germany.
If you do not have MS 365 there is a similar feature in Citrix ShareFile and undoubtedly other web-based document repositories. You can also check out the subscription service Pipe|File, which lets you create templates to request files securely, which is very handy if this is something that you do on a frequent basis. Pipe|File will also send reminders to the recipient and let you add a deadline.