Management Assistance Program
Put This on Your List— Microsoft Lists
By Jim Calloway
We all make lists, from grocery lists to "to do" lists to lists of legal project tasks. In the past these lists were all on paper.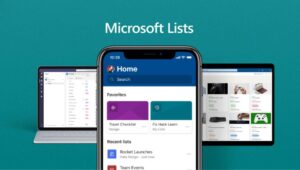 Now there are options to keep lists on digital devices. Many lists are transitory and discarded after the items are completed. Others are worth saving for future use, e.g. camping trip packing list.
Today I'm going to suggest you install and try a new free app – Microsoft's Lists. It's not exactly a new app, having been launched in 2020, first to only Microsoft business customers. But now Microsoft has released it to iOS apps, Android apps and on the web for anyone who has a Microsoft account login. So all of your important lists can be accessed by your phone.
You can easily share a list with others who can add their own items. Maybe you and your significant other want a better tool to create a joint shopping list. Or you want to use this tool to organize all of relatives' contributions to Thanksgiving dinner. It should be valuable for things you may only do rarely.  For more ideas on how this tool can be used, read Microsoft Lists is now available for everyone on iOS, Android, and the web on MSN.com.
Originally posted in Oklahoma Bar Association's Courts and More, October 11, 2023.