Management Assistance Program
Protecting Your Clients When You Aren't Able to Help
By Jim Calloway
Lawyers often deal with the challenges that occur when people die without making a last will and testament. One result is sometimes intestacy laws distribute property differently than the deceased might have wanted. Additional expenses and legal fees are almost always a result.
Similar challenges and expenses can occur when a lawyer dies or is disabled without leaving instructions as to how matters should be handled in their absence, whether permanent or temporary. The burden of deciding what to do falls on your spouse or other heirs, even though sometimes local lawyers may pitch in to help. But even if another lawyer agrees to help wind up a practice, do your heirs understand the client files must be first reviewed as that lawyer may be opposing counsel or have other conflicts related to some of the files? Those files should not be given to the assisting lawyer and another lawyer will have to help with those, even if only transferring them to your former clients.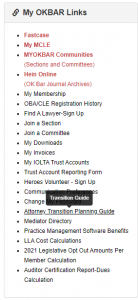 Planning Ahead Guide: Attorney Transition Planning in The Event of Death or Incapacity is a guide the OBA provides to Oklahoma Bar Association members. It is detailed and comprehensive, containing forms to use in planning and execution. The Planning Guide is available for free download. Log into My OKBar and select Attorney Transition Planning Guide from the list of links at the right. Your heirs may not know who an appropriate lawyer would be to be the Assisting Attorney to aid them. It will go much smoother if you have secured the Assisting Attorney's agreement to help them in advance. Even if you haven't finished everything the Planning Guide suggests, just accomplishing those steps will provide your heirs much peace of mind and help them get started.
And if you are a lawyer who keeps the originals of clients' wills and estate plans, you will want to review the section beginning on page 69 "Why Did We Ever Want to Keep Original Wills?"