Management Assistance Program
Outlook Quick Steps–The Tool You Already Own That Will Help You Process E-mail Faster.
By Jim Calloway
We all agree that email is a pain and sometimes managing email seems like a separate job by itself. But Outlook users have one great tool for processing email that is already built-in. It is called Outlook Quick Steps. Being able to accomplish several email actions with one click is a significant time-saver.

I've written about Quick Steps before, but a recent Attorney at Work post does a great job of explaining how to easily get started with Quick Steps. So, I would encourage you to read Process Email Faster with Outlook Quick Steps and perhaps share it with your office co-workers who also deal with email every day.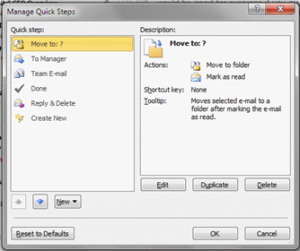 Start with a few simple Quick Steps. For example, if you often forward a certain client's emails to another attorney in the firm, a paralegal and a secretary, you can build a Quick Step that will open the email to forward and include those three individuals. Then you can either hit send or type some text before hitting send. The time savings is small, but real, especially when repeated many times each day. If you send similarly-worded emails out frequently, you can create a template with the text automatically included in the email body.
Saving minutes each day can add up to more billable hours or more times away from the office.