Management Assistance Program
Gmail and Photos Content Deletions Will Begin December 1. Do You Have Data at Risk?
By Jim Calloway
This warning is legitimate – unlike other "urgent" warnings we see on social media platforms. It applies to those who have not used their Google accounts for two years. Google has been sending warnings both to the Gmail account and the recovery email if one was provided.
Avoiding the deletion is simple if you can access your account. Just use the account before December 1. Send yourself an email.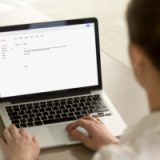 Even performing a Google search while logged into Google or reading an email in your Gmail inbox will suffice. For much more information see "Gmail and Photos Content Deletions Will Start December 1, Google Says" on Forbes.
I'm not as concerned about an old Gmail account that you haven't used for many years. If you haven't accessed it for that long and it doesn't contain any client information, it is probably best the data is deleted. But photos could be irreplaceable, and in the past, you may have stored photos with Google Photos or stored information on Google Drive or Google Docs. Google explained that these inactive accounts are a "compromise waiting to happen."
Originally posted in Oklahoma Bar Association's Courts and More, November 22, 2023.