Management Assistance Program
An Improved Picture. But Is It Admissible?
By Jim Calloway
Google is now airing TV commercials about Best Take, an AI-powered feature, on the Google Pixel 8 phone. It can be challenging to take a group shot without someone with their eyes closed or an awkward expression, particularly if children are involved. We all have learned to take several pictures and pick the best one,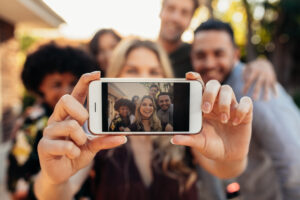 which still may not be perfect. The Pixel's Best Take feature can improve your photographs of group shots and family events, by comparing the series of shots, picking the best facial expressions, and combining these best poses into one picture. Hopefully you can create a great result where everyone is smiling and no one's eyes are closed. For most camera phone users, this sounds like a great feature. For more information see "What is the Pixel 8's new Best Take feature and how does it work?" from Pocket-lint.
But while Best Take can generate a much better "selfie shot," the result is now a digitally altered picture. Improved without a doubt, but perhaps a challenge for any lawyer seeking to admit the photo into evidence. What about a too-dark picture that has been lightened? Or was taken in Portrait Mode? The tip to trial lawyers is if a picture is important evidence, ask if it has been digitally altered and whether there is a similar picture that hasn't been? AI makes it much easier to alter pictures or create fake pictures. So, sadly, this won't be the last item you read about digitally altered photographs.
Originally posted in Oklahoma Bar Association's Courts and More, November 15, 2023.