IN THE MATTER OF THE SUSPENSION OF MEMBERS OF THE OKLAHOMA BAR ASSOCIATION
2021 OK 36
Case Number: SCBD-7059
Decided: 06/07/2021
As Corrected: June 10, 2021


GUZMAN v. GUZMAN
2021 OK 26
Case Number: 117918
Decided: 05/25/2021
As Corrected: June 9, 2021
¶0 Respondent/Appellee Adrieanna Guzman (Adrieanna), an adoptive parent of a minor child, seeks review on certiorari of a published opinion by the Court of Civil Appeals, Division II, filed on January 6, 2020, reversing a decision by the Honorable Barbara Hatfield, District Judge, Canadian County. The trial court dismissed the petition for paternity filed by Petitioner/Appellant Carmen Guzman (Carmen) against her spouse Adrieanna Guzman. The child was adopted by Adrieanna, but was not adopted by Carmen. We hold Carmen, as a step-parent did not have standing, and we vacate the Court of Civil Appeals's opinion and affirm the trial court's order dismissing the petition for paternity.

Oklahoma Court of Criminal Appeals
No published opinions this week. 
Oklahoma Court of Civil Appeals
No published opinions this week. 

Ballot Deadline Friday

JNC ballots for District 5 or 6 must be returned to the Oklahoma Bar Center by 5:00 p.m. on June 18. The election is to fill vacancies on the volunteer Oklahoma Judicial Nominating Commission.
Joel C. Hall, Oklahoma City
Jimmy R. Harmon, Oklahoma City
Gary W. Wood, Oklahoma City
David K. Petty, Guymon
Jason P. Blose, Wellston
June 18, 5 p.m. - Ballots must be received at the Oklahoma Bar Center

June 21 - Ballots tabulated and election results posted
The first of the six-week Summer CLE Series kicks off next week with a compelling offering of virtual classes that range in topics from "people law" to "deposition disasters" plus some valuable technology information. Courses continue through July for this 2021 alternative to the Solo & Small Firm Summer conference that is scheduled to make a triumphant return in 2022!
Registering for the bundle of all six courses will save you money, or you can purchase single courses. If you register for any Summer CLE Series course, you'll receive an invitation to the July 30 Summer (in person!) Mixer at the Jones Assembly for $20.

Excitement is building for the 2021 OBA Awards program. After such an extraordinary pandemic year, this is a time to shine the light of appreciation and recognition to a colleague, friend or mentor. Use the form below to make nominations before the July 1, 2021, deadline. Did you know that anyone can nominate for one of the 15 categories, including members of the public? So please help spread the word.
NOTE: Make your "reasons" for nomination as robust as possible to help the Awards Committee as they make selections. The attachment option can include a resume, article or any supporting information to make a strong nomination, but must be limited to five pages.
Award winners will be celebrated during the 2021 Annual Meeting, Nov. 10 - 12.

While the Oklahoma Bar Journal is on summer hiatus, we want to share the information about members who have passed away.  Read the In Memoriam. 
View the List of July 2021 Bar Applicants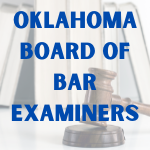 The Oklahoma Rules of Professional Conduct impose on each member of the bar the duty to aid in guarding against the admission of candidates unfit or unqualified because of deficiency in either moral character or education. To aid in that duty, review a list of applicants for the bar examination to be given July 27-28, 2021.
The Board of Bar Examiners requests that members examine the Applicants for July 2021 Bar Exam, and bring to the Board's attention in a signed letter any information which might influence the board in considering the moral character and fitness to practice of any applicant for admission.
Advertise with the OBA
Utilize the OBA Classifieds to reach Oklahoma lawyers. The digital Classifieds page is visited more than 1,000 times a month.
Law Firm Guide to Cybersecurity
By Jim Calloway
Ransomware and other online attacks have been in the news recently, from shutting down the Colonial Penn pipeline to schools, hospitals, and a meat processing company. FBI Director Christopher Wray has asked victims not to pay ransoms. But the cybercriminals now have a new threat. If the ransom is not paid, in addition to not decrypting the victim's files, the new threat is all the stolen data will be posted to the dark web for other bad actors to view and download.
That should terrify every lawyer. Read more.
WATCH! Pres. Mordy's Member Minute About Hein Online
Speaking of Hein Online AND Ethics ...
How do those things go together? We wanted to remind you about the new MCLE requirement for TWO ETHICS credits as part of your 12 annual continuing legal education credits. The change is new beginning in 2021. The new rule doesn't require more total CLE, just an additional legal ethics credit.
OBA Ethics Counsel Richard Stevens wrote about the change in his column in the November 2020 Oklahoma Bar Journal. Sure, you can find that article in the OBJ archives on the website, OR you can find the article at Hein Online, (login to your Hein Online account via MyOKBar). It's worth another read no matter where you find it.
By the way, the Summer CLE Series has an ethics CLE offering called Deposition Disasters - A Presentation on the Standards of Professionalism presented by Chad Kelliher. Check it out.