President's Message - September 2021
Every Lawyer Can Enjoy Camaraderie During Annual Meeting
By Mike Mordy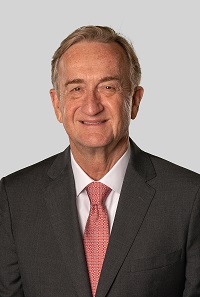 In May, I attended the Seminole County Law Day festivities in Wewoka and it was fabulous. Judge Deborah Barnes of the Court of Civil Appeals spoke in the morning, and OBA Executive Director John Morris Williams gave a short presentation after the luncheon. The luncheon was on the front lawn of the courthouse, which started with the Pledge of Allegiance to our flag followed by all of us singing "God Bless America." However, I thought the best part of the celebration was the camaraderie shared amongst the members of the Seminole County Bar Association and the other attorneys who were present.
I have previously handled cases in Seminole County and have always noticed the camaraderie amongst the local lawyers. I believe camaraderie is an important aspect of life – especially in our vocation. It is the spirit of friendly good-fellowship shared amongst each other. I have noted this camaraderie to be exhibited in other counties, especially when I have appeared at motion dockets.
I ran in marathons at one time in my life and always enjoyed the great camaraderie amongst the runners and the bystanders. The camaraderie was exhibited by the encouraging bystanders standing in bad weather, cheering on the runners. The marathons were competitive; however, there was always a mutual desire amongst the runners to enjoy themselves, or at least attempt to enjoy themselves, which is similar to those in the legal profession.
There was probably more camaraderie amongst us as attorneys when we were first out of law school, because we were less sure of what we were doing. We still had a survival instinct from law school, which left us more tribal. We were more inclined to share courtroom disasters and ask each other practical questions. We become more self-reliant as we progress in our individual pursuits; however, we as attorneys evolve better from camaraderie because we can borrow from each other and expand upon ideas. Camaraderie also promotes civility and professionalism.
We lost some camaraderie amongst ourselves during the pandemic because of court closures, restrictions and isolation. Solo practitioners may have suffered even more due to the lack of fellow attorneys in their office. However, we can build back our camaraderie. This is important because it helps us perform better through greater energy and enthusiasm.
The annual mid-year Solo and Small Firm Conference has helped instill and promote camaraderie amongst bar members, but it has been canceled for the last two years due to COVID-19. The Annual Meeting, however, is scheduled for the second week of November. While we will have flexible attendance options to best protect the health of our members, I hope if you are healthy and able, you will join us in person to once again enjoy the camaraderie of your fellow legal practitioners.
Originally published in the Oklahoma Bar Journal – OBJ 92, Vol. 8 | September 2021.