General Assembly & House of Delegates
The most important association business of the year takes place Friday morning – OBA award presentations, updates from judicial and OBA leaders, elections and consideration of resolutions. For resolutions to be published in the official General Assembly and House of Delegates publication, proposed resolutions in bill format must be submitted to Executive Director John Morris Williams by Oct. 1. The deadline to publish proposed resolutions in the November Oklahoma Bar Journal is Oct. 14.
Kick off the last day of the Annual Meeting with a generous breakfast and a presentation by Oklahoma lawyer Jim Priest, CEO of Goodwill Industries of Central Oklahoma. The breakfast will be a ticketed event, free for delegates or only $30 for nondelegates.
2022 Leadership and Candidates
2021 President | Michael C. Mordy, Ardmore
Michael "Mike" Mordy is a fourth-generation attorney who practices law in Ardmore with the firm of Mordy, Mordy, Pfrehm & Wilson PC. He graduated with a BBA from OU in 1977 and received his J.D. from the OCU School of Law in 1980. He began his legal career as an assistant district attorney at the Oklahoma County District Attorney's Office, and from there, he went to work for an oil and gas firm in Oklahoma City. He has practiced law in Ardmore since 1985, where his current practice focuses on commercial and banking litigation, oil and gas law and ad valorem tax litigation. He is a member of the U.S. District Courts for the Eastern, Western and Northern districts of Oklahoma and the U.S. Court of Appeals for the 10th Circuit. President Mordy served as a member of the Judicial Nominating Commission from 2013 to 2018 and was chairman in 2019. He has served on the MCLE Commission, Clients' Security Fund Committee and OBF Board of Trustees. He also served on the OBA Board of Governors from 2004 to 2006 and was vice president of the board in 2008. He is involved in his community and is an active member of the First United Methodist Church. President Mordy has served or currently serves on the boards of the Ardmore Habitat for Humanity, Dornick Hills Golf & Country Club, Southern Oklahoma Memorial Foundation and Ardmore YMCA. He and his wife, Christy, have two children and one granddaughter. He will serve a oneyear term in 2022 as immediate past president.
2022 President | James R. Hicks, Tulsa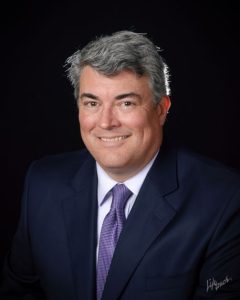 James "Jim" Hicks practices in Tulsa with the law firm of Barrow & Grimm PC. His focus is on the litigation and transactional needs of individuals and businesses. He also represents clients in probate, estate planning and family law matters. He attended OU and received his bachelor's degree in finance before attending the TU College of Law. Admitted to practice in 1985, he served as a member of the OBA Board of Governors from 2015 to 2019. He also served as president of the Tulsa County Bar Association from 2013 to 2014 and the Tulsa County Bar Foundation from 2017 to 2019. He has been recognized as an outstanding young lawyer by the TCBA and received the TCBA President's Award. In 1995, he was recognized as the OBA's outstanding young lawyer. Mr. Hicks participated as a member of Leadership Tulsa, Class XX. He has served as senior warden of St. John's Episcopal Church in Tulsa since 2013 and continues to volunteer his time to several nonprofit organizations. Married to Nancy Hicks since 1983, he is most proud of his granddaughter. Elected as 2021 president-elect and serving one year in that position, he automatically becomes president Jan. 1, 2022.
2022 Newly Elected Board of Govenors
SPECIAL THANKS TO OUR SPONSORS

Premiere Sponsors
LawPay | OAMIC | Clio | OBA Family Law Section | OBA Lawyers Helping Lawyers Assistance Program
© 2021 Oklahoma Bar Association. All Rights Reserved.
---
OKLAHOMA BAR ASSOCIATION
1901 N LINCOLN
OKLAHOMA CITY, OK 73105
OKBAR.ORG
405-416-7000
800-364-7886 (LAWYERS HELPING LAWYERS)
© 2020 Oklahoma Bar Association. All Rights Reserved.