The OBA Celebrates Law Day Sept. 30
By Ed Wunch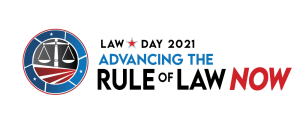 As we were preparing for Law Day earlier this spring, it was clear we would not be able to hold many traditional Law Day events around May 1. As a result, we made the decision to postpone Oklahoma's statewide Law Day celebrations to the fall, and fall is here!
Before discussing our statewide events, it is important to recognize the tremendous work by county bar associations across the state. Although the OBA postponed our Law Day celebrations, the ABA still celebrated Law Day on May 1. As a result, this gives multiple opportunities to celebrate Law Day this year. It was wonderful to hear about the virtual and in-person celebrations held across the state, as well as those events still planned for later this month. I encourage you to reach out to your county Law Day chair or county bar president to find out about local events near you. County Law Day chairs are listed on the OBA website at www.okbar.org/lawday/countychairpersons.
As we have done for many years, the OBA is producing Ask a Lawyer. Pandemic permitting, we intend to hold phone banks where lawyers can provide pro bono service by giving free legal advice from 9 a.m. to 9 p.m. In 2019, lawyers donated 400 hours of their time to assist more than 1,700 individuals for our last in-person phone bank. Even in 2020, when we were not able to hold in-person events, over 100 lawyers volunteered their time to answer questions by email. I hope you will be able to volunteer this year through the phone banks in Oklahoma City and Tulsa or through a possible outreach opportunity with your county bar.
ASK A LAWYER TV SHOW            
This year's Ask A Lawyer program will air Thursday, Sept. 30, at 7 p.m. on OETA, Oklahoma's public television station across the state. This year's topics include bankruptcy and a spotlight on the legal clinics at OU, as well as additional segments. Angela Buckelew will host, and we welcome a new panel moderator, OBA member Lorenzo Banks.
The bankruptcy segment will feature Oklahoma City attorney Luke Homen of Luke Homen Law PLLC, who assists clients across the state with Chapter 7 and Chapter 13 needs. Mr. Homan's client will share his story about how bankruptcy protection helped his family during a difficult time.
The OU Legal Clinic segment will feature Amy Pepper and Rebekah Taylor, who are both professors at the OU College of Law. Ms. Pepper and Ms. Taylor will share how the clinic assists low-income individuals in both civil and criminal cases.
OBA President Mike Mordy will share information about OklahomaFreeLegalAnswers.com, where income-eligible individuals can get free answers from volunteer attorneys. Oklahoma Supreme Court Chief Justice Richard Darby will share his thoughts on this year's theme and will recognize the Law Day contest winners.
CONTESTS AND ACTIVITIES
As I mentioned in April, we received Law Day contest entries from 1,288 students across the state focused on this year's theme, "Advancing the Rule of Law Now." Despite the pandemic, this is an increase in the number of entries received in 2020. We recognized the first place and grand prize winners in a virtual ceremony this spring that was attended by President Mordy and Chief Justice Darby.
Because we postponed Law Day in 2021 but intend to return to normal Law Day timing in 2022, we expect to announce next year's Law Day student contest as part of Ask A Lawyer, with entries due January 2022.
FREE LEGAL ADVICE
For the 45th year, we are organizing the Ask A Lawyer community service project, providing answers to Oklahomans' legal questions at no cost. This year's project will be Thursday, Sept. 30. Oklahomans will have the option to email askalawyer@okbar.org with their question or call the toll-free hotline to speak with an attorney.
Participating in Ask A Lawyer is a great way for all Oklahoma lawyers to celebrate Law Day. This annual event gives us the opportunity to provide a much-needed community service while demonstrating the good work that OBA members perform every day. Oklahoma and Tulsa county lawyers will work together to staff the statewide toll-free hotline from 9 a.m. to 9 p.m. Some counties will also offer a local phone number for area residents to reach a nearby attorney. Volunteer lawyers in each participating county staff phones at a local location for a predetermined time period, and the numbers are advertised while the Ask A Lawyer TV program is airing.
Anywhere you live or work, your help is needed to make this community service project a success. We need attorneys for each two-hour shift to ensure we can answer as many calls as possible. That effort, combined with the local county bars and those answering email questions, creates a huge need for lawyers to step forward. To volunteer, contact your local county Law Day chairperson. If there is not a county chair listed for your county, please contact the OBA Law Day committee chair, Ed Wunch, at ed.wunch@laok.org.
DIRECTIVE AND PROCLAMATION
Chief Justice Darby is continuing the OBA Law Day tradition of issuing a Law Day Directive, encouraging courts to hold Law Day activities while respecting the health and safety of court personnel and the public. These activities may include virtual or in-person courtroom ceremonies, courthouse tours and mock trials. Many members of our judiciary hold local events at their courthouses and in their communities as well. Gov. Kevin Stitt has also signed a proclamation designating Sept. 30 as Law Day in Oklahoma.
GET INVOLVED
We urge you to participate by volunteering for the Ask A Lawyer free legal advice project or by contacting your local county bar and participating in the many activities occurring throughout the state. We are always seeking interested lawyers to get involved with the Law Day Committee and will very soon be planning next year's activities. I am privileged to serve as the 2021 Law Day Committee chairperson, and I am encouraged by the support of members of the bar from across the state. If you have ideas for how to improve Law Day, I want to hear from you, and you would be welcome on the Law Day Committee. You can reach me at ed.wunch@laok.org.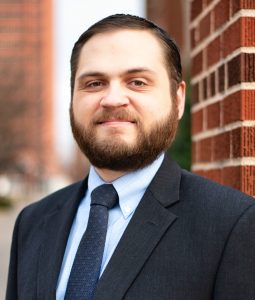 ABOUT THE AUTHOR
Ed Wunch is a staff attorney with Legal Aid Services of Oklahoma Inc. He serves as the OBA's 2021 Law Day Committee chair and is a 2013 graduate of the University of California, Irvine School of Law.
Originally published in the Oklahoma Bar Journal – OBJ 92 Vol 7 (September 2021)