No published opinions this week.
The Supreme Court of Oklahoma Court Calendar
The Supreme Court of Oklahoma is in session year round, unless otherwise noted. The Court regularly schedules conferences on Mondays and other days as needed.
Oklahoma Court of Criminal Appeals
¶1 Appellant, Richard Ray Roth, was tried by jury and convicted of Count 1: First Degree Manslaughter, in violation of 21 O.S.2011, § 711 ; and Count 2: Leaving the Scene of a Fatality Accident, in violation of 47 O.S.2011, § 10-102 .1 , in Wagoner County District Court, Case No. CF-2013-592. The jury recommended a sentence of nineteen years imprisonment plus a $7,500.00 fine on Count 1 and one year imprisonment plus a $1,000.00 fine on Count 2. The Honorable Darrell Shepherd, District Judge, presided at trial and sentenced Roth in accordance with the jury's verdicts. The trial court ordered these sentences to run consecutively with credit for time served. Appellant must serve 85% of the sentence imposed on Count 1 before becoming eligible for parole. 21 O.S.Supp.2015, § 13.1 . Appellant now appeals from these convictions and sentences.

Oklahoma Court of Civil Appeals
¶1 This appeal arises out of a Landlord/Tenant dispute between Landlord Caleb "Cal" Morris, III ("Appellant") and his former Tenants, Derrick and Morgan Behrens, husband and wife ("Appellees"). Appellant brought an action in Tulsa County small claims court to recover the cost of damages he alleges Appellees caused to his rental home. After a remote trial in which Appellees' counsel was not a participant, the trial court awarded Appellant $6,366.04 in damages. Appellees petitioned the court for a new trial pursuant to 12 O.S. §651 . A new trial was granted and was heard on September 23, 2020. The trial court again awarded Appellant damages, this time in the amount of $1,117.96. Appellant timely appealed and contends that the trial court's September 24, 2020 Journal Entry of Judgment, which awarded Appellant just $1,117.96, is based on reversible error, including: an erroneous interpretation and application of the Oklahoma Residential Landlord and Tenant Act ("ORLTA"); an erroneous interpretation and application of the Oklahoma Evidence Code ("Evidence Code"); and an abused discretion. Because we agree with the trial court's interpretation and application of the controlling statutes, and find no evidence of an abused discretion, we affirm the September 24, 2020, Journal Entry of Judgment.

¶1 Plaintiff, J.W., appeals a Journal Entry of Judgment granting defendant Independent School District No. 10, of Dewey County, Oklahoma's, motion for summary judgment. This appeal proceeds pursuant to Okla. Sup. Ct. R. 1.36, 12 O.S. Supp. 2013, ch. 15, app. 1, without appellate briefing. J.W. alleged that she was the victim of bullying at school and that District employees were negligent in developing and implementing a statutorily required anti-bullying policy to protect her from that bullying. The district court found that the Oklahoma Governmental Tort Claims Act, specifically 51 O.S. Supp. 2013 §§ 155 (4) and 155(5), granted the District immunity from J.W.'s claims. The district court was correct in all but one respect. The Tort Claims Act does not immunize the District from a claim that a District employee was negligent in implementing the District's anti-bullying policy on an operational level. With respect to that aspect of J.W.'s claim, the fact issues have not been resolved and, therefore, it cannot be determined whether the District is entitled to a judgment on all issues. For that reason, we affirm the judgment in part, vacate in part, and remand for further proceedings.

Dispositions Other than by Published Opinions


It's the final push for Ask A Lawyer – county bar associations around the state are geared up to offer free legal advice on Sept. 30! More volunteers are needed to answer calls at the OETA studios in Tulsa or Oklahoma City, especially during the afternoon and evening shifts. Sign up to volunteer now! Email Connie Resar with the Oklahoma County Bar Association or Dan Crawford with the Tulsa County Bar Association, or sign up online!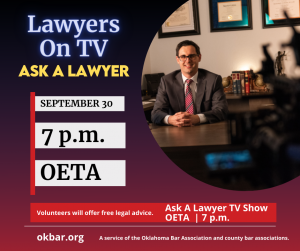 Next Week: Women In Law Conference & Clothing Drive

The OBA Women in Law Committee is hosting its conference and annual clothing drive next week.
The clothing drive is Sept. 27 – Oct. 1 to benefit Suited for Success.
Donate your new or gently worn professional clothing, casual clothing, evening wear, sportswear, shoes, accessories and jewelry at 1st Impression Resale Clothiers, 4557 NW 23rd St., Oklahoma City, all Tide Dry Cleaner locations in the OKC metro area or at the Women in Law Conference on Oct. 1. Contact Bevan Stockdell at bevan.stockdell@oscn.net for more information.
The one-day conference at the Embassy Suites by Hilton in Oklahoma City features the annual Mona Salyer Lambird Awards luncheon, plus a judicial leadership panel, session on missing and murdered indigenous people, civility in the courtroom and more. The keynote speaker for the day is Kelli M. Masters, founder, CEO, and chief player agent, KMM Sports.
Notice of Petition for Reinstatement
Notice is hereby given pursuant to Rule 11.3(b), Rules Governing Disciplinary Proceedings, 5 O.S., ch. 1, app. 1-A, that a hearing will be held to determine if Colin Richard Barrett should be reinstated to active membership in the Oklahoma Bar Association.
Any person desiring to be heard in opposition to or in support of the petition may appear before the Professional Responsibility Tribunal at the Oklahoma Bar Center at 1901 North Lincoln Boulevard, Oklahoma City, Oklahoma, at 9:30 a.m. on TUESDAY, OCTOBER 5, 2021. Any person wishing to appear should contact Katherine M. Ogden, Assistant General Counsel, Oklahoma Bar Association, P.O. Box 53036, Oklahoma City, Oklahoma 73152, telephone (405) 416-7007.
 PROFESSIONAL RESPONSIBILITY TRIBUNAL
By Jim Calloway, Director
Management Assistance Program
When you need to edit a PDF file, one great tool is Adobe Acrobat Pro DC. It has so many features, including combining several PDFs into one, the ability to redact, electronic signatures and the like. Everyone in your law office who needs to do sophisticated work with PDF files likely needs a subscription to Adobe Acrobat Pro DC.
But perhaps not everyone in your law firm needs a subscription if they don't regularly manipulate PDF files. If you have several of those users, this week may be the time to circulate a memo reminding them that the tools built into Microsoft Word can be used to perform simple edits on PDF files. Share this link from Microsoft to remind everyone of this feature of Microsoft Word. There's a 30 second video and the simple steps so you can make certain everyone who doesn't have access to Adobe Acrobat understands that they can edit PDF files using Microsoft Word. Results will be better with text-heavy PDFs as compared to graphic-heavy PDFs.
But it is always good to make sure your team understands how to use some of the more advanced features of the tools your firm already has.