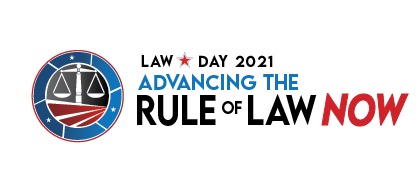 Law Day is meant to reflect on the role of law in the foundation of the country and to recognize its importance for society. The Oklahoma Bar Association has been celebrating Law Day more than 60 years with activities and events taking place over several weeks and in dozens of counties. The celebration was conceived in 1951 by the late Hicks Epton, a Wewoka attorney and 1953 Oklahoma Bar Association president.
The annual OBA Law Day Art and Writing Contest is designed to stimulate discussion and understanding of the law among young Oklahomans. The 2021 theme is "Advancing the Rule of Law Now." The OBA's Law Day contest is open to all Oklahoma students in pre-K through 12th grade.
Entries are due January 15, 2021.
DEADLINE EXTENDED: Februrary 1, 2021. 
Visit the contest winner page to see all the winning entries from 2020.
This is the 45th year Oklahoma Bar Association members have offered free legal advice to celebrate Law Day. In 2020, 117 attorneys volunteered their time to answer nearly 500 questions via email.
Our annual TV show provides viewers with helpful legal information on timely topics. Ask A Lawyer aired April 30, 2020, on OETA. Click here to watch the program.