¶0 The Petitioners brought this action seeking declaratory relief and a writ of prohibition and/or mandamus asserting the Respondents lacked the proper legislative authority to implement a new managed care program. The Court assumes original jurisdiction and grants declaratory relief. Writs denied.

GUZMAN v. GUZMAN
2021 OK 26
Case Number: 117918
Decided: 05/25/2021
As Corrected: May 26, 2021
¶0 Respondent/Appellee Adrieanna Guzman (Adrieanna), an adoptive parent of a minor child, seeks review on certiorari of a published opinion by the Court of Civil Appeals, Division II, filed on January 6, 2020, reversing a decision by the Honorable Barbara Hatfield, District Judge, Canadian County. The trial court dismissed the petition for paternity filed by Petitioner/Appellant Carmen Guzman (Carmen) against her spouse Adrieanna Guzman. The child was adopted by Adrieanna, but was not adopted by Carmen. We hold Carmen, as a step-parent did not have standing, and we vacate the Court of Civil Appeals's opinion and affirm the trial court's order dismissing the petition for paternity.

Oklahoma Court of Criminal Appeals
No published opinions this week. 
Oklahoma Court of Civil Appeals
WAGNER v. OFFICE OF THE SHERIFF OF CUSTER COUNTY
¶1 This appeal presents the following question: When a public body receives a request via email for records covered by Oklahoma Open Records Act, 51 O.S. §24A.1 , et. seq ("the Act"), is that body required to respond and provide the records via email? Because we determine that the text of the statute requires a public body to do nothing more than make such records available, we answer in the negative.

MARTIN v. CITY OF TULSA
2021 OK CIV APP 19
Case Number: 118178
Decided: 08/12/2020
Mandate Issued: 05/26/2021
¶1 The petitioner appeals from an order of the Workers' Compensation Commission that affirmed the decision of its administrative law judge (ALJ) to reduce the petitioner's permanent partial disability (PPD) award by $13,526.19 pursuant to 85A O.S. Supp. 2014 §89 . Section 89 requires the reduction of a PPD award by the amount of any wages paid in excess of the statutory temporary disability maximum. The petitioner argues the ALJ, and thus the Commission, erred in applying §89 to reduce his PPD award for four separate reasons. Because we do not find any of the petitioner's arguments persuasive, we affirm.


Applicants for July 2021 Bar Exam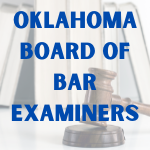 The Oklahoma Rules of Professional Conduct impose on each member of the bar the duty to aid in guarding against the admission of candidates unfit or unqualified because of deficiency in either moral character or education.  To aid in that duty, the following is a list of applicants for the bar examination to be given July 27-28, 2021.
The Board of Bar Examiners requests that members examine the Applicants for July 2021 Bar Exam, and bring to the Board's attention in a signed letter any information which might influence the board in considering the moral character and fitness to practice of any applicant for admission.
Nominees Announced for Court of Civil Appeals
May 26, 2021 – The Judicial Nominating Commission (JNC) today announced the three nominees for the position of Judge for the Court of Civil Appeals, District 3, Office 1, a vacancy created by the retirement of the Honorable P. Thomas Thornbrugh. After concluding the review process and conducting interviews today, the JNC submitted the following nominees for this position to the Governor:
Gregory C. Blackwell, Norman
Mark R. Campbell, Durant
Jana K. Wallace, Antlers.
Under Article 7B Section 4 of the Oklahoma Constitution, the Governor has sixty days to appoint one of the nominees to this judicial position. If he fails to do so within sixty days, the Chief Justice of the Supreme Court shall make the appointments.
JNC Ballots Distributed

Ballots are being mailed to active attorneys in good standing in District 5 and 6 for vacancies on the volunteer Oklahoma Judicial Nominating Commission.
Joel C. Hall, Oklahoma City
Jimmy R. Harmon, Oklahoma City
Gary W. Wood, Oklahoma City
David K. Petty, Guymon
Jason P. Blose, Wellston
June 4 - Ballots mailed to active attorneys in good standing in Districts 5 and 6.

June 18, 5 p.m. - Ballots must be received at the Oklahoma Bar Center

June 21 - Ballots tabulated and election results posted
Submit A Nomination for OBA AWARDS

Online nomination form for Ada Lois Sipuel Fisher Awards
Two Things Never To Do With Email
By Jim Calloway, director
OBA Management Assistance Program
1. NEVER use BCC
BCC is inherently clandestine. You are sending an email to someone while providing someone else a secret copy without letting the recipient know you've done so. The person you have BCC'd receives it in their inbox just like a normal email. If they decide to "Reply All" to that email, then the original sender will receive their reply, be briefly puzzled and then determine you were using BCC. It can be slightly embarrassing or worse. There is an easy way to accomplish the same thing without the risk. Just send the email and then go to your Sent items to forward that just-sent email to whoever you might have been tempted to BCC.
2. NEVER copy clients on emails to opposing counsel
It is easy to do this when you are scheduling matters, but you never want to copy clients on email to opposing counsel for two reasons. First, your client may Reply All to everyone, which carries risks. But secondly, opposing counsel may use Reply All and directly communicate with your client. Opposing counsel should not do that. But you have provided the opportunity and how many of us have accidentally used Reply All when we meant to use Reply?