President's Message - December 2021
Serving as President Affirms Pride in Legal Profession
By Mike Mordy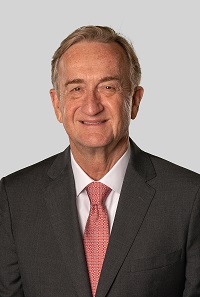 I appreciate the opportunity to have served as your president of the Oklahoma Bar Association. Like anything good in life, I believe I received much more than what I gave. I was concerned after I was nominated that I had underestimated the depth of my responsibilities and became concerned as to how I would balance the work of my private practice with my duties as OBA president. My concern was quickly alleviated by the endless number of fellow attorneys who contacted me to let me know they were happy to help in whatever capacity was needed.
The first thing I did after being nominated was to contact my friend and colleague, Charlie Geister, whom I have known since we were 18 years old. I recruited him to serve as vice president, which he graciously agreed to do without much persuasion. There seemed to have been an endless number of appointments to OBA committees, for which I was responsible to fill. I have never been fond of asking people to volunteer or serve because I hate to be a burden, and I, therefore, dreaded having to ask for volunteers. This actually turned out to be a great experience because I was able to reconnect with old acquaintances, and I was reminded that we have a strong organization of attorneys willing to help and participate. I don't believe anybody ever turned down my pesky requests to serve on the various boards and committees, which evidenced the depth of our organization and caused me to appreciate what a great group of attorneys we have in the state of Oklahoma. There were some members who not only agreed to serve but told me they were honored to have been asked.
I also benefited by learning about the many services the OBA offers its membership. I felt that many attorneys would be looking at their budgets because of financial constraints imposed due to the COVID pandemic, and I wanted to inform our membership of the services offered by the OBA. I first had to learn for myself what was offered to the membership, and I was amazed at what is available at no charge. I discovered how fabulous the OBA website is. It provides not just cost-cutting benefits to the membership but also offers incredible time-saving tools, such as the member directory, your CLE account and CLE offerings with quick links of past webcasts and notice of upcoming seminars. The OBA offers Fastcase as a member benefit, which I learned is a legal research tool that is as good as any legal research platform you may subscribe to. This subscription costs at least $100 per month to the OBA; however, the OBA pays for your subscription, and it is offered to you at no cost. HeinOnline is another research platform offered at no charge to OBA members. It allows members to research the Oklahoma Bar Journal for articles written on various topics.
I personally benefitted from participating in the Lawyers Helping Lawyers Assistance Program meetings and found the committee to be an incredible resource – it is another program that is free to the membership. The Lawyers Helping Lawyers Assistance Program offers six free hours of counseling to all OBA members by a third-party provider, A Chance to Change, which is a private, independent counseling entity. I learned A Chance to Change offers counseling in a wide gamut of areas, including grief, stress, substance abuse and marital discord. All counseling provided by A Chance to Change is strictly confidential and privileged, and no one with the OBA has any knowledge a member has participated.
I learned of another benefit that is provided by the OBA through my friend, Richard Stevens, who is the OBA ethics counsel. His department provides informal advice and interpretation of the rules for attorney conduct, which saves time in having to research such issues ourselves. Jim Calloway, director of the OBA Management Assistance Program, provides endless practice tips – the best of which are his technology updates. His tips are short, concise and help OBA members in keeping abreast of saving time and money.
These are just a few of the OBA benefits I have come to appreciate, and I hope I have disseminated some bits of information about these tools offered at no charge to the OBA membership that will afford you savings in time and money.
I have also been reminded of the great leadership the OBA has with Executive Director John Morris Williams and his department heads. The OBA staff is "over the top." John has announced he is retiring from his position as executive director at the end of next year, and it will be difficult to find a replacement of his caliber; however, his quality staff will help with the transition next year.
My tenure as president has confirmed my pride in our profession, my fellow attorneys and the Oklahoma Bar Association. This is not pride in the sense of arrogance but rather pleasure and satisfaction in being associated with a great group of men and women who make up the Oklahoma Bar Association. Thank you for allowing me to serve as your president this past year.
Originally published in the Oklahoma Bar Journal – OBJ 92, Vol. 10 | December 2021.