¶0 Certiorari is granted for a second time to review the opinion of the Oklahoma Court of Civil Appeals, Division III. The Appellant appeals the orders of the trial court dismissing the refiling of his petition pursuant to 12 O.S. 2011, § 100 , and his motion to reconsider the order of dismissal. The Appellant is an inmate and his name appears on the Oklahoma Registry of Frivolous or Malicious Appeals three or more times. The trial court dismissed without prejudice his first case because he had not prepaid the required filing fees pursuant to 57 O.S. 2011, § 566.2 . The Appellant filed a motion to reconsider within ten days of that order, which the trial court denied. He appealed those orders to this Court and we dismissed his appeal for failure to pay the required appellate cost deposit pursuant to 57 O.S. 2011, § 566.2 after we ordered him to pay it. Appellant refiled his petition. The trial court dismissed the petition as being untimely, finding that he did not file it within one year of the date of the order dismissing his first case. The trial court determined that his motion to reconsider was void ab initio pursuant to § 566.2. The Oklahoma Court of Civil Appeals affirmed, finding that only a validly filed appeal would extend the time to refile a petition pursuant to § 100 and the Appellant's first appeal was not valid. We vacate the opinion of the Oklahoma Court of Civil Appeals, reverse the trial court, and remand for further proceedings. We hold the Appellant's first appeal was valid and the one-year period to refile began to run the day after the first appeal was final.

2021 OK 51, SCBD-7056
Decided 10/18/2021

2021 OK 50, SCBD-7139
Decided 10/18/2021
The Supreme Court of Oklahoma Court Calendar
The Supreme Court of Oklahoma is in session year round, unless otherwise noted. The Court regularly schedules conferences on Mondays and other days as needed.
Oklahoma Court of Criminal Appeals
No published opinions this week. 
Oklahoma Court of Civil Appeals
No published opinions this week. 
Dispositions Other than by Published Opinions

ANNOUNCING: Ada Lois Sipuel Fisher Diversity Award Honorees
Noted author and attorney Hannibal Johnson will serve as the keynote speaker for the 2021 OBA Diversity Awards Dinner held in conjunction with this year's OBA Annual Meeting. Tickets are available now for the event to take place Thurs., Nov. 11, at 7 p.m., at the Oklahoma City Downtown Sheraton Hotel.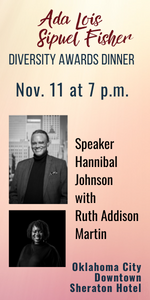 The acclaimed author and attorney has served prominently during the commemoration of the 1921 Tulsa Race Massacre and has kept the issues surrounding the tragedy in the forefront. He most recently authored Black Wall Street 100: An American City Grapples with its Historical Racial Trauma.
As part of the celebratory evening, Johnson will interview Ruth Addison Martin, chief legal officer, Tulsa Housing Authority, on Tulsa's historic Greenwood District and its legacy.
"In this, the 100th anniversary year of the 1921 Tulsa Race Massacre, it is fitting that we pause to reflect on our 'hard history,'" Johnson said. "It is imperative that we leverage its lessons as we further embrace diversity, equity, and inclusion."
This year's Ada Lois Sipuel Diversity Award winners will be recognized during the event. Johnson was among the first attorneys to receive the award in 2012.
Johnson said, "Congratulations, award recipients. Thank you, Oklahoma Bar Association. I look forward to a powerful and provocative evening."
The 2021 honorees selected by the OBA Diversity Committee are:
JUDICIAL
Justice Shawna B. Baker, Cherokee Nation Supreme Court, Family Legacy & Wealth Counsel PLLC
ATTORNEYS
Anthony (Tony) Coleman, The Coleman Law Firm, former leadership staff, Oklahoma State Senate
Francie Ekwerekwu, TEEM – The Education and Employment Ministry, public defender, Oklahoma County Jail Trust member
Miguel Garcia, Miguel Garcia, PLLC, immigration law, Latino community leader
Trent Shores, GableGotwals, citizen of the Choctaw Nation, former U.S. Attorney
ORGANIZATION
CAIR (Council on American Islamic Relations) Oklahoma
The OBA Ada Lois Sipuel Fisher Diversity awards recognize attorneys, judges, groups and organizations that have demonstrated dedication to raising issues of diversity and protecting civil and human rights. Fisher boldly challenged and forever changed segregation laws on her path to achieving her lifelong ambition of becoming a lawyer. The challenge to her denial to be admitted to the University of Oklahoma College of Law was a case that led to the U.S. Supreme Court's order that allowed her entry to OU Law in 1949.
By Jordan Haygood, Immediate Past Chair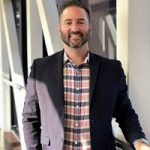 Active members of the OBA Young Lawyers Division are committed to leading and serving. As we welcome incoming YLD Chair Dylan Erwin for 2022, I applaud those within the YLD who have applied for leadership roles beginning next year to carry forward our legacy of public service and advocacy.
It is now the duty of YLD members to select those who will ultimately lead. Please look at the candidates in your district, and vote before the election closes at midnight on Oct. 22. Voting for YLD elections is conducted by electronic ballot that was emailed. If you did not receive a ballot, please email me at Jordan.Haygood@ssmhealth.com.
Remember: Every lawyer who was first admitted to the practice of law in any jurisdiction within the past 10 years is automatically a member of the YLD and is eligible to vote.

By Jim Calloway, Director
Management Assistance Program
You may be glad to return to face-to-face meetings and hearings, but videoconferencing is not going away. There will still be clients who can be spared a long drive to your office for a quick conference, but video is preferred so you can share documents on the screen. You may decide that the client who must have an evening appointment can be better served by a video appointment in the evening with both of you logging in from home.
9 Advanced Zoom Tricks to Use Now That You're an Old Pro from Fast Company is a quick read and probably will provide some new tips to try. I've probably used Zoom as much as anyone reading this and yet, somehow, I had missed that hiding the participants who have their cameras off is a great improvement for large Zoom meetings. I'll bet you discover something new among these nine tips as well.