No published opinions this week. 
Oklahoma Court of Criminal Appeals
¶1 Miles Sterling Bench was tried by jury and convicted of First Degree Murder in the District Court of Stephens County, Case No. CF-2012-172. In accordance with the jury's verdict, the Honorable G. Brent Russell sentenced Petitioner to death. Petitioner appealed his conviction in Case No. D-2015-462 and this Court denied relief. Bench v. State , 2018 OK CR 31 , 431 P.3d 929 . Petitioner sought post-conviction relief, filing the instant post-conviction application. Petitioner seeks post-conviction relief from this conviction and sentence, challenging the jurisdiction of Stephens County to try him for B.H.'s heinous murder at the Teepee Totem convenience store in Velma, Oklahoma.
Oklahoma Court of Civil Appeals
No published opinions this week.

Notice of Judicial Vacancy
May 10, 2021 - The Judicial Nominating Commission (JNC) today announced a vacancy for the position of Associate District Judge, Twelfth Judicial District, Rogers County, Oklahoma. This vacancy is due to the resignation of the Honorable Kassie McCoy.
To be appointed to this position, one must be a registered voter of Rogers County at the time (s)he takes the oath of office and assumes the duties of office. Additionally, prior to appointment, such appointee shall have had a minimum of two years' experience within the State of Oklahoma as a licensed practicing attorney, a judge of a court of record, or both.
Learn more about the position by clicking here or by contacting Tammy Reaves at (405) 556-9300. Applications must be submitted to the Chair of the JNC no later than 5:00 p.m., Friday, June 11, 2021. Applications may be hand-delivered, mailed, or delivered by third party commercial carrier. If mailed or delivered, they must be postmarked on or before June 11, 2021 to be deemed timely. Applications should be mailed/delivered to:
Jim Webb, Chair
Oklahoma Judicial Nominating Commission
c/o Tammy Reaves
Administrative Office of the Courts
2100 N. Lincoln Blvd., Suite 3
Notice of Judicial Vacancy
The Judicial Nominating Commission seeks applicants to fill a vacancy for the position of District Judge for Oklahoma County, Seventh Judicial District, Office 6. Applications must be submitted to the Chairman of the JNC no later than 5:00 p.m., Friday, May 14, 2021.. Read more.

TO MEMBERSHIP IN THE OKLAHOMA BAR ASSOCIATION
REINSTATEMENT HEARING
JOEL EDWARD SCOTT, III, SCBD # 6962
9:30 a.m., Tuesday, May 25, 2021
Any person desiring to be heard in opposition to or in support of a petition may appear before the Professional Responsibility Tribunal at a scheduled hearing located at the Oklahoma Bar Center at 1901 North Lincoln Boulevard, Oklahoma City, Oklahoma. Any person wishing to appear should contact Gina Hendryx, General Counsel, Oklahoma Bar Association, P.O. Box 53036, Oklahoma City, Oklahoma 73152, telephone (405) 416-7007.
OBA CLE Buy Now,
Learn on Your Time
Interested in an OBA CLE course, but have no time? Buy it and watch it when you can. That might be on the weekend, or late night, away from the demands placed on you during the traditional "work" day. You can expect high-quality and relevant content, from national experts and other Oklahoma attorneys.  Read here about how OBA members are giving back as CLE presenters. Online courses are always available through OBA CLE.
By Jim Calloway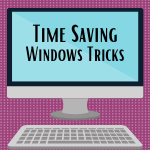 A major frustration with technology is knowing there is probably an easier way to do something, but not knowing what it is. Invest a few minutes reading 5 smart Windows 10 tricks to save time and space from Kim Komando in USA Today. If that is not enough for you, see this table of 30 Essential Windows Key Keyboard Shortcuts for Windows 10.