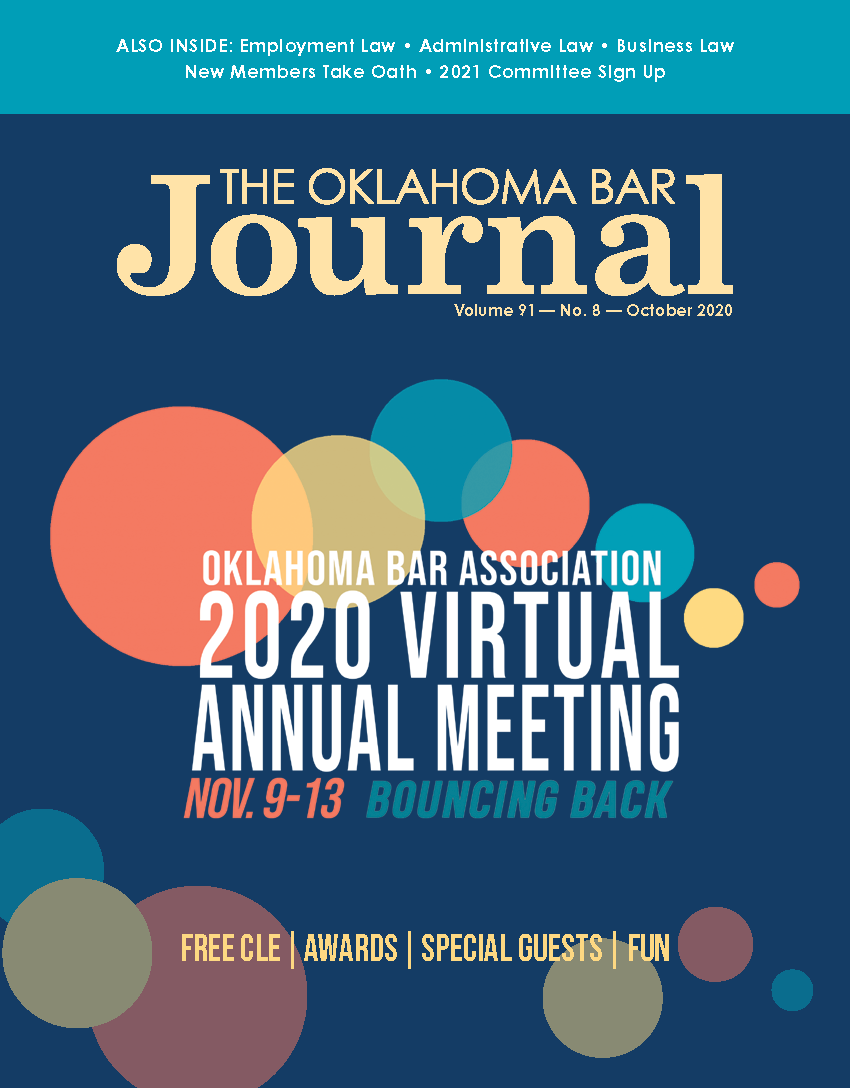 October 2020 | Annual Meeting
Feature Articles
Get information about Annual Meeting events, CLE and more on the Annual Meeting website!
The 116th Annual Meeting is going virtual Nov. 9-13. Programs and CLE are free to OBA members.
Diversity Awards Event
The OBA Diversity Committee is set to host its 2020 Ada Lois Sipuel Fisher Diversity Awards Virtual Ceremony. The Diversity Committee will honor its award recipients in an event that is part of this year's Annual Meeting. The event will feature a presentation by Keith and Dana Cutler, a husband and wife team who are trial lawyers in Kansas City, Missouri, and presiding judges of the two-time Emmy-nominated, nationally syndicated daytime TV show, Couples Court with the Cutlers.
Plus Articles
The Goal to Become Equal: The Women's National Soccer League and the Equal Pay Game
Play like a girl. The Women's National Soccer League (U.S. League) are the women we want to lead our generation in the equal pay game. Fighting with the power they bring to the field, they aimed to win a gender discrimination suit and equal pay for the women in their league in the case Morgan v. United States Soccer Federation, Inc.
Further Changes to Exhaustion of Administrative Remedies
In Gad v. Kansas State University,1 the 10th Circuit held that exhaustion of administrative remedies was no longer a question of subject-matter jurisdiction but, instead, was a "condition precedent" to suit.2 The Supreme Court's recent decision in Fort Bend County, Texas v. Davis3 comes to the same conclusion, but in making its decision, the court issued the latest in a line of cases reforming what it means for a statutory requirement to be "jurisdictional."
Mind Over Matter: Exploring the Fault Line Between Restraint of Trade and Protecting a Competitive Advantage
This article explores an important question for businesses. Suppose a business hires an engineer – i.e., a thought leader in an emerging industry – to develop a certain product or process. In fact, the business only developed its product or process because it employed the engineer. But assume also that the engineer decides to join a competitor, and they take their technical know-how with them and confidential documents about the product or process.