YLD Leadership Elections
Election results were announced at the Young Lawyers Division November meeting held in conjunction with the OBA Annual Meeting in Oklahoma City Nov. 1 - 3, 2023.

2024 Chair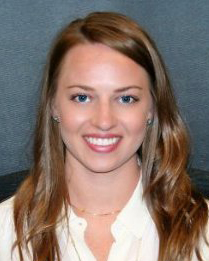 Laura Talbert
Laura Talbert works for ISN Corporation, which is the prime contractor for the US Department of Housing and Urban Development (HUD)to provide Mortgage Compliance Manager services. Ms. Talbert graduated from the OU College of Law in 2012. After graduating, she worked as a prosecutor. Prior to starting her own firm, she also worked for the General Counsel's Office for the Oklahoma Department of Corrections. In her free time, she enjoys playing volleyball and cheering on the Sooners. She has been on the YLD board for six years and is excited to continue serving.
2024 Immediate Past Chair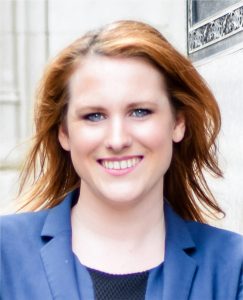 Caroline M. Shaffer Siex
Caroline Shaffer Siex is a December 2016 graduate of the TU College of Law. She is a partner at Gibbs & Armstrong PC, handling civil litigation, nursing home defense and family law matters. Ms. Shaffer Siex has served the OBA as a member of the YLD Board of Directors since 2017 and as the YLD Hospitality chair from 2018 to 2019. In 2020, she served as the board's secretary, and in 2021, she served as the board's treasurer. From 2020 through 2021, she concurrently served as the ABA YLD district representative for District 24 (Oklahoma and Arkansas). During her time on the board, she has shown her willingness and effort to help other young lawyers, especially those just emerging into practice, from passing out bar exam survival kits, hosting a swearing-in happy hour for the newly admitted Tulsa-area lawyers and attending the TU bar preparation class to provide information about the Oklahoma bar and advice to law students. She has also contributed to publications aimed at assisting young lawyers to grow in their careers.
UNCONTESTED ELECTIONS
The following persons have been nominated. They are running uncontested and will be declared elected at the OBA YLD meeting in November.
Chair-Elect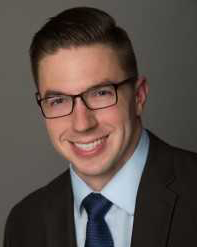 Taylor Venus
Taylor Venus is a native of Ponca City and graduated from OSU with bachelor's degrees in economics and finance. While attending OSU, Mr. Venus had the honor to be Pistol Pete. Thereafter, he obtained his J.D. and MBA at OU. While in law school, he served as the articles editor for the Oil and Gas, Natural Resources, and Energy Journal and served as an officer or representative in multiple student groups.
Mr. Venus has a passion for serving his local community and supporting other regional or statewide organizations. In Enid, Mr. Venus is the president of the Enid Public Schools Foundation, a member of Rotary and AMBUCS, and actively volunteers with several other entities in Garfield County. Outside of his local community, he is the current treasurer for the OBA YLD, a member of his fraternity alumni board and president of the Cherokee Strip OSU Alumni Chapter.
In his time out of the office, Mr. Venus enjoys spending time with his friends and family, golfing, hunting and being an armchair expert on his favorite sports teams and political views.
Treasurer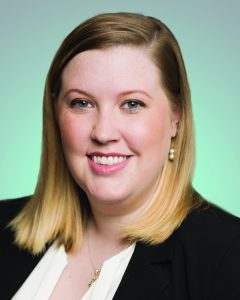 Alexandra "Allie" J. Gage
Alexandra "Allie" Gage graduated from the TU College of Law in 2019. She currently works as a civil litigation attorney at Doerner, Saunders, Daniel & Anderson LLP. Ms. Gage has always had a strong commitment to community service and mentorship. Before attending law school, she lived and worked in the Eastern European country of Kosovo, where she served as a community center coordinator for a center in the nation's capital. After returning, she chose to follow her call to a legal career at TU. She enjoyed serving as a mentor in law school and continues to support and encourage new lawyers and law students entering their legal careers. After the COVID-19 pandemic left its mark on Oklahoma, Ms. Gage sought to find a way to further serve her recovering community. In that effort, she joined the OBA YLD as a member of the Board of Directors for District 6. Her time on the board has been short, but she dove headfirst into her duties and continues to show her willingness to serve the YLD and its              members. She now seeks to continue her service on the Executive Committee as the board's treasurer.
Secretary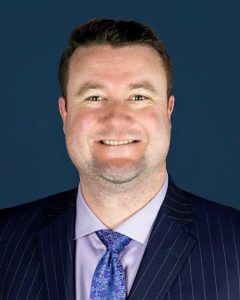 Randy G. Gordon
Randy G. Gordon joined the firm of Stuart & Clover PLLC in Shawnee in 2021 as a partner, bringing his wealth of litigation and creditor's rights knowledge from his previous employment. He remains a dedicated OSU fan, despite receiving his law degree from his dreaded rival, OU.
He currently serves on the OBA YLD Board of Directors, which has been personally and professionally enriching. He enjoys serving on a board that serves not only the legal community but the Oklahoma City community at large through philanthropic efforts. Mr Gordon also serves as the head of the community outreach committee of Emmanuel Episcopal Church in Shawnee.
Mr. Gordon shares two sons with his fellow partner, Breanne. They keep him busy! In his spare time, he loves to try new foods and watch college football. Go Pokes!
District 2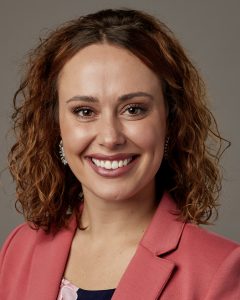 Chloe M. Moyer
Chloe M. Moyer is a native of Idabel and a proud citizen of the Choctaw Nation of Oklahoma. Ms. Moyer received her BBA (accounting) from Northeastern State University in 2018 and a J.D. from the OCU School of Law in 2021. During her time at OCU, she participated in the American Indian Wills Clinic and was a member of multiple organizations/groups including the Oklahoma City University Law Review, the William J. Holloway Jr. American Inn of Court and the International Legal Honor Society of Phi Delta Phi. She focused her studies on Indian law and estate planning. Her note, "An Oklahoma Tribal Employer's Guide to Conducting Business in the Tenth Circuit," was published in the Oklahoma City University Law Review. Upon graduation, she received a certificate in estate planning. She currently serves as a government attorney for the Choctaw Nation of Oklahoma. As an attorney for the nation, Ms. Moyer drafts and negotiates contracts for tribal services, drafts legislation and codes, consults on issues of federal Indian law and policy, and reviews tribal policies and procedures. She is also a proud board member of the Chahta Foundation and enjoys serving her Native community.
District 4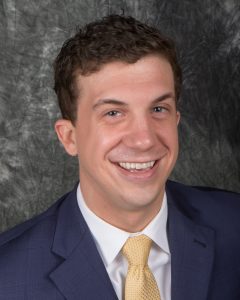 Morgan Maxey
Morgan Maxey is an associate with Mitchell DeClerck PLLC in Enid. His practice focuses primarily on criminal defense law, family law, probates and estate planning. Mr. Maxey is a graduate of the TU College of Law. After receiving his J.D., he worked as the NW director of early settlement mediation for the Oklahoma Administrative Office of the Courts. He is certified by the AOC as a civil, family law and child permanency mediator. Mr. Maxey subsequently began his work as defense counsel for the Oklahoma Indigent Defense System (OIDS). He is a member of the Garfield County Bar Association, the Oklahoma Criminal Defense Lawyers Association, the National Association of Criminal Defense Lawyers and the OBA Animal Law Section. In his free time, he enjoys hiking, sailing, OSU football and attending music festivals.
District 5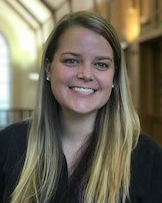 Liz Stevens
Liz Stevens is originally from Norman. She received a bachelor's degree in European history and a J.D. from the OU College of Law. Upon graduation in 2019, she started her legal career in civil litigation in New Mexico. She returned to Oklahoma in August 2020 and joined the Office of the Attorney General. She currently represents several agencies in various capacities, such as prosecuting enforcement actions, advising boards and commissions, and acting as an administrative hearing officer.
In her spare time, she enjoys traveling, reading historical fiction books and playing with her black lab, Bear. Before attending law school, she spent several years teaching English as a second language in Russia and Rwanda.
District 7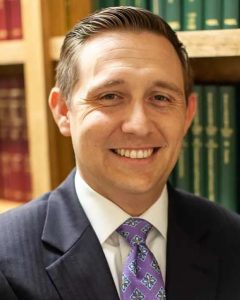 Clayton M. Baker
Clayton M. Baker is a partner at Davis & Thompson PLLC in Jay. Mr. Baker graduated from Midwestern State University in 2011 with a bachelor's degree in criminal justice and political science and from the TU College of Law in 2015 with a J.D. with honors. Mr. Baker and his wife, Joanna, moved to Grove in 2015 and have enjoyed raising their family on Grand Lake ever since. They have two beautiful daughters, Gentry (7) and Everly (2). Most of their free time is spent chasing Everly, cheer practice and football games for Gentry, and running their homemade ice cream shop, Back Porch Ice Cream.
Mr. Baker's practice areas include probate, trusts and estate planning, real estate and civil litigation. Mr. Baker has represented clients throughout northeast Oklahoma and regularly practices in Delaware, Ottawa, Craig and Mayes counties. He currently serves as the municipal court judge for the town of Bernice, and the president of the Delaware County Bar Association. He is a graduate of the Oklahoma Bar Association Leadership Academy and has served on the YLD Board of Directors since 2015. Mr. Baker enjoys giving back to his community as much as he can and serves on the Board of Directors for the Delaware County Children's Special Advocacy Network and the Grove Rotary Club.
CONTESTED ELECTIONS
The following persons have been nominated and are running contested for the following positions. Results will be announced at the YLD November meeting.
District 3 (One seat available)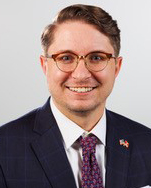 Thomas Grossnicklaus
Thomas Grossnicklaus was born in Oklahoma City. He enlisted in the Marine Corps after graduating from Piedmont High School. He was assigned to the Fleet Anti-Terrorism Security Team, which was created under President Reagan after the Iranian Hostage Crisis. Mr. Grossnicklaus deployed with his unit to Guantanamo Bay, Cuba. After Cuba, his unit was deployed to Bahrain. There, his unit served as a Quick Response Force to the Middle East region and also as a protection crew (Raven Crew) to C-130 airplanes and highly important cargo/individuals around the region. During this deployment, he was the section leader for the Designated Marksmen Unit. At this time, the Middle East erupted after the killing of Christopher Stevens in Benghazi, Libya. His unit was activated and was on mission from that point until eight months later. The bulk of this time was spent recapturing and securing the American Embassy in Yemen. After this long and difficult deployment, he decided to come home and dedicate himself to serving his home state and community in whatever way would be the best.
He enrolled at OCU and received a degree in political science. During this time, he was lucky enough to work for Rep. Steve Russell in his district office as well on a successful reelection campaign. Mr. Grossnicklaus started his law school journey at the OCU School of Law. During law school, he worked for Gov. Mary Fallin during her last year in office. He served as an aide and liaison to general counsel. After, he was given the opportunity to clerk for Justice James Winchester. He is currently in the Leadership Certificate Program in the Kennedy School at Harvard University and plans on using these hours towards receiving a master's degree in public administration. He is a graduate of the Leadership OKC LOYAL program, a NextGen Under 30 recipient and a member of the Oklahoma City Downtown Rotary.
He previously served as an assistant attorney general. He prosecuted for the Oklahoma Funeral Board and for the Workers' Compensation Commission, Compliance Department. He was also the general counsel for the Secretary of State, Oklahoma Historical Society, Oklahoma State Fire Marshall and the Oklahoma State Board of Examiners for Long-Term Care Administrators.
He currently serves as the chief of staff and general counsel for the Oklahoma Department of Commerce, where he recruits companies to relocate to Oklahoma or existing businesses to expand within the state. This is a natural fit for him as he moved back to Oklahoma to help change the perception of our state and contribute in diversifying the local economy.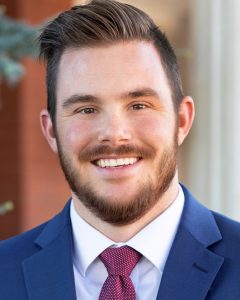 Bryan Goodpasture
Bryan Goodpasture graduated from OSU in 2015 and the OU College of Law in 2019 (Go Pokes). He is currently an associate attorney at Durbin, Larimore & Bialick, representing clients in a wide variety of civil litigation matters. Mr. Goodpasture has the good fortune to be practicing at the firm that made him realize his interest in the legal profession through an internship during his first year of undergraduate studies and is looking for opportunities to get more involved in and give back to the legal community. Outside of work, you will find him golfing, watching any and all OSU sports or just hanging out with my family or friends. You will also be sure to find him at the local piano bar, no matter what city he may be in (though none have topped Shady Keys in Tulsa).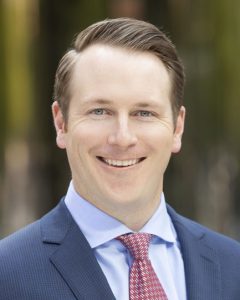 ELECTED: Sean-Michael Brady
Sean-Michael Brady is a fourth-year litigation attorney with Elias, Books, Brown & Nelson PC. Mr. Brady's practice involves litigation in state and federal trial courts with an emphasis on energy industry disputes, including disputes over oil and gas leases, surface and mineral interests, easement rights and quiet title matters. Mr. Brady's practice also includes transactional work focusing on energy industry-related agreements. He received his J.D. from the OU College of Law, where he earned the American Jurisprudence Award for International Energy Law and was on the Dean's Honor Roll.
Mr. Brady currently serves as the membership director for the OBA Energy and Natural Resources Law Section and as a YLD director for the Oklahoma County Bar Association. Mr. Brady also served as a member of Make-A-Wish Oklahoma's Young Professionals Council. Mr. Brady was born and raised in Oklahoma City and received his bachelor's degree from OU. Prior to embarking on a legal career, he worked as an oil and gas landman for a publicly traded company in Houston, Texas. In his free time, Mr. Brady enjoys spending time with his wife Alex and their two daughters, walking Bogey, their chocolate lab, and cheering on the Sooners.
District 6 (Two seats available)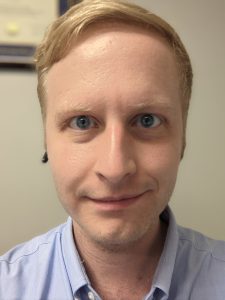 Joel Daniel Auringer
Joel Daniel Auringer is a staff attorney in the Tulsa office of Legal Aid Services of Oklahoma Inc., where he serves on the eviction defense team. His practice includes eviction defense, landlord-tenant disputes and civil litigation under the Fair Housing Act. Mr. Auringer previously taught middle and high school music in the Dallas-Fort Worth Metroplex before moving to Oklahoma to enter the legal profession. He is a former staff editor for the Tulsa Law Review and a former volunteer compact disc reviewer for The Clarinet, the official journal of the International Clarinet Association. Mr. Auringer joined the OBA in 2021. He received his master's degree in library science from the University of North Texas, his J.D. from the TU College of Law and further holds multiple degrees in music performance. He lives in Tulsa with his wife Delaney, rambunctious orange cat Tennyson and adorable small dog Chipper.
ELECTED: Alexandra "Allie" J. Gage
See bio above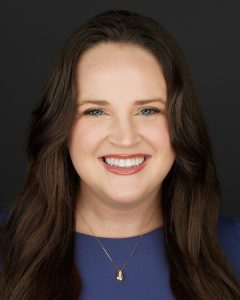 ELECTED: Madison Cataudella
Madison Cataudella is a trust officer at BancFirst. She is a graduate of the University of Arkansas, where she received her bachelor's degree. In addition, she attended and graduated from the TU College of Law, where she received her J.D. and Master of Laws in energy and natural resources law. After graduating in 2019, she practiced law in the areas of probate and estate planning, administrative law, oil and gas, and title. Ms. Cataudella strives to initiate and maintain healthy relationships with her local community as well as the community at large in Oklahoma. She believes that mentoring is imperative to developing a strong and reliable legal community. As a board member, she hopes to increase involvement from young lawyers across the state and facilitate and/or directly provide mentorship to law students and young attorneys over the coming years. She has previously served on the Board of Directors as an at-large director after joining in 2023 for a partial term.
At Large (Two seats available)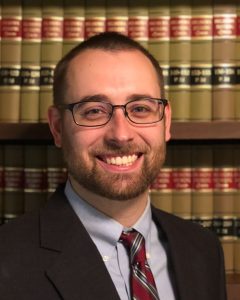 Patrick C. Madden
Patrick C. Madden earned a bachelor's degree in history from Mount St. Mary's University, a master's degree in American history from Villanova University and his J.D. from the OU College of Law in 2018. He is admitted to practice before the Supreme Court of Oklahoma, the Supreme Court of the Chickasaw Nation and is a member of the Carter County Bar Association. He practices in the areas of family law, civil litigation, appeals, probates and estate planning.
ELECTED: Thomas Grossnicklaus
See bio above
ELECTED: Bryan Goodpasture
See bio above
Sean-Michael Brady
See bio above
ELECTED: Joel Auringer
See bio above
Alexandra "Allie" J. Gage
See bio above
Madison Cataudella
See bio above