Due to flooding, this year's Solo & Small Firm Conference has been moved to the Osage Casino Hotel in downtown Tulsa. Read the full update.
THURSDAY | JUNE 20
FRIDAY | JUNE 21
SATURDAY | JUNE 22
3-6:30 p.m.
Conference Registration
6:30 p.m.
Black and White Party - Skyline Event Center

You may have heard that our conference Thursday night dinner is being replaced by a Black and White Party. What is a Black and White Party, you ask? The short answer is it is what you make of it. We are asking everyone to wear some combination of black and white. The evening ambiance is created by a color theme we hope will create a night that everyone is sure to remember.

You need not wear formal attire. Snazzy casual attire will fit in just fine. We have heard some of the ladies may wear evening dresses or cocktail dress, in all white, all black or a combination of black and white. And some of the gentlemen may dress up mono chromatically as well. But we understand there's a long tradition of resort casual dress at this event and everyone is driving in that day. So, we don't want anyone to miss the food and fun because their closet is only stocked with colors. But we do ask everyone to play along and join in as best you can.

This year let's start our conference out with a bash for the ages.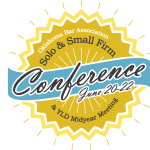 All events of the 2019 Oklahoma Bar Association Solo & Small Firm Conference will be held at the Osage Casino Hotel, 951 West 36th St N, Tulsa, 74127.