Due to flooding, this year's Solo & Small Firm Conference has been moved to the Osage Casino Hotel in downtown Tulsa. Read the full update.
It will soon be summertime when, according to composer George Gershwin, "the livin' is easy," but for Oklahoma lawyers, summertime means it is time for the OBA Solo & Small Firm Conference, which will be held June 20-22 in Tulsa. "New Laws, New Tools" is the theme of this year's conference, held in conjunction with the Young Lawyers Division Midyear Meeting.
Conference Topics and Speakers
New Laws
Among the most-discussed new laws are Oklahoma's cannabis law changes, so we will have an update on the latest developments on that front from Miles Pringle. We will also welcome Robert Spector who will present his ever-popular "Recent Developments in Family Law" to keep you up to date on changes in the law in that area. He will also do a presentation on property division, joint tenancy and the increase in value of separate property.
Hands-On Office 365 Training
Office 365 is a tool many lawyers are using today, but many are unaware of everything Office 365 can do. The best bargain in legal technology is getting the most use of the tools you already own. Microsoft Teams is a nice project management tool that can be included in your Office 365 subscription and Yammer is a collaboration tool that allows for quick instant message-type communications within a firm of any size. Kenton S. Brice, director of technology innovation for the OU College of Law, will teach us about the hidden tools of Office 365 and will also provide a deep dive into Microsoft Word.
Many have asked for hands-on training opportunities, so we will provide some training time. Kenton Brice will team with Donna Brown of Beyond Square One, a long-time supporter of our conference, to provide hands-on training on Office 365 and Microsoft Word. We will have some laptops available, but if you bring your laptop and your Office 365 login credentials, you will be able to keep any customizations you make.
Automated Document Assembly
Another new tool is Oklahoma Bar Intellidrafts, our new automated legal document assembly tool. We will have presentations from Gabe Bass, creator of Intellidrafts, on how to use this powerful tool and the importance of automated document assembly for solo and small firm lawyers. Automated document assembly for routine matters, combined with fixed-fee pricing, will be important for the success of many small firms in the future.
Text Message Client Communication and Virtual Resources
While text messaging is no longer a new tool, lawyers often have challenges dealing with it for client communication. We welcome back Chelsey Lambert, the technology guru behind Lex Tech Review, to join me for a program on everything you need to know about text messaging for client communication and potential new client communication. You will learn about some interesting texting tools and techniques. Chelsey will also do a presentation covering "How to Scale Your Practice with Virtual Resources." This is a subject of increasing importance to solo and small firm lawyers.
Lawyer Wellness and Ethics
"The Personal Challenges of a Lawyer's Life" is a featured plenary presentation that will examine lawyer wellness and stress. We all are aware of the impact of stress on our profession and this program will share tips for coping with the challenges we all face. We have a great panel of experts and a short, but  impactful, video will be screened.
Our ethics presentation this year will feature OBA General Counsel Gina Hendryx, Gary Rife and me with an audience participation interactive ethics discussion. Attendees will have an opportunity for anonymous voting via mobile phone on different ethics scenarios.
Trials and Tribulations
Judge Jane Wiseman of the Oklahoma Court of Civil Appeals will enlighten us and entertain us as our Saturday luncheon speaker with her program "Trials and Tribulations."
Taxes, Estate Planning, Consumer Law, Voir Dire and More
Other great programs include Rachel Pappy's "Taxes – Strategies for Improving the Bottom Line for You and Your Clients," OBA President-Elect Susan Shields will share estate planning tips, OBA Practice Management Advisor Julie Bays will cover consumer law practice in Oklahoma and also join me for an update on limited scope legal services, David T. McKenzie will cover "Voir Dire and Cross-Examination – The Art of Weaving a Coherent Defense," "Drug Courts: A Smart Approach to Ensuring Justice for All" will be led by Cleveland County District Judge Michael D. Tupper as well as other educational offerings. Consult the conference schedule for all our programming.
Don't Miss Out
In addition to great educational programs, we have some fun social events planned this year including our opening Black and White Party Thursday evening and the General Practice/Solo and Small Firm Section Pool Party Friday afternoon.
The OBA Solo & Small Firm Conference is always a fun event with nationally known presenters, unique educational offerings and a chance to win door prizes. It is a great value for your CLE dollar.
---
Mr. Calloway is OBA Management Assistance Program director and staff liaison to the Solo and Small Firm Conference Planning Committee, chaired by Charles R. Hogshead.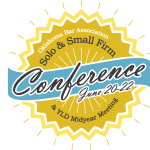 All events of the 2019 Oklahoma Bar Association Solo & Small Firm Conference will be held at the Osage Casino Hotel, 951 West 36th St N, Tulsa, 74127.