This year the conference returns to the beautiful River Spirit Casino Resort in Tulsa. The resort serves as a perfect place to relax and soak up some sun while you soak in this year's outstanding educational offerings.
Topics will include new laws, family law updates, taxes, estate planning, consumer law, trials and defense, lawyer wellness, as well as hands-on training of tools like Office 365, Microsoft Word and Intellidrafts.
In addition to the attractions offered by the resort, this year's evening events include a Black & White Party. Join your fellow attendees for a reception complete with drinks and heavy hors d'oeuvres before Thursday's dinner.
Hurry! Early registration discounts end June 6!
Small firms, solo practitioners, new lawyers or veteran attorneys, there's something for everyone! Individual, lawyer+guest and whole family registration packages are available. Plus, additional discounts for lawyers admitted after Jan. 1, 2017.
See all the options and pricing on the Registration page.
Thank you to our sponsors!
CO-PRODUCER
Oklahoma Attorneys Mutual Insurance Company
SILVER
3000 Insurance Group
OBA Estate Planning, Probate and Trust Section
OBA Family Law Section
OBA General Practice/Solo and Small Firm Section
OBA Law Office Management and Technology Section
Professional Reporters
Spotlight Branding
BRONZE
Beyond Square One
CosmoLex
Docket Hound
Law Pay
Lawclerk Legal Corporation
OBA Disability Law Section
Oklahoma City University School of Law
Polston Tax Resolution & Accounting
Purview Life
Smart Start Inc.
Smith.ai Virtual Receptionists
Tabs3 Software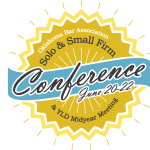 All events of the 2019 Oklahoma Bar Association Solo & Small Firm Conference will be held at the River Spirit Casino, 8330 Riverside Pkwy, Tulsa, OK 74137.