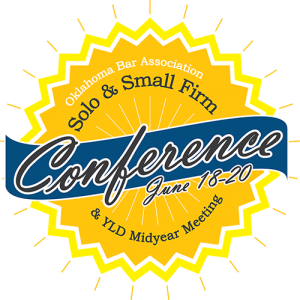 Dear OBA Members,
It is truly with the proverbial heavy heart that the OBA announces the cancellation of 2020 OBA Solo & Small Firm Conference. For more than two decades, this annual event has been a time of renewal and fellowship as well as outstanding educational opportunities. We had another great lineup of programs this year. But, given our current situation, many would not have attended the conference this year. We asked several prior attendees and received feedback that a virtual meeting as a replacement event just wouldn't be the same.
So, we ask you to put next year's OBA Solo & Small Firm Conference, June 10 – 12, 2021, at the Choctaw Casino Resort, on your calendar today.
This decision has been painful and the OBA leadership and staff who attend this event are going to miss it as much as our loyal attendees will. But this is the right decision.