See all pricing and details below. Use the button below to register online or follow the instructions on the PDF registration form to register by email, fax or mail. To register over the phone or for further assistance, call Mark Schneidewent at 405-416-7026.
Fees do not include hotel accommodations.
This conference has been approved for a total of 10 hours of Texas mandatory credit, of which 0.75 hours is ethics.
Due to flooding, this year's Solo & Small Firm Conference has been moved to the Osage Casino Hotel in downtown Tulsa. Read the full update.
Osage Casino Hotel is at capacity, however new registrants are being directed to the beautiful DoubleTree by Hilton in downtown Tulsa. A complimentary shuttle between the DoubleTree and Osage Hotel Casino will be available for all guests.
Attorney Only Registration
Attorney and One Guest Registration
*admitted on or after Jan. 1, 2017
Cancellation Policy
Cancellations will be accepted at any time on or
before June 10 for a full refund; a $50 fee will be
charged for cancellations made on or after June 11.
No refunds after June 12.
Registration, Etc.
Registration fee includes 12 hours CLE credit, including one hour of ethics. Includes all meals: evening Thursday and Friday, breakfast Friday and Saturday, lunch Friday and Saturday.
Hotel Reservations
Book your hotel online for hotel reservations at DoubleTree by Hilton in downtown Tulsa. Discount rooms available until June 6.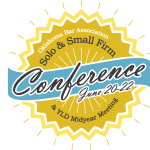 All events of the 2019 Oklahoma Bar Association Solo & Small Firm Conference will be held at the Osage Casino Hotel, 951 West 36th St N, Tulsa, 74127.