No published opinions this week. 
Oklahoma Court of Criminal Appeals
2021 OK CR 20, J-2020-882
Decided 07/22/2021
¶1 A.M.C. appeals his adjudication as a juvenile delinquent for the offense of Possession of a Firearm After Juvenile Adjudication in Oklahoma County Case No. JDL-2020-387. A.M.C. was seventeen (17) years, three (3) months and thirty (30) days old on the date he committed the offense in August of 2020. Prior to trial, he filed a motion to suppress his confession, alleging he was improperly interrogated because no parent, attorney, or other adult representative was present. The Honorable Cassandra M. Williams denied his motion to suppress and a jury found him guilty and adjudicated him delinquent. He raises three propositions of error challenging his adjudication:

Oklahoma Court of Civil Appeals
2021 OK CIV APP 32, 119216
Decided 04/05/2021
¶1 Warren Cook appeals summary judgment granted in favor of McGraw Davisson Stewart, LLC ("McGraw") and Jean Lewis (Lewis, or collectively "Defendants"), on his negligence claim, and denial of Cook's Combined Motion to Reconsider and Vacate Order, which we treat as a Motion for New Trial. 1 The appeal was assigned to the accelerated docket pursuant to Oklahoma Supreme Court Rule 1.36, 12 O.S. Supp. 2019, ch.15, app.1, without further briefing.

2021 OK CIV APP 31, 119084
Decided 05/26/2021
¶1 Daniel Littleton appeals a trial court judgment in favor of Kevin Cross on his claim for diminution in the value of his vehicle. The issues on appeal are (1) whether the trial court erred in allowing expert testimony in this small claims action and (2) whether Cross's claim for diminished value to his vehicle is supported by the evidence. After review, we conclude the trial court did not err in allowing expert witness testimony and that sufficient evidence supported Cross's claim for the damages awarded, and we affirm the trial court's decision.

2021 OK CIV APP 30, 118507
Decided 01/08/2021
¶1 Respondents/Appellants Grant County Assessor and Grant County Board of Equalization (collectively, County) appeal summary judgment granted to Petitioner/Appellee Missouri Gas Energy (MGE) in its challenge to the assessment of tax on natural gas temporarily stored in Grant County. This case was previously remanded to the trial court with directions to determine the amount of gas exempt from ad valorem tax under the Freeport Exemption. The record shows no dispute of the material facts that the amount claimed by MGE as being exempt was purchased outside Oklahoma, stored in Oklahoma for nine months or less, and sold outside Oklahoma. MGE was entitled to judgment as matter of law and we affirm.

Dispositions Other than by Published Opinions

Judge Dana Kuehn Appointed to Oklahoma Supreme Court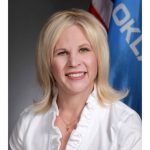 July 26, 2021 – Governor Stitt has announced that longtime jurist, Judge Dana Kuehn of Tulsa, has been appointed to the Oklahoma Supreme Court. Judge Kuehn is the governor's third appointment to the state's highest court. When she fills the vacancy created by the retirement of Justice Tom Colbert, Kuehn will become only the fourth woman to serve on the Oklahoma Supreme Court. For the first time in state history, three women will be serving as justices at the same time when Justice-select Kuehn joins Justice Yvonne Kauger and Justice Noma Gurich among the nine members of the Supreme Court.
At the time of her selection by Governor Stitt, Judge Kuehn was serving as the Presiding Judge of the Oklahoma Court of Criminal Appeals, a position she has held since January, 2021. A member of the OCCA since 2017, Kuehn served as Vice Presiding Judge from 2018-2020. Kuehn is an active member of the Oklahoma Judicial Conference and has been serving as Appellate Judge Vice President for the OJC Executive Board. Prior to serving on the Court of Criminal Appeals, Kuehn was the Associate District Judge in Tulsa County from 2006-2017. Kuehn's career includes experience as a private practice attorney and as a Tulsa County Assistant District Attorney.
Kuehn received her Juris Doctor from the University of Tulsa College of Law and her Bachelor of Arts in Political Science from Oklahoma State University. She has been an active member in her Tulsa community and has served on committees for the Oklahoma and Tulsa County Bar Associations. She is a strong supporter of the University of Tulsa College of Law and active with its Alumni Board. She attends First Presbyterian Church in Tulsa with her husband, Patrick, and four children.
Chief Justice Richard Darby has indicated that a formal ceremonial celebration for Justice-select Kuehn will be held at a later date.
2022 Board of Governors Vacancies
Officers
These are one-year terms.
President‑Elect
Current: James R. Hicks, Tulsa
Nominee:  Brian T. Hermanson, Ponca City
Vice President
Current: Charles E. Geister III, Oklahoma City
Nominee:  Miles T. Pringle, Oklahoma City
Board of Governors
These are all three-year terms (2022-2024). Terms of the present OBA officers and governors will terminate Dec. 31, 2021.
Supreme Court Judicial District Three
Current: David T. McKenzie, Oklahoma City
Nominee:
Counties:  Oklahoma
Supreme Court Judicial District Four
Current:  Tim E. DeClerck, Enid
Nominee:
Counties:  Alfalfa, Beaver, Beckham, Blaine, Cimarron, Custer, Dewey, Ellis, Garfield, Harper, Kingfisher, Major, Roger Mills, Texas, Washita, Woods, Woodward
Supreme Court Judicial District Five
Current:  Andrew E. Hutter, Norman
Nominee:
Counties:  Carter, Cleveland, Garvin, Grady, Jefferson, Love, McClain, Murray, Stephens
Member At‑Large
Current:  Miles T. Pringle,
Oklahoma City
Nominee: 

Counties: Statewide
Young Lawyers: Take this Opportunity to Lead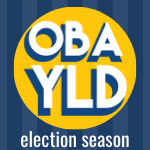 Service as an OBA Young Lawyers Division officer or director is your chance to make a difference in your community and the legal profession. YLD members are encouraged to apply for open leadership seats for 2022 within the YLD. The nominating deadline is Aug. 13, and the nomination process may be found online. Remember: All OBA members in good standing who were first admitted to the practice of law in 2011 or later are members of the OBA YLD! Don't miss out on this great opportunity to network with your colleagues while serving your community!
Notice of Judicial Vacancy

The Judicial Nominating Commission seeks applicants to fill the following judicial office of Associate District Judge, Sixteenth Judicial District, Latimer County, Oklahoma.  This vacancy is due to the retirement of the Honorable William Welch on August 1, 2021.
To be appointed an Associate District Judge, an individual must be a registered voter of the applicable judicial district at the time (s)he takes the oath of office and assumes the duties of office.  Additionally, prior to appointment, the appointee must have had a minimum of two years experience as a licensed practicing attorney, or as a judge of a court of record, or combination thereof, within the State of Oklahoma.
Application forms can be obtained online at https://www.oscn.net/jnc/application or by contacting Tammy Reaves at (405) 556-9300. Applications must be submitted to the Chairman of the JNC no later than 5:00 p.m., Friday, August 27, 2021.  Applications may be mailed, hand delivered or delivered by third party commercial carrier.  If mailed, they must be postmarked on or before August 27, 2021 to be deemed timely.  Applications should be mailed/delivered to:
Jim Webb, Chairman
Oklahoma Judicial Nominating Commission
c/o Tammy Reaves
Administrative Office of the Courts
2100 N. Lincoln Blvd., Suite 3
Oklahoma City, OK 73105
Notice of Petition for Reinstatement
NOTICE OF HEARING ON THE PETITION FOR REINSTATEMENT
OF JOEL EDWARD SCOTT, III, SCBD # 6962
TO MEMBERSHIP IN THE
OKLAHOMA BAR ASSOCIATION
Notice is hereby given pursuant to Rule 11.3(b), Rules Governing Disciplinary Proceedings, 5 O.S., ch. 1, app. 1-A, that a hearing will be held to determine if Joel Edward Scott, III should be reinstated to active membership in the Oklahoma Bar Association.
Any person desiring to be heard in opposition to or in support of the petition may appear before the Professional Responsibility Tribunal at the Oklahoma Bar Center at 1901 North Lincoln Boulevard, Oklahoma City, Oklahoma, at 9:30 a.m. on TUESDAY, AUGUST 24, 2021. Any person wishing to appear should contact Loraine Dillinder Farabow, First Assistant General Counsel, Oklahoma Bar Association, P.O. Box 53036, Oklahoma City, Oklahoma 73152, telephone (405) 416-7007.
PROFESSIONAL RESPONSIBILITY TRIBUNAL
Friday Friday Friday. Social Event for All

Last Call for Diversity Award Nominations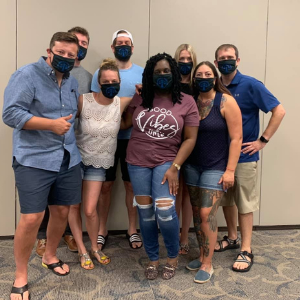 It's Bar Exam Week
The Oklahoma Board of Bar Examiners is conducting the bar exam this week. As per tradition, for at least 25 years and counting, The Young Lawyers Division assembled "Bar Exam Survival Kits" for exam takers. The 2021 version includes an OBA mask and hand sanitizer along with the usual candy, pencils and erasers. On social media, these pictures grabbed likes, and funny comments including, "In 1987 the only survival kit was doing a bunch of practice questions!"
As always, we wish
the bar exam takers all the best.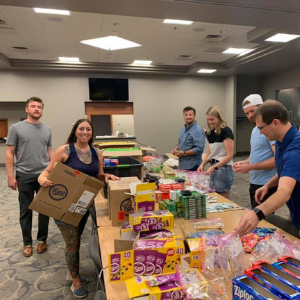 How to Clean Up Your Docs with Microsoft's Document Inspector
By Jim Calloway, Director
Management Assistance Program
Years ago, there was a lot of discussion in the legal community about metadata, that hidden data in documents that had the potential to reveal more about the document than most lawyers would like. It was a particular potential problem when using forms from a past client's matter as a form for a new document in a new client's matter.
Most law firms adopted the practice of using "cleaned" documents and templates for their forms rather than reusing a prior client's work. Today I am sharing a great article from Law Technology Today on how that cleaning process works: Clean Up Your Docs with Microsoft's Document Inspector. If you didn't recall how to remove the metadata from a document, there is a fair chance that others you work with didn't either, so this may be a good link to share with others in your office.
Just this summer I was reminded of how easily it is for metadata to mislead. One of my programs for the current OBA Summer Series was a presentation on client portals. As I prepared to send my PowerPoint to the OBA CLE Department, I noticed that the author's name was an ABA staff person who certainly didn't prepare my PowerPoint. She did, however, prepare the PowerPoint template for ABA TECHSHOW 2021 where I gave an earlier version of this presentation. I changed the author's name to my name, but it wouldn't have been a problem had I not noticed. But a lawyer who had billed a client for preparing that PowerPoint would have probably been asked about the other author, had something similar happened. The same could happen with a Word document.
Microsoft's Document Inspector is a tool lawyers need to understand and use as needed. But there are some tips to using it correctly, such as the two things you must do before using Document Inspector, which are contained in this great article.