¶1 The Oklahoma Bar Association (OBA), in compliance with Rules 7.1 and 7.2 of the Rules Governing Disciplinary Proceedings (RGDP), has forwarded to this Court certified copies of the Amended Information and Order for Judgment and Sentence in State of Oklahoma v. William W. Eakin , CF-2019-6, Jefferson County District Court, State of Oklahoma. Respondent was found guilty of 3 crimes: Offering Fraudulent Evidence, a felony, in violation of 21 O.S. §451 ; Offering False Instrument for Recordation, a felony, in violation of 21 O.S. §463 ; and Conspiracy, a felony, in violation of 21 O.S. §421 . The District Court sentenced Eakin to pay a fine of $250.00 plus all court costs and assessments, plus juror costs of 13 jurors x $20; to pay a fine of $250 plus court costs and assessments; and to pay a fine of $250.00 plus court costs and assessments.
The Supreme Court of Oklahoma Court Calendar
The Supreme Court of Oklahoma is in session year round, unless otherwise noted. The Court regularly schedules conferences on Mondays and other days as needed.
Oklahoma Court of Criminal Appeals

¶1 The State of Oklahoma charged Appellee Jeremy Lawhorn in the District Court of Ottawa County, Case No. CF-2020-189, with one count of Lewd or Indecent Acts with a Child Under 16, in violation of 21 O.S.Supp.2018, § 1123 (A)(2). Lawhorn filed a motion to dismiss, asserting that the State of Oklahoma lacked jurisdiction over the matter because he is an Indian and the offense occurred in Indian Country, specifically the Quapaw Nation Reservation. The district court held a hearing and concluded, based upon the stipulations and exhibits, that Lawhorn is an Indian for purposes of federal criminal law and that the crime occurred in Indian Country, namely within the historic boundaries of the Quapaw Nation Reservation. The district court granted Lawhorn's Motion to Dismiss, quashed the Information, and dismissed the case for lack of jurisdiction. The State announced its intent to appeal the ruling in open court to settle the status of the Quapaw Reservation and ultimately perfected the instant appeal. We exercise jurisdiction under 22 O.S.2011, § 1053 . The sole issue for review is whether the Quapaw Nation Reservation is Indian Country. Because the answer is yes, we affirm the district court's order for the reasons discussed below.

¶1 Petitioner James Chandler Ryder was convicted of two (2) counts of First Degree Murder ( 21 O.S.1991, § 701.7 ), Case No. CF-99-147, in the District Court of Pittsburg County. In Count I, the jury recommended a sentence of life imprisonment without the possibility of parole. In Count II, the jury found the existence of two (2) aggravating circumstances and recommended the punishment of death. The Honorable Thomas M. Bartheld, District Judge, sentenced accordingly. This Court affirmed the judgment and sentence in Ryder v. State , 2004 OK CR 2 , 83 P.3d 856 . Petitioner's first application for post-conviction relief was denied by this Court in Ryder v. State , (Okl.Cr.2004) opinion not for publication, Case No. PCD-2002-257. The United States Supreme Court denied certiorari in Ryder v. Oklahoma , 543 U.S. 886 (2004). On September 8, 2020, Petitioner filed this second and successive application for post-conviction relief.

¶1 Appellant, Jamar Mordecai Simms, was tried and convicted by a jury in Oklahoma County District Court, Case No. CF--2016--7415, of two counts of First Degree Felony Murder, in violation of 21 O.S.Supp.2012, § 701.7 (B). The jury recommended a sentence of life imprisonment for each count. The Honorable Ray C. Elliott, District Judge, presided at trial. Judge Elliott sentenced Simms in accordance with the jury's verdicts and ran the sentences consecutively. Simms must serve 85% of his sentences before he is parole eligible. 21 O.S.Supp.2015, § 13.1 (1).
Oklahoma Court of Civil Appeals

¶1 This appeal stems from an Order by the trial court dismissing the claims of the Texas County Board of County Commissioners upon the basis of a lack of jurisdiction and venue. The Board initiated two cases against the Office of Juvenile Affairs following the elimination of funding for the juvenile detention center located in Texas County. The cases ultimately were consolidated by the trial court. The trial court dismissed the cases on the basis that the challenged action by OJA constitutes neither an individual proceeding nor rule-making. The Board sought reconsideration of the dismissal order and, in addition, alleged a violation of its right to due process. The trial court denied the Board's request for reconsideration. We affirm.

¶1 In this termination of parental rights proceeding, Appellant Phebe Humphrey (Mother) appeals from an order of the trial court entered upon a jury verdict terminating her parental rights to her minor child, A.H. Based on our review of the appellate record, we reverse and remand for further proceedings.
Dispositions Other than by Published Opinions
OSCN ePayment Site Maintenance
On Wednesday, October 27, at 5:30 p.m., the ePayments system at the Oklahoma State Courts Network will be down for upgrades. All services are scheduled to be restored by 6:00 a.m., Thursday, October 28. OSCN apologizes for any inconvenience.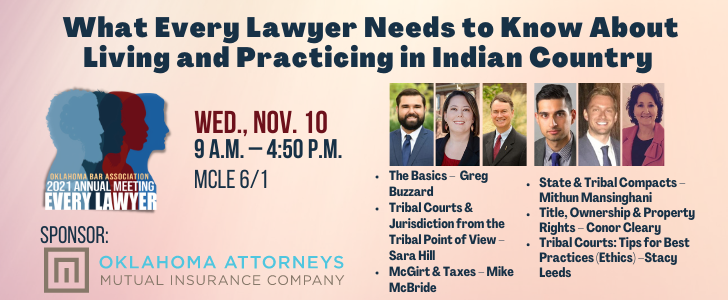 The McGirt v. Oklahoma case related to tribal sovereignty is generating numerous questions for lawyers across a broad spectrum of practice areas. The program offers six hours of CLE and one hour for ethics.  Experts in the subject matter will present on several topics, including Indian law basics, tribal jurisdictions, related tax issues, state and tribal compacts, ownership and property right in Indian country and tips for practicing in tribal courts.

NOTICE OF HEARING ON THE PETITION FOR REINSTATEMENT
OF SIDNEY WADE JONES, SCBD # 7126
TO MEMBERSHIP IN THE OKLAHOMA BAR ASSOCIATION
Notice is hereby given pursuant to Rule 11.3(b), Rules Governing Disciplinary Proceedings, 5 O.S., ch. 1, app. 1-A, that a hearing will be held to determine if Sidney Wade Jones should be reinstated to active membership in the Oklahoma Bar Association.
Any person desiring to be heard in opposition to or in support of the petition may appear before the
Professional Responsibility Tribunal at the Oklahoma Bar Center at 1901 North Lincoln Boulevard, Oklahoma City, Oklahoma, at 9:30 a.m. on TUESDAY, DECEMBER 7, 2021. Any person wishing to appear should contact Gina Hendryx, General Counsel, Oklahoma Bar Association, P.O. Box 53036, Oklahoma City, Oklahoma 73152, telephone (405) 416-7007.
PROFESSIONAL RESPONSIBILITY TRIBUNAL

By Jim Calloway, Director
Management Assistance Program
Today our tips on Microsoft Word come from Mark C. Palmer, who is the Chief Counsel of the Illinois Supreme Court Commission on Professionalism. Mark is sharing his 6 Ways Lawyers Should Be Using Microsoft Word. Hopefully you are using some of these ways and also perhaps you can learn something new in Mark's short read on the Word tools he favors.