¶0 Kendra D. Coleman, Respondent, entered an Alford plea to one misdemeanor count of Failure to File a Tax Return in Oklahoma County District Court. Pursuant to Rule 7 of the Rules Governing Disciplinary Proceedings, the Oklahoma Bar Association initiated summary disciplinary proceedings against Coleman. Coleman sought and was provided a hearing before a trial panel of the Professional Responsibility Tribunal on the limited issues of mitigation and imposition of appropriate discipline. The Trial Panel and the Bar recommend public reprimand. After de novo review, we hold the appropriate discipline is public reprimand
2021 OK 62, 118490; Comp. w/118496
Decided 11/23/2021

¶0 National American Insurance Company ("NAICO") brought suit against New Dominion, LLC, seeking declaratory judgment that four consecutive commercial general liability policies it had issued to New Dominion did not provide coverage for bodily injury and property damage claims asserted in a number of separate lawsuits ("the Earthquake Lawsuits"). These claims allegedly arose out of seismic activity caused by New Dominion's oil and gas operations. New Dominion filed a counterclaim alleging breach of contract, seeking defense and indemnity, and asserting equitable claims for estoppel and reformation. The trial court bifurcated the issues pleaded, conducting separate bench trials for the contract interpretation questions and the equitable claims. Following the first bench trial, the court issued a declaratory judgment holding that the Total Pollution Exclusions and the Subsidence and Earth Movement Exclusions in the commercial general liability policies clearly and unambiguously precluded coverage for the claims asserted in the Earthquake Lawsuits. Following the second trial, the court estopped NAICO from denying claims for bodily injury during one of the four policy periods but denied all other equitable claims. Both parties appealed, raising a litany of issues with the trial court's orders. We retained both matters and made them companion cases. We hold that (1) the Total Pollution Exclusions do not clearly and unambiguously preclude coverage; (2) the Subsidence and Earth Movement Exclusions clearly and unambiguously preclude coverage; and (3) there is no basis for New Dominion's estoppel or reformation claims.

¶0 This matter was brought by the Complainant pursuant to Rule 7 of the Rules Governing Disciplinary Proceedings. This summary disciplinary proceeding arises from Respondent's pleas of guilty to misdemeanor Driving Under the Influence and Driving with License Suspended. This Court issued an Order of Immediate Interim Suspension of Respondent's license to practice law. The Professional Responsibility Tribunal held a hearing and recommended the suspension be lifted and the Respondent be placed on a two year deferred suspension with conditions. We find the recommendation to be inadequate. We suspend the Respondent from the practice of law for one year effective from the date of his interim suspension.
The Supreme Court of Oklahoma Court Calendar
The Supreme Court of Oklahoma is in session year round, unless otherwise noted. The Court regularly schedules conferences on Mondays and other days as needed.
Oklahoma Court of Criminal Appeals
2021 OK CR 38, F-2020-420
Decided 11/18/2021

¶1 Appellant Jeffrey Don McClain was tried by jury and convicted of Rape by Instrumentation ( 21 O.S.Supp.2015, § 1111.1 ) (Count I); Lewd Acts with a Child Under 16 ( 21 O.S.Supp.2018, § 1123 (A)(4)) (Counts II and IV); and Pattern of Criminal Offenses ( 21 O.S.2011, § 425 ) (Count III) in the District Court of McClain County, Case No. CF-2019-69. As punishment, the jury recommended imprisonment for ten (10) years in Count I, seven (7) years in Count II, three (3) years in Count IV, and no term of imprisonment for Count III. The trial court sentenced accordingly, ordering the sentences to run consecutively. It is from this judgment and sentence that Appellant appeals.
Oklahoma Court of Civil Appeals

¶1 FourPoint Energy, LLC ("Appellant") appeals the trial court's July 6, 2021 interlocutory order, which in part sustained BCE-Mach II, LLC's ("Appellee") Motion to Dismiss ("MTD") some of Appellant's claims for lack of subject matter jurisdiction pursuant to 12 O.S. § 2012 (F)(3). In its Petition, which Appellee moved to dismiss, Appellant asked the trial court: (1) to declare Appellant operator of scores of oil and gas wells (many of which were subject to Oklahoma Corporation Commission ("Commission") forced pooling orders); (2) to deliver physical operations of the wells at issue to Appellant; and (3) to grant Appellant a monetary award stemming from the alleged breach of dozens of joint operating agreements ("JOAs"). This Court holds that the trial court properly sustained the Appellee's MTD as to Appellant's first two requests due to a lack of subject matter jurisdiction. However, this Court also holds that the trial court erred in granting Appellee's MTD on Appellant's breach of contract claims. Under the controlling law, Appellant should have been given leave to amend its Petition and allege breach of contract for reasons other than the Appellee's failure to turn over operatorship to the Appellant. Accordingly, we affirm in part, reverse in part, and remand this action for further proceedings consistent with this Opinion.

¶1 Petitioner Kenneth Billy Feeler seeks review of an order of the Workers' Compensation Commission which affirmed the Administrative Law Judge's (ALJ) award of permanent partial disability (PPD) to Feeler. In 2017, Feeler sustained a compensable injury governed by the Administrative Workers' Compensation Act (AWCA). Previously Feeler had received 310.85 weeks of PPD for injuries predating AWCA. Respondent City of Tulsa (Employer) argued Feeler was entitled to no more than 39.15 weeks of PPD in this case because he is subject to the 350 weeks limit on cumulative PPD established in AWCA. The ALJ agreed and found Feeler had sustained 11% permanent partial impairment from his most recent injury, which resulted in an award of 39.15 weeks of PPD benefits. Feeler's prior compensable injuries occurred when the Workers' Compensation Act allowed claimants a maximum of 520 weeks of PPD. Feeler contends that he had a vested right to the higher maximum in effect at the time of his earlier injuries and that the 350 weeks of PPD provided in AWCA applies only to injuries sustained after the effective date of AWCA. It is settled that a claimant does not have a vested right to future PPD awards and a change in the PPD maximum does not deny equal protection to claimants. The law in effect at the time of the current injury applies in workers' compensation proceedings and that law provides that the sum of all PPD awards shall not exceed 350 weeks. The finding of 11% impairment was not clearly erroneous in light of the evidence, unconstitutional, nor affected by any other error of law and we therefore affirm the Commission's order.

¶1 This appeal arises out of an action by Mary Jessica Benningfield ("Appellant") against Jordan Fischer-Columbo ("Appellee") for damages Appellant claims arose from a rear-end collision with Appellee. Following a multiday trial, the jury returned a verdict in favor of Appellee; and, accordingly, the trial court entered judgment in Appellee's favor. Appellant thereafter filed this appeal, wherein she contends the trial court committed reversible error when it (1) denied Appellant's motion for a directed verdict based on the testimony by Appellee's medical expert that Appellant sustained cervical, lumbar, and shoulder strain injuries as a result of the automobile accident and (2) admitted evidence of Appellee's medical expert over her objection. Both because the jury is the conclusive judge of the evidence, including the credibility of the witnesses, and because the trial court's rulings on the admission of evidence do not demonstrate a clear abuse of discretion, we conclude the trial court did not commit reversible error. Therefore, we affirm.
Dispositions Other than by Published Opinions


OBITUARY | Burck Bailey, OBA President 1988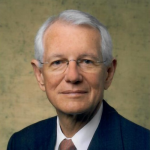 Burck Bailey was born Aug. 22, 1934, in Vinita to Frank and Frances (Burckhalter) Bailey and died Nov. 18 at the age of 87. Upon graduation in 1952 from Vinita High School, where he was voted the outstanding member of the senior class, Burck was awarded the Oklahoma Honor Scholarship by Westminster College in Fulton, Missouri. After two years, he volunteered to serve in the U.S. Army. After completing two years of Army service stationed near Stuttgart, Germany, Burck returned to Westminster, and in the second semester of his junior year, he was selected to spend a semester at the American University in Washington, D.C. The experience fostered a lifelong interest in government and politics. Upon returning to Westminster, he served as president of his fraternity and graduated with honors in 1958.
Burck was one of 20 men in the United States who received a Root-Tilden Scholarship to the New York University School of Law, where he received his J.D. in 1961. He joined the Kansas City, Missouri, law firm of Morison, Hecker, Cozad, and he began his professional career as a trial lawyer. He then became an Oklahoma assistant attorney general. Three years later, he joined the Oklahoma City law firm of Fellers, Snider, Blankenship, Bailey and Tippens and practiced as a trial lawyer until his retirement in 2006. In his legal career, Burck represented Oklahoma governors of both political parties as well as the Oklahoma Legislature in various high-profile cases, including the last impeachment to occur in Oklahoma. He was also one of the early inductees of the American Academy of Appellate Lawyers.
He served as the 1988 OBA president and president of the Oklahoma County Bar Association from 1983 until 1984. He also served as a member of the American Bar Association House of Delegates and received the OBA Professionalism Award in 1989. Burck was a Fellow of the American Bar Association, Oklahoma Bar Foundation and American College of Trial Lawyers, where he served as state chairman in 1993 and 1994. He was a Fellow of the International Academy of Trial Lawyers and served as state chairman of that organization as well. Later, Burck was elected by his fellow lawyers to the Oklahoma Judicial Nomination Commission and served as its chairman from 2002 to 2003.
After retiring, Burck and his wife, Sandra, moved to Santa Fe, New Mexico, where they were active in numerous civic organizations and enjoyed a wide circle of friends. They developed a close relationship with the New Mexico School of Law administration and endowed the Burck and Sandra Bailey Scholarship in Law for the benefit of Native American, African American and Hispanic students. He tutored Santa Fe public school students, climbed to the 20,000-foot summit of Mount Kilimanjaro at 60 years old and parachuted from an airplane on his 74th birthday. For many years, Burck was a weekend cowboy and participated in team roping contests in Oklahoma and surrounding states. He hiked, biked, and rode horses in the mountains of New Mexico well into his 80s.
Burck and Sandra led lives of love and devotion to one another. They loved to travel, the outdoors and creatures large and small. He is survived by Sandra, sons Blake and Aaron, daughter Kelli and six grandchildren. He is also survived by his sister, Kay Heiden, of McLean, Virginia.
Burck's unfailing spirit of optimism and goodwill would brighten even the darkest day. His intellect, energy, fair-mindedness, thoughtfulness and exuberant personality were greatly appreciated by his friends and colleagues. Burck was an esteemed teacher and mentor. His was a life well lived.
Congratulations 2021 Award Winners
More celebrating excellence. Pictured are 2021 OBA award winners honored during the General Assembly. Congratulations to all of the awardees who were recognized over the course of the three-day Annual Meeting, including those who received President's Awards from OBA President Mike Mordy. Watch for more pictures in next week's Courts & More and in the December Oklahoma Bar Journal.


The Judicial Nominating Commission seeks applicants to fill a vacancy for the position of Judge for the Oklahoma Court of Civil Appeals, District 4, Office 2. This vacancy is created by the resignation of the Honorable Trevor Pemberton on Oct. 18, 2021.
To be appointed to the office of Judge of the Court of Civil Appeals, one must be a legal resident of the respective district at the time (s)he takes the oath of office and assumes the duties of office. Additionally, prior to appointment, such appointee shall have had a minimum of four years' experience in Oklahoma as a licensed practicing attorney, a judge of a court of record, or both.
Application forms can be obtained online or by contacting Tammy Reaves at (405) 556-9300. Applications must be submitted to the Chairman of the JNC no later than 5 p.m., Friday, Dec. 10, 2021.  Applications may be hand-carried, mailed or delivered by third party commercial carrier.  Whether mailed or delivered, they must be postmarked on or before Dec. 10, 2021, to be deemed timely.
Applications should be mailed/delivered to:
James Bland, Chairman
Oklahoma Judicial Nominating Commission
c/o Tammy Reaves
Administrative Office of the Courts
2100 N. Lincoln Blvd., Suite 3
Oklahoma City, OK 73105

NOTICE OF HEARING ON THE PETITION FOR REINSTATEMENT
OF SIDNEY WADE JONES, SCBD # 7126
TO MEMBERSHIP IN THE OKLAHOMA BAR ASSOCIATION
Notice is hereby given pursuant to Rule 11.3(b), Rules Governing Disciplinary Proceedings, 5 O.S., ch. 1, app. 1-A, that a hearing will be held to determine if Sidney Wade Jones should be reinstated to active membership in the Oklahoma Bar Association.
Any person desiring to be heard in opposition to or in support of the petition may appear before the
Professional Responsibility Tribunal at the Oklahoma Bar Center at 1901 North Lincoln Boulevard, Oklahoma City, Oklahoma, at 9:30 a.m. on TUESDAY, DEC. 7, 2021. Any person wishing to appear should contact Gina Hendryx, General Counsel, Oklahoma Bar Association, P.O. Box 53036, Oklahoma City, Oklahoma 73152, telephone (405) 416-7007.
PROFESSIONAL RESPONSIBILITY TRIBUNAL

By Jim Calloway, Director
Management Assistance Program
Subscribers to Microsoft 365 are by now used to receiving product updates without warning. So today we will discuss new and undiscovered PowerPoint features that you may have missed.
Some lawyers only open Microsoft PowerPoint when they agree to teach a CLE presentation. But there are many more uses for PowerPoint. If I was still doing consumer bankruptcy law, I would have a client-facing monitor and use some basic bankruptcy slides to accompany an initial client interview. With bankruptcy including so much financial and dry statutory information, a few slides with illustrations of the points could assist a new potential client's focus.
Among the noteworthy items are adding your own voice narration to a video embedded in the PowerPoint and using PowerPoint to create animated GIFs for sharing on social media or otherwise. Creating animated GIFs is not significant for lawyers normally, but here is a way to create one. It's easy to miss a misspelled word on a PowerPoint and now there's a way to spell check the entire PowerPoint in one operation.
North Carolina Bar's Catherine Reach has produced a nice little primer on PowerPoint. https://www.ncbar.org/2021/11/16/whats-new-in-ms-powerpoint/.  It covers these newly-added features as well as some that many users have yet to try.