February 2018 | Transactional Law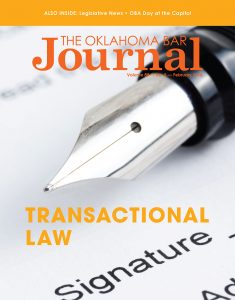 Feature Articles
The Duty to Speak in Contract Formation
In Key Finance, Inc. v. DJ Koon,1 the Oklahoma Court of Civil Appeals reversed and remanded the trial court's order granting the motion of Key Finance (Key) for a directed verdict and to compel arbitration on the claims of DJ Koon (Koon) arising from the sale and financing of a vehicle.2 The case raises some fundamental issues relating to the execution and enforcement of contracts, quite aside from the more specialized issue of arbitration.3
Citizenship and Jurisdiction of Federally Chartered Companies
A federal court's jurisdiction is typically based on either federal question jurisdiction or diversity of citizenship; however, regarding federally chartered companies, federal jurisdiction is more nuanced than one might imagine.
Changes to the Oklahoma General Corporation Act
The 2017 Oklahoma legislative term wielded many changes to Title 18 of the Oklahoma Statutes on corporate regulation. These additions and redactions to the Oklahoma General Corporation Act passed with overwhelming support.1 Adjustments were made to the interpretation and enforcement of corporate instruments, indemnification in lawsuits, issuance of stock, ratification of defective corporate acts, determination of record stockholders, mergers, consolidations, dissolutions and appraisal rights.
Protesting Federal Procurement Actions
Your client, a small business owner, pays you a visit immediately after he learns the proposal he submitted for a multiyear, multimillion dollar federal construction project was not selected for contract award.
Dispute Resolution Clauses in Private Construction Contracts
Most contracts involving the construction of a private project include some type of provision addressing dispute resolution.
Joint Account Basics
Jointly owned deposit accounts have been an ever-present part of banking since before Oklahoma became a state. You likely have opened a joint account with your parent or spouse, or even recommended that a client use a joint account.