State Bar Annual Meeting Participation Soars
The Oklahoma Bar Association's 116th Annual Meeting will be historic. The meeting set for Nov. 9-13, 2020, will be virtual for the first time ever and is shattering the record for participation with more than 1,400 members registered.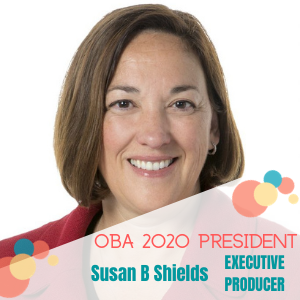 President Susan B. Shields of Oklahoma City chose a theme of "Bouncing Back" to emphasize attorney wellness. "COVID-19 has resulted in many changes this year and provided opportunities for resilience. One definition of resilience is bouncing back higher and stronger after challenges and setbacks, a concept that many of us can relate to this year," she said.
Registration and all continuing legal education will be free to OBA members for the Annual Meeting, recognizing that lawyers are facing many challenges this year. Free registration is made possible because of the generosity of sponsors including the Oklahoma Attorneys Mutual Insurance Company, CLIO, LawPay and McAfee & Taft.
Programs will be spread out from Monday to Friday, allowing members to join the meeting for a few hours each day and keep up with their law practice. The keynote speaker will be nationally known North Carolina lawyer Laura Mahr who will speak several times on wellness and resiliency.
Other CLE programs will include COVID-19 legal issues, a panel discussion with the Oklahoma attorneys involved in the first opioid case to go to trial nationally and tips on technology.
The virtual format will also include evening social events and opportunities to network through a trivia game, a virtual reception and a special Diversity Committee awards ceremony featuring Dana and Keith Cutler, trial attorneys in Kansas City and stars of the TV show, Couples Court with the Cutlers. Another special event will be presented by the Oklahoma Bar Foundation featuring a conversation with OBF President Patrick O'Hara and his sister, Tony-Winning Broadway Star Kelli O'Hara.

Official OBA business also will be conducted at the meeting, including the election of officers and honoring OBA award recipients.
Register for the meeting and find more details at www.okbar.org/annualmeeting.