OBA Diversity Award Winners Announced
By Telana McCullough
The OBA Diversity Committee is gearing up to host the 2021 Ada Lois Sipuel Fisher Diversity Awards Dinner on Thurs., Nov. 11, in conjunction with this year's OBA Annual Meeting. The dinner begins at 7 p.m. at the Sheraton Hotel in downtown Oklahoma City. During the ceremony, this year's OBA Diversity Award recipients will be recognized, and noted author and attorney Hannibal Johnson will serve as the keynote speaker.
Mr. Johnson is an acclaimed author and attorney who has served prominently during the commemoration of the 1921 Tulsa Race Massacre and has kept the issues surrounding the tragedy in the forefront. He most recently authored Black Wall Street 100: An American City Grapples with its Historical Racial Trauma. As part of the celebratory evening, Mr. Johnson will interview Ruth Addison Martin, chief legal officer, Tulsa Housing Authority, on Tulsa's historic Greenwood District and its legacy.
"In this, the 100th anniversary year of the 1921 Tulsa Race Massacre, it is fitting that we pause to reflect on our 'hard history,'" Mr. Johnson said. "It is imperative that we leverage its lessons as we further embrace diversity, equity, and inclusion."
This year's Ada Lois Sipuel Fisher Diversity Award Winners are:
---
 Member of the Judiciary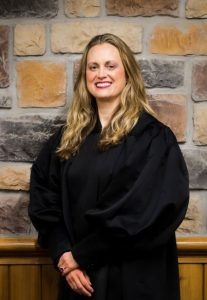 Justice Shawna S. Baker 
Justice Shawna S. Baker is a Cherokee Nation Supreme Court Justice, managing attorney of Family Legacy and Wealth Counsel PLLC and trustee for Oklahomans for Equality. She was nominated to the Cherokee Nation Supreme Court by Chief Chuck Hoskin Jr. and confirmed by a vote of the Tribal Council on Aug. 27, 2020. She is the first member of the LGBT community and only the third woman ever confirmed to the Cherokee Nation Supreme Court.
Justice Baker's first written opinion was in Effect of Cherokee Nation v. Nash & Vann v. Zinke, CNSC-2017-07, published Feb. 22, wherein the Cherokee Nation Supreme Court unanimously held that any "by blood" citizenship references found in the 1999 Cherokee Nation Constitution, Cherokee Nation Tribal Code and/or accompanying rules, regulations, policies or procedures are void ab initio per the 1866 treaty between the United States and the Cherokee Nation. This groundbreaking decision grants full rights of citizenship to Cherokee Freedman descendants. Secretary of the Interior Deb Haaland released a press statement May 12, announcing the Department of the Interior's approval of the 1999 Cherokee Nation Constitution in light of Nash. And, on Oct. 22, Secretary of the Department of Housing and Urban Development Marcia L. Fudge quoted the opinion and specifically cited the outcome for opening a wide range of services and assistance, under HUD programs, to Cherokee Nation citizens.
In addition to serving on the Supreme Court, Justice Baker currently serves the Cherokee Nation in an advisory role to Cherokee Nation Health Services on its Ending the HIV Epidemic project and on the chief's domestic violence task force. In 2019 and 2020, Justice Baker served the Cherokee Nation as a gaming commissioner.
On an international level, Justice Baker is recognized by Yahoo Finance as an OUTstanding LGBT+ Top 100 Role Model for two years running. In 2020, she made the list at number 44. At the national level, she serves on the Indian Health Services and the Northwest Portland Area Indian Health Board's Native Ending the HIV Epidemic Advisory Committee. She is a frequent guest speaker and legal panelist on topics of diversity, and she is the author of scholarly articles on the intersectionality of LGBT rights and estate planning.
Justice Baker began her legal career working for one of Oklahoma's oldest and largest law firms upon her graduation from the TU College of Law in 2002. In 2006, she was admitted to Columbia Law School, where she obtained her LLM and was recognized as a Harlan Fiske Stone Scholar. Furthermore, she was an inaugural class member of the Gender and Sexuality Law Clinic, where she co-authored a brief on reparative therapy and proposed legislative language for banning reparative therapy in the state of California. She created a searchable database of all city, county and state recognitions, rights and/or protections for same-sex couples then in existence. She also served on the Columbia Journal of Gender and Law.
Upon graduating from Columbia in May 2007, Justice Baker accepted a position as an assistant professor of law at the Florida Coastal School of Law in Jacksonville, Florida. In 2010, she returned to Tulsa to serve as a trustee for a private family foundation. While working full-time, she enrolled at the New York University School of Law in the fall of 2013 and received her third law school degree, an LLM in taxation, in May 2015. In July 2015, she founded Family Legacy & Wealth Counsel PLLC.
In addition to her three law degrees, she holds a master's degree in biological sciences from TU and a bachelor's degree in biology from John Brown University. In 2020, John Brown University recognized Justice Baker as its Career Achievement Award recipient. She was also recognized as the TU College of Law's Outstanding Senior Alumna for 2020-2021.
---
Attorneys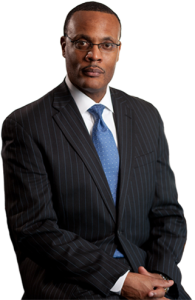 Anthony (Tony) Coleman 
Mr. Coleman worked for the leadership of the Oklahoma Senate before entering private practice. He was the first Black man in state history to serve in this capacity and the first to serve three president pro tempore of the Oklahoma Senate terms within seven years. Mr. Coleman resigned from the Senate in 2007 and became co-founder and owner of the law firm of Goza, Washington & Coleman. In 2012, Mr. Coleman founded Coleman Law Firm PLLC.
He holds a bachelor's degree in business administration from the University of Oklahoma, as well as a J.D. from the OCU School of Law. Mr. Coleman is the first and only Black person in Oklahoma history to become a member and faculty of the prestigious National College for DUI Defense, and he is trained in DUI/DWI detection, administration of the Standardized Field Sobriety Test, gas chromatography and the Intoxilyzer 3000, 5000 and 8,000. In June 2015, Mr. Coleman became the first Black person in Oklahoma to receive the Clarence Darrow Award.
Mr. Coleman is a member of the National Trial Lawyers Top 100 Trial Lawyers from 2014 to present, National Association of Criminal Defense Lawyers, American Bar Association, Texas Criminal Defense Lawyers Association, Oklahoma Bar Association, Oklahoma County Bar Association, Oklahoma County Criminal Defense Lawyers Association, Canadian County Bar Association, Cleveland County Bar Association and is licensed to practice in the United States District Court in the Western District of Oklahoma and the United States Court of Appeals for the 10th Circuit.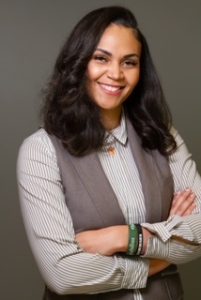 Francie Ekwerekwu 
Frances "Francie" Ekwerekwu, a native of Arlington, Texas, most recently held the primary role of Oklahoma County Pretrial Jail Release Initiative's program director for The Education and Employment Ministry (TEEM), an Oklahoma City nonprofit organization. In tribute to her time at TEEM, she was named the 2021 honoree and first recipient of The Francie Ekwerekwu Empowerment, Equality and Social Justice Advancement Award. In conjunction, Ms. Ekwerekwu served as an Oklahoma County assistant public defender, specializing in pretrial and bond matters. While serving in these positions for six years, she provided program management, legal representation and advocacy to various individuals who encountered the Oklahoma County criminal justice system. In June 2019, she was appointed by Oklahoma County Commissioner Carrie Blumert to serve on the Oklahoma County Criminal Justice Authority, addressing issues surrounding the Oklahoma County jail. She served in this role for over two years before resigning in October, when she was sworn in as an assistant public defender for the Federal Public Defender of the Western District of Oklahoma. Ms. Ekwerekwu is an OU graduate, where she earned bachelor's degrees in arts and sciences, a master's degree in human relations and was a varsity volleyball student athlete. She also received her J.D. from the DePaul University College of Law. Currently, she is an adjunct professor at OU, instructing undergraduate and graduate-level students in the Human Relations Department. In May, she joined the ACLU of Oklahoma's Board of Directors. Through this role and other community activities, she is dedicated to fighting for legal rights, civil liberties and protections, equality, well-being, quality of life and justice for others in her community, especially marginalized groups and individuals. A devoted advocate for children of incarcerated parents, she serves on the Oklahoma Messages Project Board of Directors. She also serves as an honorary guest of the Oklahoma Commission on Children and Youth's Children of Incarcerated Parents Advisory Committee. A member since 2006, she serves various ministries at her church, Fifth Street Baptist Church, on the east side of Oklahoma City. She also prioritizes serving as a volunteer volleyball coach with the Oklahoma City Police Athletic League for east side Oklahoma City schools, and she is a proud member of Leadership Oklahoma City Class 36 and Leadership Oklahoma Class 33. Her favorite role in life is being a mother to her eight-year-old son – this truly is her supreme honor and privilege.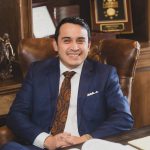 Miguel Garcia 
Miguel Garcia is a criminal defense and family-based immigration attorney, practicing in the area of complex federal and state matters – some of which can lead to immigration consequences. He earned his bachelor's degree in political science and Spanish, and he has a master's degree in modern languages from Texas A&M University. He received his J.D. from the OU College of Law.
Mr. Garcia has been involved on several boards, such as the Oklahoma County Bar Association, Oklahoma City Federal Bar Association Board of Directors, Latino Community Development Agency, Oklahoma County Law Library Board of Trustees and the Youth Leadership Exchange Board, amongst others. He is currently a member of the Ruth Bader Ginsburg Inn of Court.
Previous, he has been awarded the OKCBiz 40 under 40, Journal Record Leadership in Law Award, Latino Leaders Top Latino Lawyers for 2017, 405 Magazine Top Attorneys, Hola Oklahoma magazine top attorney, National Academy of Defense Attorneys Top 10 under 40, National Academy of Criminal Defense Attorneys Top 10 Ranking and Super Lawyers Rising Star.
His past involvement has included serving as a volunteer for Big Brothers Big Sisters, a delegate for the Rotary Group Study Exchange program to Argentina, on the SOKC Rotary, graduating as a member of the LOYAL Class VI and coaching for the Norman Youth Soccer Association.
Mr. Garcia is happily married to his wife, Ana, and he is a proud father of two beautiful children, Lucas and Emma. They are members of St. Francis of Assisi Catholic Church and are part of the Association of Catholic Professionals. In his downtime, he enjoys cheering his alma maters' college football teams and spending time with his family.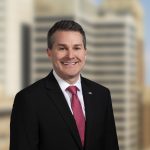 Trent Shores
Trent Shores, a former U.S. attorney, is a shareholder in the Tulsa office of GableGotwals, where he advises clients regarding complex litigation, cybersecurity and Native American law and policy. He was recently named a Tribal Supreme Court justice for the Kaw Nation and a member of the U.S. Global Leadership Coalition's Oklahoma Advisory Committee. Mr. Shores graduated with a degree in political science from Vanderbilt University and received his J.D. from the OU College of Law. A member of the Choctaw Nation, he established national initiatives to address the crisis of missing and murdered Indigenous people and led a presidential task force that investigated allegations of sexual abuse at the Indian Health Service. His work has been featured in national media outlets, including The Wall Street Journal, The New York Times, Real Clear Politics and the Associated Press.
---
Organization

CAIR Oklahoma (Council on American Islamic Relations) 
In 2006, Lobna Hewedi moved to Oklahoma from Los Angeles, where she had worked for the Los Angeles Chapter of the Council on American-Islamic Relations. She enjoyed the experience, but even more so, she saw the benefit the organization brought to the Muslim community of Southern California. Upon moving to Oklahoma, she set out on a mission to gather a group of like-minded individuals and open a chapter of the Council on American-Islamic Relations in Oklahoma. A year later, the Oklahoma Chapter of the Council on American-Islamic Relations (CAIR Oklahoma) had an office and their first full-time executive director, Razi Hashmi.
From 2006 until 2014, the presence and notoriety of CAIR Oklahoma grew across the state and nationally with some groundbreaking civil rights cases. In 2007, CAIR Oklahoma assisted Samantha Elauf, a Tulsa Muslim teen, when she was discriminated against by Abercrombie & Fitch, who did not hire her because she wore a headscarf, or hijab, as a part of her Muslim faith. Ms. Elauf's case eventually went to the United States Supreme Court that held, in an 8-1 decision, an employer may not refuse to hire an applicant to avoid accommodating a religious practice.
In 2010, CAIR Oklahoma grabbed the attention of the entire country when its second executive director, Muneer Awad, filed a lawsuit against the state of Oklahoma following the 70% approval of Oklahoma's Anti-Shariah Amendment, State Question 755, by voters. With the lawsuit filing, Mr. Awad and his co-plaintiffs were granted a temporary injunction against the state question. The legal battle lasted three years, and eventually, Judge Vicki Miles-LaGrange issued a permanent injunction against State Question 755, stating the state question violated the First Amendment of the Constitution's Establishment Clause.
In the years since, CAIR Oklahoma has grown into a statewide social justice and educational organization serving Oklahoma Muslims through its Oklahoma City office. The organization now has full-time departments dedicated to civil rights, government affairs, community outreach and prison ministry. The organization's mission has evolved over the years, but one thing remains constant: To improve the quality of life for Muslims in Oklahoma through education, advocacy and building coalitions to promote justice for people of all cultures and faiths.
Telana McCullough chairs the OBA Diversity Committee and is a senior staff attorney at the Oklahoma Department of Education in Oklahoma City.
Originally published in the Oklahoma Bar Journal – OBJ 92 Vol 9 (November 2021)