January 2019 | Meet Your Bar Association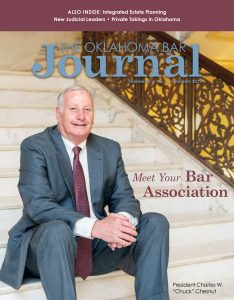 Feature Articles
2019 OBA President Chuck Chesnut
Charles W. "Chuck" Chesnut was born and raised in the small town of Miami, Oklahoma. "Miami was a great place to grow up. You've got a lot of great friends, and you never get into a lot of serious trouble, but there were always mischievous things you could get into." Miami has a population of approximately 13,000 people and is home to Northeastern Oklahoma A&M Junior College
Plus Articles
Integrated Estate Planning for the Protection and Succession of the Family Business
A successful family business is certainly worth preserving and protecting. The primary economic driver that makes the United States the unrivaled economic powerhouse of the world is its family businesses. These account for the majority of U.S. gross domestic productivity.1 Considering the statistics, it appears the most efficient, effective and successful vehicle for harnessing ingenuity to exploit economic opportunity and to create wealth, is the family business.
Private Takings in Oklahoma Under Article II, §23 of the Oklahoma Constitution
The purpose of this article is to acquaint the practitioner with a little-known procedure for handling access and utility issues involving real property in Oklahoma – a private cause of action for eminent domain. Under Article II, §٢٣ of the Oklahoma Constitution, a private person may condemn private land of another for 1) a private way of necessity or 2) for drains or ditches across lands of others for agricultural, mining or sanitary purposes.1 Oklahoma law specifically provides that private condemnation can be accomplished pursuant to statutory proceedings, but the issue of inverse condemnation, in which a party is seeking compensation for a private taking, is not as cut and dry. There is, however, authority that supports an implied cause of action for inverse condemnation by a private property owner against a private person.