Women in Law Conference & Luncheon
Friday, Oct. 25 | 9 a.m. – 4 p.m.
Renaissance Waterford OKC Hotel
6300 Waterford Blvd., Oklahoma City
Conference | 9 a.m. - 4 p.m.
Programming includes sessions on LGBT rights under Title VII, tips for appeals, nonprofit board service and cyber ethics plus hear from a number of judges and justices, including a panel discussion hosted by Supreme Court Chief Justice Noma Gurich.
A total of 6 credit hours, 1 of which may be applied toward ethics requirements.
Mona Salyer Lambird Spotlight Awards Luncheon | 11:45 a.m.
The luncheon will start at 11:45 a.m. and will include a keynote address "The Supreme Court, an Institution at Risk" by Marcia Coyle, chief Washington correspondent for The National Law Journal.
Mona Salyer Lambird Spotlight Award recipients this year are:
Teresa Meinders Burkett
Brita Haugland-Cantrell
Doneen Douglas Jones
Suzanne Mitchell
Z. Faye Martin Morton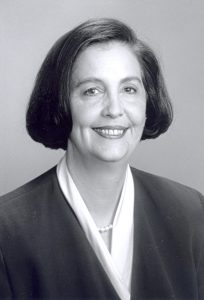 Mona Salyer Lambird
The Spotlight Awards were created in 1996 to annually honor five women who have distinguished themselves in the legal profession and who have lighted the way for other women. The award was later renamed to honor 1996 OBA President Mona Salyer Lambird, the first woman to serve as OBA president and one of the award's first recipients, who died in 1999.