On a drizzly Tuesday morning, under a sea of umbrellas that also helped with social distancing, 100 new attorneys took the oath of office and signed the roll of attorneys in a ceremony outside the Oklahoma Judicial Center. Another virtual ceremony took place later on September 22, 2020, and other new attorneys are joining the profession through individual signing of the oath. Results of the July 2020 bar exam, with an 80% pass rate, were announced in early September.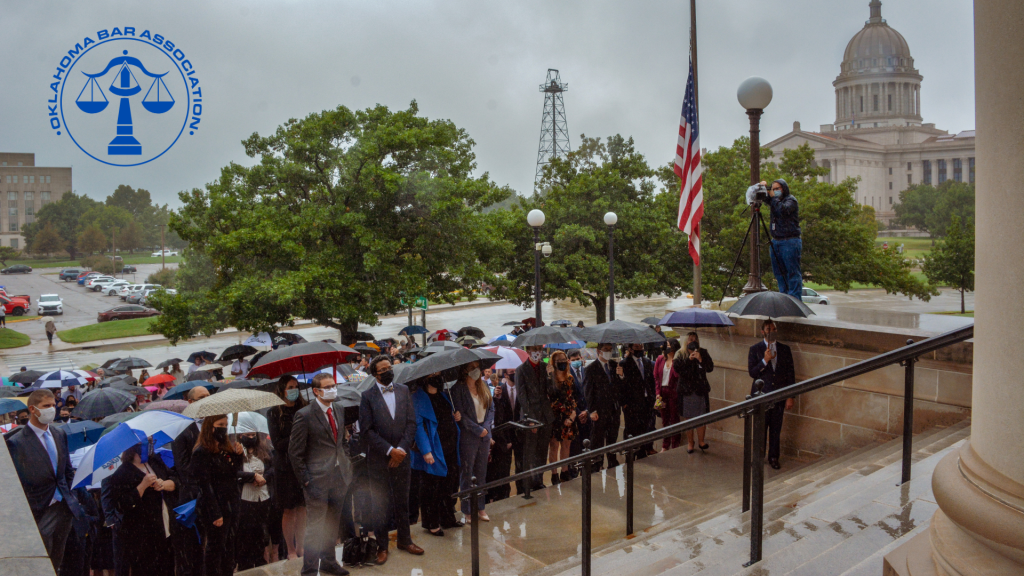 Oklahoma Supreme Court Chief Justice Noma Gurich administered the oath, shared on the OBA's Facebook Page, and offered a few words of encouragement.
Thank you for having the grit to study during most unusual times;
Thank you for having the determination to continue to prepare for the bar exam in spite of the Covid-19 emergency;
Thank you for taking personal responsibility for the success of the bar exam not only for yourself, but for your fellow text takers by following the health and safety guidelines provided by the Bar Examiners;
Thank you for your adaptability and flexibility.

Oklahoma Supreme Court Chief Justice Noma Gurich

The ceremony was meaningful to Jessica Cox who earned her law degree from Oklahoma City University School of Law while working full-time in human resources for a local hospital. She said the support of the people she loves was key to her success.
"Covid took everything; at least we got this. I am grateful for the thoughtfulness and care for all of those who put together this ceremony," she said.
Aleena Chaudry took the oath of attorney, the same oath her mother, Aliya, took in 1998. The family including Aleena's father, Navid, and grandmother, Gul "Nana" Ahmed, also attended the ceremony.
"As a result of the challenges that you faced, you had the courage to find a way to be successful. People turn to lawyers and the courts in times of personal crisis. The skills you learned during this time of unprecedented crisis will serve you well in your professional life as a problem solver. You know that you cannot be defeated!"

Oklahoma Supreme Court Chief Justice Noma Gurich

Family and friends, including grandparents, parents, spouses and children, also attended the ceremony. Some drove long distances to witness a seminal moment in the new attorneys' lives.
The OBA Young Lawyers Division treated the crowd, including their fellow new OBA members, to pastries and coffee from Coffee Junction.
Chief Justice Gurich leads the Oath of Attorney, virtually.

Markayla Hornung earned her law degree from the University of Tulsa, College of Law, and thanks her husband, Matt, for his support.

Ope Adegbuyi graduated from the University of Oklahoma, College of Law, poses with her mother.

Pierre Robertson Sofia Miranda, Blake Geron, Baylor Boone. College of Law, The University of Tulsa

Chief Justice Gurich and Thomas P Goreson, Jr.