Summer CLE Series Underway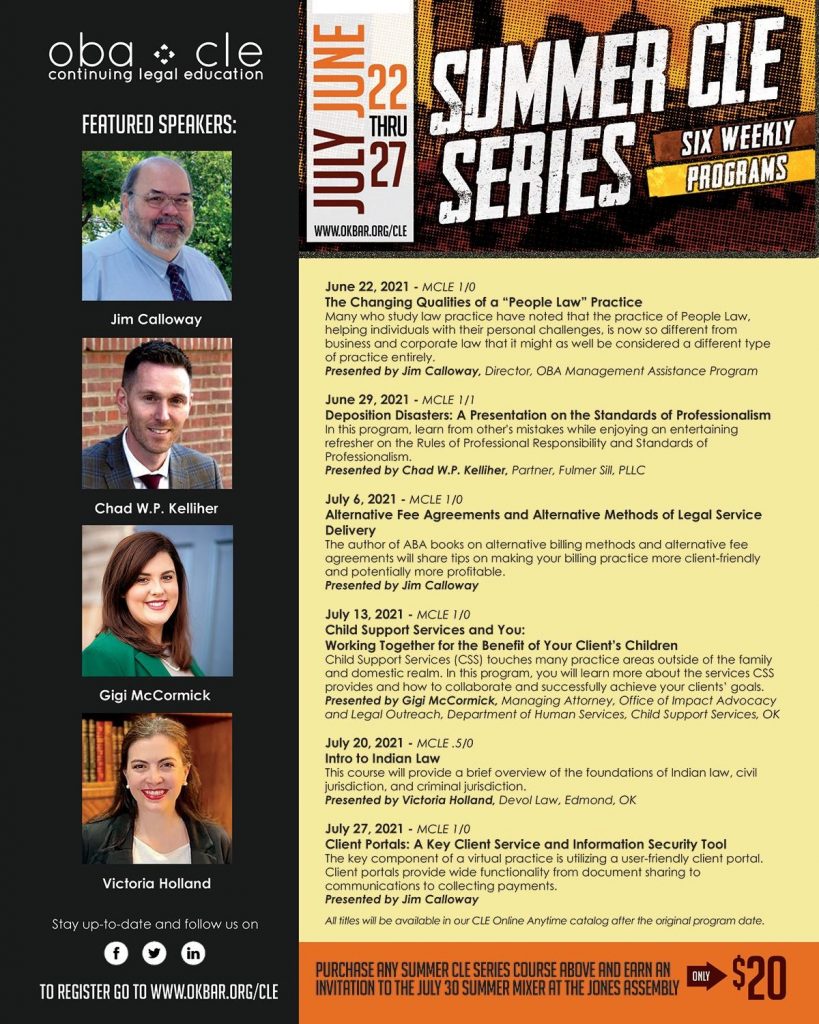 The OBA kicks off the Summer CLE Series with six programs, presented online. The series, from June 22 – July 27, 2021, features a variety of topics presented by OBA members.
Purchase the bundle to save money, or sign up individually. The purchase of just one course will earn an invitation to an in-person social gathering at The Jones Assembly in Oklahoma City for $20.
The Changing Dynamics of a "People Law" Practice
Presented by Jim Calloway, Director, OBA Management Assistance Program
Available: June 22, 2021
MCLE 1/10
Many who study law practice have noted that the practice of People Law, helping individuals with their personal challenges, is now so different from business and corporate law that it might as well be considered a different type of practice entirely.
Deposition Disasters: A Presentation on the Standards of Professionalism
Presented by Chad W.P. Kelliher, Partner, Fulmer Sill, PLLC
MCLE 1/1
Available: June 29, 2021
In this program, learn from other's mistakes while enjoying an entertaining refresher on the Rules of Professional Responsibility and Standards of Professionalism.
Alternative Fee Agreements and Alternative Methods of Legal Service Delivery
Presented by Jim Calloway, Director, OBA Management Assistance Program
MCLE 1/0
Available: July 6, 2021
The author of ABA books on alternative billing methods and alternative fee agreements will share tips on making your billing practice more client-friendly and potentially more profitable.
Child Support Services and You: Working Together for the Benefit of Your Client's Children
Presented by: Gigi McCormick, Managing Attorney, Office of Impact Advocacy and Legal Outreach, Oklahoma Department of Human Services, Child Support Services
MCLE 1/0
Available: July 13, 2021
Child Support Services (CSS) touches many practice areas outside of hte family and domestic realm. n this program, you will learn more about the serivces CSS provides and how to collaborate and successfully achieve your clients' goals.
Intro to Indian Law
Presented by Victoria Holland, Devol Law
MCLE .5/0
Available: July 20, 2021
This course will provide a brief overview of the foundations of Indian law civil jurisdiction, and criminal jurisdiction.
Client Portals: A Key Client Service and Information Security Tool
Presented by: Jim Calloway, Director, OBA Management Assistance Program
MCLE 1/0
Available: July 27, 2021
The key component of a virtual practice is utilizing a user-friendly client portal. Client portals provide wide functionality from document sharing to communications to collecting payments.
All titles will be available in the OBA CLE Online Anytime catalog after the original program date.