Document Generation Workflows and Why They Matter – Pine
June 24, 2022 from 10:55 am to 11:55 am
Speaker: Kenton Brice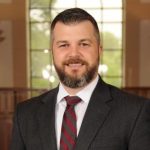 Kenton Brice, Director of Technology Innovation, University of Oklahoma College of Law
Documents are lawyers' stock and trade. Leveraging design and process improvement fundamentals, lawyers can create document process workflows that greatly enhance the quality, accuracy, and efficiency, of a variety of documents.
This session will cover the basics of why document creation processes are important and the tools and resources lawyers can take advantage of today using the Effectiveness Project as a backdrop.
Come learn:
1) how the duty of technology competence requires us to improve all aspects of legal practice, including everyday tasks like document creation;
2) design thinking and process improvement methodologies to create effective document creation processes;
3) a framework for recognizing when we're overworking a document, and how we could work more efficiently;
4) the tools and resources that lawyers can leverage to aid in their document creation processes.