Annual Women in Law Conference Set for Sept. 22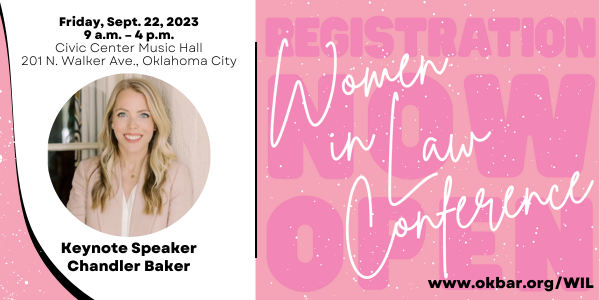 The Oklahoma Bar Association Women in Law Section is planning its annual conference to celebrate and support women in the legal profession. This one-day event will kick off at 9 a.m. on Friday, Sept. 22, at the Civic Center Music Hall, 201 N. Walker, Oklahoma City.
Attorney and New York Times bestselling author Chandler Baker will serve as the keynote speaker for this year's event. Attendees will hear from numerous presenters and panelists throughout the day. Topics will include courtroom civility and its impact on mental health, law firm branding and alternative careers in the law for those who have earned legal degrees. Panel discussions will delve into issues such as judicial ethics and seeking public office. A full agenda along with registration information is posted online at www.okbar.org/wil.
"The OBA Women in Law Section seeks to educate and engage lawyers and the public about the issues affecting women in the legal profession," said lawyer Emily Gregory of Oklahoma City, who chairs the section. "Our annual conference provides attendees with exciting opportunities for networking and career development while also offering compelling continuing legal education to Oklahoma lawyers."
Licensed attorneys who register for and attend the day-long event will earn a total of six mandatory continuing legal education credit hours, two of which may be applied toward ethics requirements.
The event will also feature the Mona Salyer Lambird Spotlight Awards Luncheon, where leading women lawyers and judges from across the state are annually recognized. This year's honorees are LeAnne Burnett, Oklahoma City; Susan Carns Curtiss, Oklahoma City; Tricia Louise Everest, Oklahoma City; Betsy Jackson, Tulsa; and Sharolyn Whiting-Ralston, Tulsa.

Attendees may register for the luncheon only. Space is limited; visit www.okbar.org/wil for more information.
The 18,000-member Oklahoma Bar Association, headquartered in Oklahoma City, was created by the Oklahoma Supreme Court to advance the administration of justice and to foster and maintain learning, integrity, competence, public service and high standards of conduct among Oklahoma's legal community.