When Geography Determines Justice: Examining Legal Deserts in Oklahoma
By Katie Dilks
The gold standard for meaningful access to justice is high-quality legal representation. Unfortunately for too many Oklahomans, that goal is quite literally out of reach. Oklahoma's attorneys are increasingly concentrated in just a handful of counties, putting rural Oklahomans in the challenging situation of trying to navigate the legal system alone.
This isn't a new challenge, and it's only getting worse. Examining OBA data on where Oklahoma-licensed attorneys practice from 2018 and 2023 shows an increase in the number of counties with 10 or fewer licensed attorneys (from 20 to 23) and an increase in the number of counties with five or fewer attorneys (from 10 to 13).[1] At the same time, the percentage of attorneys practicing in just three counties (Oklahoma, Tulsa and Cleveland) rose from 74% to 76%, despite those counties only accounting for 45% of the state's population.
The American Bar Association defines a legal desert as a county with less than one licensed attorney for every
1,000 residents. By that metric, 20 Oklahoma counties are legal deserts, with a combined population of over 350,000 residents. Another 29 counties have fewer than 1.5 attorneys per 1,000 residents, meaning over half our state has insufficient legal resources to meet basic needs in family law, probate, guardianship and much more.
As seasoned attorneys with small-town practices retire, too few young attorneys are looking to build a practice in those communities. This is a complicated challenge with multiple contributing factors including culture and community, law school debt and lack of training and support for solo practitioners. Other states have sought to address this challenge with incentives and loan repayment programs, most notably North Dakota[2] and South Dakota.[3] While these programs have been successful at bringing small numbers of lawyers to underserved rural areas, the scope of this challenge cannot be meaningfully tackled with just a handful of new attorneys. We must take an all-of-the-above approach to ensuring rural justice.
Nebraska has a new rural pipeline program recruiting students from rural areas while they're still in college and supporting them financially and academically through law school.[4] While the program does not have a requirement that participants return to their hometowns, they are optimistic that many will choose to at some point in their practice. Exposure to the impact attorneys can have in rural areas is also key to swaying law students to consider practice outside the large cities. The Equal Justice Works Rural Summer Legal Corps places law students in paid internships across the country[5], including with Oklahoma Indian Legal Services and Legal Aid Services of Oklahoma. These experiences often have a direct impact on the career choices and trajectories of those law students.
Many states are experimenting with other ways to bring justice to people. South Carolina, Tennessee, Minnesota and others have "justice buses" – functionally traveling legal aid or law school clinics that can visit communities for pop-up legal services access. However, these clinical programs are not a permanent presence, and are often limited in how they can help with complicated or ongoing matters.
The reality is that many litigants, in both rural and urban areas, must access our courts without legal representation – because they cannot afford it or it simply isn't available. It is incumbent on all of us to build a legal system that is navigable and usable by pro se Oklahomans. Creating legal information on common topics in plain and understandable language is a critical first step toward that. The Oklahoma Access to Justice Foundation has tackled this challenge in partnership with the Oklahoma Department of Libraries, creating colorful and easy-to-understand infographics on eight common issues, along with training materials and guidance for library staff to help people connect with additional information they need.
Investing in technology can help leverage the resources we do have and give urban attorneys ways to serve clients several hours away without the long drive. Minnesota has created several hundred justice kiosks to connect people with legal information and provide a secure site for people to access virtual hearings or connect with a legal aid attorney. Imagine if an attorney in Oklahoma City could meet with a client in Atoka to review an uncontested divorce petition without leaving their office. By strategically using the tools of limited scope representation[6] and investing in rural broadband and technology access, this could easily be in Oklahoma's future.
Technology investments can also be maximized if we commit to standardizing court forms and processes across the state. Many states have created optional statewide forms (including Iowa, Colorado, Washington, Illinois and others). When standard forms are available, tools such as A2J Author can be used to create guided interviews to ensure people can fill out these forms accurately, and increase judicial efficiency when courts are receiving the correct forms, correctly completed. Oklahoma has a couple of great examples of these forms, namely guardianship and victim protective orders, but we have a long way to go to meet the standards set by these other states.
Legal deserts didn't appear overnight, and they cannot be tackled with a single, immediate silver bullet. But by creatively exploring solutions including incentivizing rural practice, connecting law students and young lawyers with rural mentors, investing in technology, standardizing court processes and ensuring accurate, understandable legal information is available to everyone, we can move toward a future where all Oklahomans, regardless of their address, can meaningfully participate in the legal system.
---
ABOUT THE AUTHOR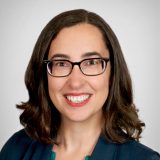 Katie Dilks is the executive director of the Oklahoma Access to Justice Foundation, which strives to increase meaningful participation in a fair and accessible civil justice system. Ms. Dilks received her J.D. and master's degree in public policy from Georgetown University.
---
ENDNOTES
[1] OBA data available upon request. Cotton, Greer, Dewey, Okfuskee, Love, Johnston, Ellis, Harper, Harmon and Cimarron counties all have fewer than five attorneys, while Nowata, Jefferson, Roger Mills, Beaver, Latimer, Kiowa, Tillman, Coal, Grant, Washita, Pushmataha, Blaine and Alfalfa counties have between five and nine attorneys.
[2] https://bit.ly/3L1nx0M (last accessed Aug. 28, 2023).
[3] https://bit.ly/3qQIwN6 (last accessed Aug. 28, 2023).
[4] https://law.unl.edu/RLOP/ (last accessed Aug. 28, 2023).
[5] https://bit.ly/45siKxv (last accessed Aug. 28, 2023).
[6] For more information on limited scope representation, the OBA Management Assistance Program offers a wealth of resources: www.okbar.org/map/lss.
Originally published in the Oklahoma Bar Journal – OBJ 95 Vol 8 (October 2023)
Statements or opinions expressed in the Oklahoma Bar Journal are those of the authors and do not necessarily reflect those of the Oklahoma Bar Association, its officers, Board of Governors, Board of Editors or staff.