Oklahoma Bar Foundation News | OBF Impact Update: Tulsa Lawyers for Children
"What a privilege to volunteer for TLC and be empowered to make such a difference in the lives of children who need help. This has been one of the most rewarding experiences of my career." – April Ryan
Tulsa Lawyers for Children (TLC) and volunteer attorney April Ryan recently handled a case involving two clients, ages 2 and 9. The children had spent two years in foster care after being removed from their home by the Oklahoma Department of Human Services for several reasons: the father's extreme domestic abuse toward the mother, the neglect of the children, the mother's mental illness and finally, the incarceration of the father. The mother was also emotionally abusive to the children. The situation was very difficult, complicated and painful for them.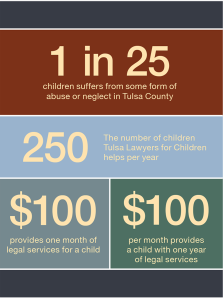 Thankfully, the children had been placed in a loving foster home. The 2-year-old knew no other family. While under the care of the foster parents, the 9-year-old went from exhibiting extreme behavioral issues that negatively impacted his education to being a straight-A student.
The mother's parental rights were terminated when she abandoned the children. The father, however, despite serving less than one year of his 10-year prison sentence and having no place for the children to live, requested the motion to terminate his parental rights be set for jury trial. He simultaneously initiated a joint motion to remove the children from foster care and place them with a grandparent who had failed to maintain a relationship with the children while they were in foster care. The attempt to remove the children from their foster home of two years was terrifying for them and heart-wrenching for Ms. Ryan, the volunteer attorney working the case.
Properly preparing for the jury trial, the TLC staff and Ms. Ryan secured an expert witness and advocated for the children's wishes – to remain in their foster home. Ultimately, the court allowed the children to remain there, and the father relinquished his parental rights. Ms. Ryan was able to attend the subsequent adoptions of both of her clients a couple of months later.
---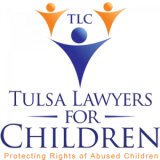 Tulsa Lawyers for Children is actively seeking attorneys interested in serving children in child welfare cases. In addition to the support provided by TLC's staff, TLC provides a wealth of resources on their website (with free registration) and trainings on child welfare law and practice throughout the year. For new volunteers, TLC provides a quarterly three-hour CLE introducing the law and procedures of child welfare law, including an hour on the ethics of representing children. If you are interested in learning more about volunteering, please reach out to TLC's program coordinator at volunteer@tulsakidlaw.org. You can also get more information at www.tulsalawyersforchildren.org/how-to-volunteer.
Originally published in the Oklahoma Bar Journal – OBJ 95 Vol 8 (October 2023)
Statements or opinions expressed in the Oklahoma Bar Journal are those of the authors and do not necessarily reflect those of the Oklahoma Bar Association, its officers, Board of Governors, Board of Editors or staff.