OBA Diversity Award Winners Announced
By Telana McCullough
The OBA Diversity Committee is set to host its Ada Lois Sipuel Fisher Diversity Awards Dinner Oct. 17 in Oklahoma City. The event will feature a keynote address from OCU School of Law Dean Jim Roth.
Dean Roth is the 13th dean of the OCU School of Law. He is an alumnus of the OCU School of Law, earning his J.D. in 1994. He also holds graduate certificates from Harvard University's Kennedy School of Government, the United States Air War College's National Security Forum at Maxwell Air Force Base and the Institute of Public Utilities at Michigan State University.
Previously, Dean Roth was a director at the Oklahoma City office of Phillips Murrah law firm, where he provided leadership to the firm's Natural Resources Department and chaired the Clean Energy Practice Group. In addition, Dean Roth serves as president of A New Energy, LLC, an energy consultancy focusing on energy policy and energy developments throughout the region and the United States, representing regional and national energy companies and foundations.
He served as an Oklahoma corporation commissioner, by appointment of Gov. Brad Henry and prior to that appointment was elected to consecutive four-year terms as Oklahoma County commissioner. He is a member of the Oklahoma, Kansas and American Bar Associations and is a past president of the National Association of Civil County Attorneys.
The theme of this year's dinner is An Emphasis on Inclusion: Why Diversity Should Not Stand Alone. During the dinner, six individuals and organizations will be honored with the Ada Lois Sipuel Fisher Diversity Award in recognition of their efforts in promoting diversity and inclusion in Oklahoma. Tickets are $40, available online or call 405-416-7029.
AWARD RECIPIENTS
Member of the Judiciary
Judge Philippa C. James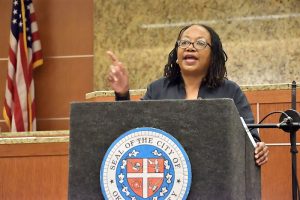 Judge Philippa C. James has been exceedingly instrumental in revising the Oklahoma City Municipal Court System, and as a result, created a more readily available procedural process to better comply with the law. This process expansion fosters not only an opportunity for a judicial hearing for all persons alleging their inability to pay their fines, fees and court costs, but also, it allows the court to better serve the community and make a difference in the lives of those in extreme need.
Judge James presides over many of the Rule 8-Indigency hearings which presently totals 32 per month. In April, May and June 2019, the Rule 8-Indigency hearings conducted by the court resulted in 3,678 cases being presented by impoverished defendants and $882,486 in fines and court costs being suspended.
Customer service coupled with the ability to work with and serve people up and down the socio-economic ladder is becoming a significant aspect of the court's business. Accordingly, Judge James works closely with the municipal court's community relations coordinators, the Municipal Counselor's Office (Criminal Justice Division) and the Oklahoma County district judges to resolve cases in a timely manner. Judge James' collaboration, foresight and diligence has been instrumental in advancing and broadening the criminal justice reform efforts implemented within the Oklahoma City Municipal Court.
Judge James also serves as a member of the Oklahoma County Criminal Justice Advisory Council. She works closely with other key stakeholders to fashion a more fluid and seamless justice system. Successes thus far not only include the aforementioned Rule 8-Indigency hearings but also work with the OCPD led to a reduction in Oklahoma City's daily inmate population and improved the court's jail booking and release process. This produced substantial resources and monetary savings for the stakeholders as well as increased the safety of jail staff and inmates. Other improvements include an enhanced website, new court records management system, customer service surveys and a variety of brochures and critical court forms that have been translated from English to Spanish and Vietnamese to better serve the public.
Attorneys
Ruseal E. Brewer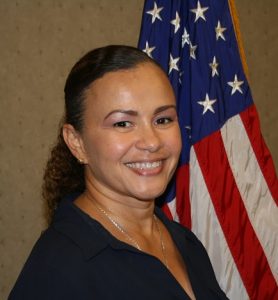 Ruseal E. Brewer is an assistant attorney general with the Oklahoma Attorney General's Office. She is assigned to the Civil Rights Unit. Prior to joining the Office of the Attorney General, she worked as an assistant general counsel with the Oklahoma Department of Agriculture.
Ms. Brewer is also a judge advocate currently serving as a defense counsel for the 245th Trial Defense Services team. She is a major in the Oklahoma Army National Guard and has been awarded the Army Commendation Medal, Army Reserve Component Achievement Medal, The National Defense Service Medal and The Army Service Ribbon.
Ms. Brewer earned her Bachelor of Science in chemical science from Xavier University in Cincinnati. She received her J.D. from the OCU School of Law in 2003, where she graduated with honors, magna cum laude. Ms. Brewer is a member of Alpha Kappa Alpha Sorority Inc. Ms. Brewer is also a member of the OBA Environmental Law Section and Access to Justice and Diversity committees. Lastly, she is an active member of the Oklahoma Women Lawyers' networking events. During her spare time, she also assists others in the community pro bono with a variety of legal issues including immigration and fair housing issues.
Ms. Brewer is a mother to two amazing boys, one currently works as a video producer/editor for Fox News and the other is a junior business major at OU.
Tiece I. Dempsey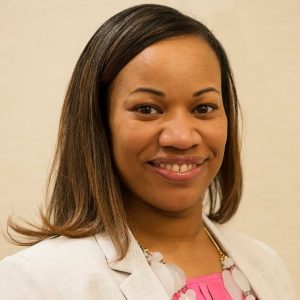 Tiece Dempsey serves as the Criminal Justice Act (CJA) resource counsel for the Office of the Federal Public Defender in the Western District of Oklahoma. In this role, she appoints and assists the Federal Public Defender's Office and CJA (court-appointed) attorneys in their representation of indigent defendants. Prior to her current position, Ms. Dempsey worked as a policy analyst with the Oklahoma Policy Institute before accepting a judicial law clerk position with Judge Vicki Miles-LaGrange, former chief and senior judge of the United States District Court in the Western District of Oklahoma.
Ms. Dempsey earned a B.S. in general business from OSU and a master's in health administration from the OU Health Sciences Center. She also graduated from the OCU School of Law and is admitted to practice law in Oklahoma.
In addition to her professional work, Ms. Dempsey is actively involved in several professional, civic and social organizations. She is the current president of the Oklahoma City Association of Black Lawyers and Alpha Kappa Alpha Sorority Inc. Sigma Sigma Omega Chapter. Further, she is the immediate past chair of the OBA Diversity Committee and served two terms as the National Bar Association Region X director. She also serves as a Trustee for the Oklahoma Bar Foundation and participated in the OBA 6th Leadership Academy. In 2017, she was honored with the OBA Outstanding Young Lawyer Award.
Sheryl S. Sullivan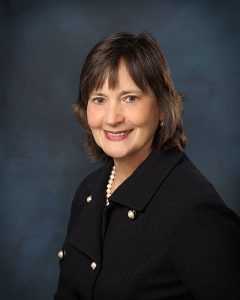 Sheryl S. Sullivan has practiced law in Oklahoma City for over 40 years. Focusing her legal practice on dissolution of marriage, guardianship, probate and estate planning matters, she has also served as a mediator and a collaborative law practitioner. During her legal career, she has been active in the Family Law Section of the OBA and Oklahoma County Bar Association (OCBA), the OCBA Lawyers Against Domestic Abuse and the Oklahoma Academy of Collaborative Professionals.
As an Oklahoma City native, her volunteer experience has been primarily in the areas of public education, women's and children's issues and advocacy, domestic abuse and sexual assault education and prevention and interfaith and intercultural dialogue. A co-founder of the Women's Interfaith Group in Central Oklahoma, she is secretary of the Interfaith Alliance Foundation of Oklahoma, on the Advisory Board of the Dialogue Institute Oklahoma City and initiated the annual Diversi-Tea, providing a forum for participants of many cultures to interact in a social setting. An active member of St. Paul's Episcopal Cathedral and the Episcopal Diocese of Oklahoma, she is currently president of the diocesan Episcopal Church Women.
She is a graduate of Vassar College and the OU College of Law and is married to Dr. C. Blue Clark, who currently teaches at
the OCU School of Law. They
have one adult son, Sanger Clark.
Organizations
Ogletree Deakins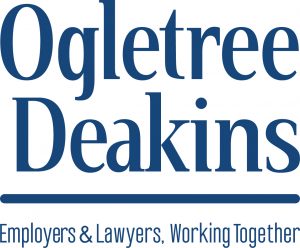 Ogletree Deakins is a labor and employment law firm with 56 offices throughout North America and Europe. Ogletree opened its Oklahoma City office in January 2017. The firm currently has nine attorneys located in Oklahoma City, with plans to continue expanding in this market.
Professional development opportunities abound at Ogletree Deakins and are integrated seamlessly with their approach to diversity – diversity of gender, learning style, race, background, thought and more contribute to a vibrant and inclusive environment where attorneys can thrive professionally. Ogletree Deakins' Professional Development and Inclusion Department sponsors national diversity and inclusion events and memberships across the U.S. to benefit the firm and all of its practicing attorneys. Sponsorships include organizations such as American Bar Association (ABA) Commission on Women in the Profession, Hispanic National Bar Association (HNBA), National Association of Women Business Owners (NAWBO) and Human Rights Campaign.
Ogletree also has six business resource groups (BRGs) that support the firm's recruitment efforts as well as the professional development, retention and advancement of the attorneys who participate. BRGs also serve as informal networking and business development units for the firm. The six groups are: ODAlliance (supporting LGBT attorneys), ODA3 (the Asian-American business resource group), ODAdelante (the Hispanic/Latino business resource group), ODFamily (supporting parents and families), ODWIN (women's initiative) and ODBAR (the African American business resource group).
In 2018, Ogletree cultivated relationships with numerous organizations committed to improving diversity in the legal profession, including forming a new relationship with the ACC Foundation, which provided diverse attorneys with opportunities to network with in-house counsel. Ogletree completed 31 diversity and inclusion surveys, responded to over 30 client requests for proposals requiring diversity metrics and/or initiatives and won diversity and inclusion awards/recognition for their efforts, including earning Gold Standard Certification from the Women in Law Empowerment Forum (WILEF).
Recognizing the increasing requests by clients to advise them on diversity and inclusion best practices, Ogletree Deakins championed the creation of a new practice group, the Diversity and Inclusion Practice Group. The group supports clients in designing, implementing and enhancing their own diversity and inclusion initiatives and provides a range of services from advice and counsel to legal compliance work and engagement surveys.
Save Black Boys
Save Black Boys (SBB) OKC was designed to raise awareness and consciousness about the state of black children in the Oklahoma City area. The statistics about the rampant murders and recidivism in black communities are well-known facts, but rarely
do people actually attempt to proactively impact change like SBB OKC. This powerful organization seeks to rebuild the minds of black children and young men. The ultimate goal is to restore black boys in the area and help them find and focus on their greatness.
SBB OKC has hosted several free, successful programs. SBB OKC has hosted college and career preparation, anti-bullying initiatives, sex education, driver's education, negativity detox seminars, single mother awareness readiness training, gang intervention and prevention, community service in OKC, career trainings and tutoring.
SBB OKC is a program that focuses on creating an environment for young black boys to be themselves without judgement or explanation. It dedicates time to educate and implement standards, accountability and goals. All the while, SBB OKC gives back to its community with the boys in the program to help foster a sense of community within the area.
SBB looks to make a tangible impact while promoting real change in the OKC community.
ABOUT THE AUTHOR
Telana McCullough chairs the OBA Diversity Committee and is a staff attorney at the Oklahoma Department of Education in Oklahoma City.