Oklahoma Bar Foundation Awards $1.2 Million in IOLTA Grants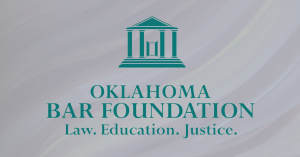 The Oklahoma Bar Foundation is excited to announce that $1.2 million in grants will be awarded to 45 nonprofits for fiscal year 2024 program funding. This is the largest amount of grant funding ever given through the annual IOLTA Program. The newly named grantees anticipate helping more than 66,000 Oklahomans next year. How the 45 grantees achieve their individual missions is unique, but they all have one thing in common: a major need for client access to legal representation.
"Every year the OBF receives grant requests from nonprofits that provide crucial law-related services throughout our state to those most in need," said OBF Grants & Awards Chair Jim Dowell. "Providing essential funding for these organizations is at the core of the OBF's mission. Hearing the impact of the OBF's IOLTA grants on the lives of Oklahomans is one of the most rewarding aspects of serving on the OBF board."
The board-approved increase in grant funds means grantees can better serve their clients with direct access to life-changing legal services. This year, OBF grantee The Spero Project, whose mission is to serve the refugee community in Oklahoma City, received a larger grant amount to hire a full-time staff immigration attorney.
"We are so excited to join this year's IOLTA grant recipients," said Brad Bandy, founder of The Spero Project. "We are going to maximize this investment by offering immigration legal support for families living with pending immigration status. Our neighbors know the anxiety and desperation every day of living in limbo and uncertainty about their future. 'We eat and drink with it. ... We sleep with it,' one woman told me. But when they know that progress is being made in their cases for their families, and especially their children, there's a sense of hope, and it changes lives. The impact of this work is generational! Thank you for thinking of us and growing with us! We love partnering with the OBF to help our neighbors carry their burdens as we walk into a brighter future. And who knows, we might even get to be the answer to some prayers!"
OBF grantees provide critical legal services across the state to abused and neglected children, domestic violence and human trafficking survivors, refugees and immigrants living in Oklahoma. They also provide court-ordered juvenile and family services programs, adult diversion programs, legal clinics and teen law-related educational programs like the Oklahoma High School Mock Trial Program.
2024 OBF GRANT RECIPIENTS
Grantee Nonprofit Organization
Program/Project
Service Area
Grant Amount
Lives Impacted
1st Step Male Diversion Program
1st Step Parenting Course
Tulsa, Creek and Wagoner counties
$15,025
25
CASA of Canadian County
Court Advocacy for Abused Children
Canadian County
$15,000
130
The CARE Center
Child Abuse Forensic Interviewing Program
Oklahoma County
$10,000
850
CASA of Southern Oklahoma
Court Advocacy for Abused Children
Carter, Love, Murray, Johnston and Marshall counties
$15,000
90
CASA for Kids
Court Advocacy for Abused Children
Kay, Logan and Payne counties
$15,000
164
CASA of Northeast Oklahoma
Family Preservation Project
Craig, Mayes and Rogers counties
$25,000
193
CASA of Oklahoma County
Court Advocacy for Abused Children
Oklahoma County
$15,000
653
CASA of Pawnee/Osage County
Court Advocacy for Abused Children
Osage and Pawnee counties
$20,000
65
CASA of Western Oklahoma
Court Advocacy for Abused Children
Beckham, Custer, Dewey, Roger Mills and Washita counties
$15,000
230
Catholic Charities of Eastern Oklahoma
Immigration Legal Services
Muskogee, Osage and Tulsa counties
$25,000
800
Catholic Charities of the Archdiocese of Oklahoma City
Immigration Legal Services
Canadian, Cleveland and Oklahoma counties
$50,000
518
Center for Children and Families
Divorce and Co-Parenting Services
Cleveland and Oklahoma counties
$20,000
560
Child Abuse Network
Forensic Interviews and Court Advocacy
Okmulgee, Tulsa and Wagoner counties
$20,000
1,600
Citizens for Juvenile Justice
Oklahoma County Juvenile Bureau Literacy Initiative
Oklahoma County
$4,399.50
100
Citizens for Juvenile Justice
Connect to Redirect Program
Oklahoma County
$4,725
1,500
Community Crisis Center
Court Advocates
Ottawa and Delaware counties
$9,945
650
Domestic Violence Intervention Services
DVIS Legal Program
Creek and Tulsa counties
$20,000
3,871
Garfield County Child Advocacy Council
Court Advocacy for Abused Children
Garfield, Kingfisher and Woodward counties
$20,000
200
Historical Society of the U.S. District Court
Judicial Learning Center: Significant Cases Program Development
Statewide
$20,000
700
Legal Aid Services of Oklahoma
Access to Civil Legal Services
Statewide
$130,000
25,000
Marie Detty Youth & Family Services
Domestic and Sexual Violence and Stalking Prevention Services
Caddo, Comanche and Cotton counties
$20,000
798
Mary Abbott Children's House
Forensic Interview Program
Cleveland, Garvin and McClain counties
$7,500
1,000
Mental Health Association Oklahoma
Special Services Docket
Tulsa County
$25,000
240
Oklahoma Access to Justice Foundation
Legal Education and Engagement
Statewide
$25,000
1,000
Oklahoma Appleseed Center for Law and Justice
Mental Illness and Criminal Law Handbook
Statewide
$15,000
10,000
Oklahoma CASA Association
Training for CASA Volunteers and Local Programs
Statewide
$12,000
3,100
OCU School of Law
American Indian Wills Clinic
Statewide
$30,000
100
Oklahoma Guardian Ad Litem Institute
GAL Services for Low-Income Children and Families
Statewide
$50,000
100
Oklahoma Bar Association
Oklahoma High School Mock Trial Program
Statewide
$50,000
800
Oklahoma Lawyers for Families and Children
Family Advocacy Program
Oklahoma and Canadian counties
$130,000
3,500
Palomar: Oklahoma City's Family Justice Center
Palomar Legal Network
Cleveland, Oklahoma and Logan counties
$5,000
100
The Parent Child Center of Tulsa
Tulsa Safe Babies Court Team
Tulsa County
$20,000
210
Pittsburg County Child Abuse Response Effort
Victim's Advocacy and Community Training
Pittsburgh County
$15,000
250
ReMerge of Oklahoma County
ReMerge Diversion Program
Statewide
$10,000
85
The Spero Project
Refugee Legal Support Services
Canadian, Cleveland and Oklahoma counties
$100,000
350
The Spring
Legal Services for Sex Trafficking and Domestic Violence Survivors
Statewide
$15,000
2,200
Teen Court
Delinquency Prevention/Peer Court
Comanche County
$30,000
1,200
Trinity Legal Clinic of Oklahoma
Community Justice Initiative
Canadian, Cleveland and Oklahoma counties
$65,000
300
Tulsa Lawyers for Children
Legal Representation for Abused Children
Tulsa County
$60,000
250
The University of Tulsa
TU Law Immigration Programs
Statewide
$58,000
800
Western Plains Youth & Family Services
Services for Juveniles in Detention
Ellis, Harper and Woodward counties
$20,000
100
YMCA of Greater Oklahoma City
Youth and Government Program
Oklahoma County
$8,000
800
Youth and Family Resource Center
Court Advocacy for Abused Children
Lincoln and Pottawatomie counties
$10,000
47
Youth Services of Tulsa
Youth Court
Tulsa County
$10,000
400
YWCA of Tulsa
Immigration Legal Services
Rogers, Tulsa and Wagoner counties
$30,000
858
TOTAL:
$1,289,594.50
66,487
You can support OBF grantees by joining as a Partner for Justice. Sign up using this form.
---
Originally published in the Oklahoma Bar Journal – OBJ 95 Vol 9 (November 2023)
Statements or opinions expressed in the Oklahoma Bar Journal are those of the authors and do not necessarily reflect those of the Oklahoma Bar Association, its officers, Board of Governors, Board of Editors or staff.