Young Lawyers Division | April Fools Bring May Reasonable Men: A Survey of the Rule of Law
By Dylan D. Erwin
I'm going to let you all in on a little secret and tell you how the Oklahoma Bar Journal sausage is made. Despite the fact this article is coming out this month, it was written and submitted April 1. The bar association, as you would expect/want, likes to stay on top of things, and article submission is no exception.
As today (in the writing timeline) is April Fools' Day, I find myself lingering on foolishness more than normal. The Fool, as I see it, is a foil to the Reasonable Man –that elusive, evanescent and oft-cited man-about-town. The Reasonable Man is one of those mythological concepts in our profession, like the capital R capital L Rule of Law. My first memory of hearing about the Rule of Law was back in 2011 during law school convocation. I'm sitting in the Bell Courtroom at the University of Oklahoma, listening to the parade of speakers welcoming the class of 2014. Each speaker offers their own unique bit of advice. "The United States is a democracy," the speaker says. "We aren't a monarchy. In a monarchy, you are governed by a king or a queen – a monarch. In a democracy, you are governed by the Rule of Law. As attorneys, it will be your job to protect and defend that Rule of Law." Let's take this speaker's analogy a step further. In the United States, the Rule of Law is king. In Arthurian legend, knights are tasked with protecting the king and the realm. In other words, my speaker at convocation was telling me I'm a lawyer-knight, tasked with felling all enemies who threaten my king, the Rule of Law, with my trusty squire – the Reasonable Man – at my side.
But I digress. During my time as an attorney, I have been in almost constant contact with the Rule of Law, this faceless monarch that lords over all American citizens and the Reasonable Man. Just as any monarchy has a few "dud" rulers (I won't name names, but if I did, I'd absolutely single you out, King John. You literally plotted with the king of France to overthrow your brother when he was fighting in the crusades), the Rule of Law can also get … unreasonable. In the spirit of foolishness, I present 10 of the most "interesting" laws in Oklahoma history – a few of which are still on the books in one form or another. Some of these laws may be found in statute, and some of these laws may be found in city codes around the state; but all these laws are presented for entertainment purposes only.
Women are forbidden from 

doing their own hair without 

being licensed by the state.

Fish may not be contained in 

fishbowls while on a public bus.

It is illegal to have the hind legs of farm animals inside your boots.

Anyone arrested for soliciting a prostitute must have their name and picture shown on television.

It is illegal to own more than two adult cats.

You may not open a soda bottle without the supervision of a licensed engineer.

It is illegal to wash your clothes in a birdbath.

Cars must be tethered outside of public buildings.

Dogs must have a permit signed by the mayor in order to 

congregate in groups of three 

or more on private property.

It is illegal for the owner of
a bar to allow anyone inside to simulate deviant acts on
a buffalo.
This is usually the part where you'd expect me to pop out from behind this article and scream "APRIL FOOLS!" While I may be able to do that in this timeline – the writing timeline – I'm aware our day of foolishness has come and gone. So instead, "MAY REASONABLE MANS!"
---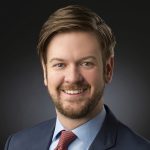 Mr. Erwin practices in Oklahoma City and serves as the YLD chairperson. He may be contacted at derwin@holladaychilton.com. Keep up with the YLD at
www.facebook.com/obayld.
Oklahoma Bar Journal – OBJ 93 Vol 5 (May 2022)