Access to Justice | Seeking Courtroom Interpreter Candidates
By Debra Charles
Do you know someone who might have the skills to be a courtroom interpreter? The 2023 training program for the Oklahoma Supreme Court's Language Access Program is now enrolling! These intensive three-day programs will be held in Oklahoma City on April 5-7 and in Woodward on April 12-14.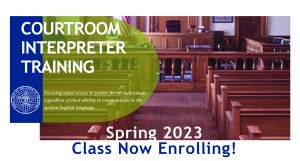 Qualified interpreters play an essential role in ensuring equal access to justice and helping court proceedings function efficiently and effectively. To further this important goal, the Oklahoma Supreme Court has implemented a credentialing program for interpreters in the Oklahoma courts.[1] As the Language Access Program continues to grow, credentialed interpreters have excellent potential to be busy and successful in serving Oklahoma courts.
            Many persons who come before the courts are partially or completely excluded from full participation in the proceedings due to limited English proficiency or a speech or hearing impairment. It is essential that the resulting communication barrier be removed, as far as possible, so that these persons are placed in the same position as similarly situated persons for whom there is no such barrier. …[2]
The Oklahoma program utilizes nationally recognized standards for training and examination.[3] Successful candidates are individuals who possess an educated, native-like mastery of both English and another language and display wide general knowledge – characteristic of what a minimum of two years of general education at a college or university would provide. Our training program helps individuals develop the skills to perform the three major types of court interpreting: sight translation, consecutive interpreting and simultaneous interpreting.
Courtroom interpreters are freelance professionals who are retained by local courts on a case-by-case basis. This offers an excellent opportunity for growing a rewarding business while maintaining a work-life balance and flexible scheduling.
Candidates with strong language skills are needed – for both spoken language and sign language interpreting. Please share this information with anyone you know who might be a good fit for this exciting area. The flyer for the spring program is located here, and more information is available here.
Debra Charles serves as general counsel for the Administrative Office of the Courts.
---
ENDNOTES
[1] The Supreme Court has approved detailed rules related to courtroom interpreting in Oklahoma courts. The Code of Professional Responsibility for Courtroom Interpreters in the Oklahoma Courts is set forth in Title 20, Chap 23, App I. The interpreter credentialing and continuing education process is set forth in the Rules of the State Board of Examiners of Certified Courtroom Interpreters. Title 20, Chap 23, App II. Rules governing disciplinary proceedings are set forth in Title 20, Chap 23, App III.
The State Board of Examiners of Certified Courtroom Interpreters provides oversight of the interpreter credentialing and disciplinary program, with subject matter expertise, exam proctoring and program administration provided by the Administrative Office of the Courts professional staff. The board is created by statute, and its actions are supervised by the Supreme Court and subject to approval by the court. See 20 O.S. §1701, et seq.
[2] Preamble to the Code of Professional Responsibility for Interpreters, Rule 1, Title 20, Chap 23, App I.
[3] The court interpreter credentialing process developed by the National Center for State Courts (the "NCSC") is widely recognized as the industry standard for certification of courtroom interpreters. Like most states, Oklahoma uses these nationally recognized standards and the NCSC examinations for its courtroom interpreter credentialing.
Originally published in the Oklahoma Bar Journal – OBJ 94 Vol 3 (March 2023)