Meet Your Bar Association | Brian Hermanson Brings Service Leadership to his Role as 2023 OBA President
By Emily Buchanan Hart
From only nine years old, Mr. Hermanson knew he wanted to be a lawyer. Every step he took from grade school through law school helped set him up for success.
EARLY LIFE
Born in Milwaukee and raised in Green Bay, Wisconsin, 2023 OBA President Brian Hermanson has always had a competitive spirit. At Green Bay East High School, he was on the school wrestling team, the football team and the tennis team. He went on to wrestle at Carroll College (now Carroll University) in Waukesha, Wisconsin.
That competitive spirit showed through not only in sports but also in his fondness for a good debate.
"I like winning arguments," Mr. Hermanson chuckled. "My mom said I was always debating with her."
While in high school, Mr. Hermanson had the opportunity to serve as Brown County, Wisconsin's "DA for the Day." He also served as president of his high school debate team, later going on to major in political science and history at Carroll.
It was during his days at Carroll that one of his instructors, an OU graduate, inspired him to pack up and move to Oklahoma to attend law school.
"I thought if I were in Oklahoma, I could buckle down and study," he said.
Upon graduating from OU, Mr. Hermanson interned at Phipps, Johnson and Holmes in Ponca City, where he later became partner. At his swearing-in ceremony to become a lawyer in 1978, Mr. Hermanson met his now-wife, Ruslyn.
"Ruslyn was attending to see a friend of hers get sworn in," Mr. Hermanson said. "A mutual friend knew I was moving to Ponca City, so she introduced me to her. A year later, we went on our first date."
Mr. Hermanson then married Ruslyn, and they had two daughters – Charlcy, who is now a church music director in Ponca City, and Brianna, who works as an illustrator in Northampton, Massachusetts. Mr. Hermanson's wife, Ruslyn, worked as director for various nonprofits over a span of 16 years, including AmeriCorps and CASA of Kay & Noble counties.
For many years, the Hermansons had a ranch in Ponca City where they bred and raised horses.
"It was great stress relief," Mr. Hermanson said. "But it took a lot of time. When my wife retired, we got out of the horse business – sold the herd."
Mr. Hermanson now spends the majority of his "free" time volunteering. He has served as president of the YMCA, the Rotary Club and Ponca Playhouse, serves on the board of the Community Christian Church, has been an ex-officio member of the Ponca City Chamber of Commerce for 12 years, is the former president of the Kay County Bar Association and the current president of the Noble County Bar Association. He also works with many other organizations.
A WINDING LEGAL CAREER
In 1985, following his seven years as partner at Phipps, Johnson, Holmes & Hermanson, Mr. Hermanson served as attorney in the capital defense in the McBrain v. State case. He then partnered again with Judge Charles Johnson for a year before embarking on a more than 20-year stint in solo practice, practicing primarily in criminal law as well as the general practice of law.
In April 1999, Mr. Hermanson's time in Ponca City was interrupted as he was appointed by the court to serve as lead counsel for Terry Nichols in the state trial of the Oklahoma City Bombing case. The trial took seven years, required a move to McAlester for six months during the trial and made a major impact on his legal career.
"But it didn't change who I was," he said. "I have always believed everyone's rights need to be protected, even now as a prosecutor."
According to Mr. Hermanson, the most significant development in his career came when he quit private practice in December 2010 to become district attorney for the 8th District of Oklahoma.
"It was a huge change when I became DA," he said, "a good change. It transformed my practice 180 degrees."
After 32 cumulative years in private practice, as he packed up his files, he felt a little melancholy but was largely looking forward to the new adventures that lay ahead. And, he said, he certainly does not miss the billing and timekeeping that comes along with solo practice.
Mr. Hermanson has now spent 12 years as DA – a position he has embraced wholeheartedly. As district attorney, Mr. Hermanson feels he is doing God's work.
"I love the people I work with, and I love helping victims of crimes – children, seniors, men, women," he said. "As DA, I work to preserve justice for those who feel lost, left behind. We have to be there for the victims of crimes."
SERVICE LEADERSHIP
Throughout his career, Mr. Hermanson has made service a priority. Influenced by his childhood Sunday school teacher, Mr. Hermanson brings patience, benevolence and empathy into his work and beyond.
"I respected him a lot," Mr. Hermanson said. "I was struck with his patience and caring nature. I've also been inspired by the lawyers I first worked with fresh out of law school, who were so helpful. Everyone cared for each other – that greatly affected how I looked at and practiced law."
For more than 40 years, Mr. Hermanson has set aside time to volunteer in various capacities for the Oklahoma Bar Association and Oklahoma Bar Foundation, starting in 1980 on the Law Day Committee. In 1993, he served as OBF president; he served on the OBA Board of Editors from 1994 to 1999; and he has served 13 (going on 15) years on the OBA Board of Governors. He has spoken at numerous seminars and has also won various awards, including his most recent Kline-Brown Award for Outstanding Service to the Oklahoma Bar Foundation in November 2022.
This year, Mr. Hermanson is excited to give back to the bar in his role as president.
"I am always amazed at people who have served in the past, their willingness to make time to serve the bar," he said. "We are blessed with these people. I want to emulate them as much as I can."
Mr. Hermanson's service leadership style will carry through his year as president as he makes an effort to travel the state, hearing from OBA members on what they need from their bar association.
"I want to let our members know we are out there working for them, doing the best we can. Meeting and talking to them – that's what I'm looking forward to the most," he said.
Mr. Hermanson's goals for the OBA this year are not only to provide excellent member service but also to bring joy back into the practice of law. He wants to empower OBA members by providing seminars on mental health, wellness and professionalism; inspire them to get out in their communities once again; and encourage members to get involved in their bar association.
Mr. Hermanson is open to suggestions on how the OBA can best meet members' needs. He also encourages all members to sign up for a committee and get involved in their bar association.
"When you make a living doing something, you have to be ready to give back," he said. "Everyone is different, but being an attorney is so much more than making money. We're here to serve. You may not get paid as a volunteer, but you gain the chance to have fun with fellow lawyers, you get to see many good things about the practice of law."
---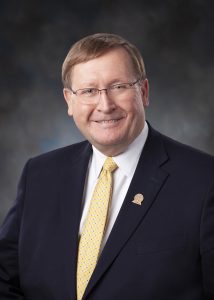 PRESIDENTIAL Q & A
Background: Born in Milwaukee; married to Ruslyn. Two daughters -Brianna, an illustrator living in Northampton, Massachusetts, and Charlcy, a church music director living in Stillwater; Mr. Hermanson is the district attorney for Kay and Noble counties and lives in Ponca City.
Education: Graduated from college at Caroll College, recently renamed Caroll University, in Waukesha, Wisconsin, with a double major in political science and history and a minor in business; received a J.D. from the OU College of Law; was president of the Student Bar Association, on the National Moot Court Team and inducted into the Order of the Barristers. Also served as governor of the ABA Law Student Division and received the Golden Key Award from the ABA.
What is your most important goal during your service on the OBA Board of Governors? It is my hope that over the next year, we can regain some normalcy back after this long period of COVID. The Board of Governors will go out across the state this year to reengage with the lawyers throughout Oklahoma. My goal will be to reestablish contact with our volunteers and strengthen our resolve to improve the practice of law and make it more enjoyable.
Why is it important for OBA members to serve and volunteer? Some of my best memories about the practice of law revolve around the friends I have made through my volunteer work with the OBA. Legal work can be incredibly stressful, and we need to bring joy into our lives. I find the people who I have worked with in these volunteer activities bring so much fun and laughter into my life. Also, we need to have involved attorneys protecting the practice of law. It seems that we as a profession are under attack from many sides, and we need to be ready to do what we can to ensure the practice is robust.
What challenges are OBA members encountering, and how can the OBA help find solutions? It seems that there is more and more stress in the practice of law. We have more and more demands in our daily work, and it seems that people are more and more aggressive in their dealing with their fellow lawyers. We need to bring that professionalism back and, with the help of the courts, turn the courtrooms into an appropriate level of civility.
What's your favorite OBA member benefit? My favorite benefit is the Management Assistance Program. The help that it provides to the practicing lawyer is priceless. Every attorney needs to reach out to the program to learn what it can do to help your practice.
What technology gadget could you not function without? I could not last five minutes without my iPhone. I find that I am doing more and more of my work on the iPhone. I do so much of my research on it as well as scheduling, meeting and, strangely enough, communicating.
What's the best book you've read this year? No time to read for fun. You are more likely to find me in front of the television at the end of the day.
Originally published in the Oklahoma Bar Journal – OBJ 94 Vol 1 (January 2023)