Meet 2022 OBA President Jim Hicks
Executive Search, Member Outreach are Goals for Presidential Year
By Dawn Shelton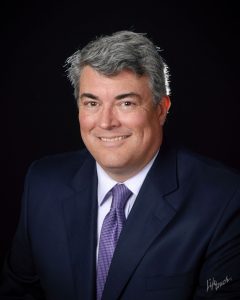 They say these things come in threes. Although newly sworn in OBA President James "Jim" R. Hicks did not anticipate his leadership year would be defined by the search for a new association executive director, here he is. With John Morris Williams' announced retirement at the end of 2022, Mr. Hicks said input will be sought from as many members as possible as part of the search process. He's up to the challenge. Turns out he's been in a similar position twice before.
When Tulsa County Bar Association Executive Director Sandra Cousins announced her retirement in 2013, Mr. Hicks was the incoming TCBA president and led the task to procure a fair and sound process to find her successor. And as a senior warden of his local church, he served for eight years, leading a major capital project and a two-year search process when Saint John's Episcopal Church in Tulsa sought a new priest. For his service, he was honored to receive the Bishop's Cross awarded by the Episcopal Bishop of Oklahoma. And now the search for a new OBA executive director.
For such a time as this. This search for the new paid leader of the bar hits a little different. Not only will this decision help chart the next season for the Oklahoma Bar Association, but Mr. Hicks will be tasked with finding "John Morris Williams 2.0," as he jokingly referred to the upcoming process. "From my view, John has done an excellent job."
They are contemporaries and friends. Executive Director Williams led the OBA Young Lawyers Division, and Mr. Hicks was chair just a few years later. "I was very involved and chair of the YLD way back. Then when Nancy and I were raising our twins, I didn't do a lot in those years. They went off to college, and I got reinvolved when I had more time."
A Little Nudge
As YLD chair, he remembers the group trying something a little controversial for the times in 1994.
"We were having our YLD meeting at Shangri-La, and we had a lot of trouble getting our proposed CLE approved," Mr. Hicks said. "Back then, they weren't doing any type of what you would call mental health or Lawyers Helping Lawyers type of things. Our speaker's topic was about personality tests and how you deal with people. Now that is qualified content, but back then, it wasn't. We took it to the board, and they approved it for CLE. If it didn't deal strictly with civil procedure or rules of evidence, which are important skills, or traditional CLE, it would have been denied. I'm proud we were nudging it."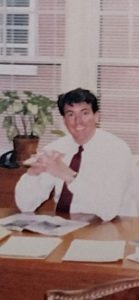 He said an emphasis on self-care and mental health for members helps elevate the profession as much as it helps individual members.
"It's a high-stress profession, and you must have some outside interests," he said. "If it's running. Golf. Tennis. You've got to take time away. Being involved in the bar association shows you're involved in a profession, more than just showing up at your office to do your job every day. It's not just you. There's a whole statewide organization trying to make us better."
The OBA is an organization made up of dozens of committees, from the Lawyers Helping Lawyers Assistance Program to Membership Engagement, Awards, Disaster Response and Relief and more. That's a reality brought home to Mr. Hicks as he spent the last few weeks of 2021 asking members to lead and serve on those committees.
"You feel bad reaching out to people and asking them to volunteer," he said. "Everyone, with very few exceptions, has been very generous and wanted to help, and if they didn't, they had a good reason. It was never, 'No, I'm not interested.' There were a few who never called back, so I figured, okay, I've got the message!"
The experience helped him focus and appreciate all the work the bar association does on the various committees.
"It's amazing," he said. "If you're not involved, it's easy to ignore and not focus on it."
Still, Mr. Hicks recognizes that younger attorneys crave more out of their volunteer service beyond attending meetings.
He said, "They want to be involved in charitable legal clinics, handing out coats and food, giving of their time. If you're not involved in a group doing that, it's kind of ad hoc. At least we can try to coordinate those programs. If it works in Oklahoma City, you can replicate it in Lawton or Guymon. That's helpful to society at large, and it makes an attorney feel good."
The Good, The Bad and The Ugly
As a prelude to the search for a new executive director, a membership survey will be sent via email soon. The Center for Nonprofits has been hired to craft and distribute the survey to gauge members' opinions and ideas about the OBA and its future.
"It is a big undertaking and an exciting time," he said. "A survey of the membership will help us find out the good, the bad and the ugly. We will be surprised by some of the stuff, but it's good to know because if you don't know about issues or certain thoughts, you can't address them. That will help us focus on the type of executive director we need. After we hire that person, he or she can take that info and help develop a new strategic plan. It's especially helpful to do this after the pandemic because life has changed so dramatically for so many people, and the practice of law especially."
He added that one change the pandemic brought on is the normalization of online tools, whether they be used for court hearings, depositions, client meetings or even taking part in bar work. It's a time and money saver.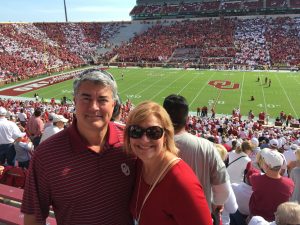 "I live in Tulsa. I might drive an hour and a half to Oklahoma City for a one-hour meeting and then drive home. It's now so easy to do it by Zoom – you get the same amount of work accomplished, and it's just like you're across the table from each other. You can do it at your office, and I think that's been helpful for members to become involved with committees because now they can do it maybe on their lunch hour and not devote so much time to traveling to the bar center in Oklahoma City. Before the pandemic, that didn't happen."
Virtual is Here to Stay
For two years, the OBA has offered a virtual component to the Annual Meeting: In 2020, the meeting was all virtual, and the 2021 meeting offered a mixture of programming both in person and online. Mr. Hicks says the 2022 meeting will have both online options and in-person networking and programming at the Oklahoma City Convention Center and Omni Hotel.
Finding a way to continue the successful tradition of networking among members is important to Mr. Hicks. After all, those YLD meetings and early bar work helped fill up his Rolodex with names of valued friends who are also colleagues. Those friends are now contacts on his smartphone. And colleagues who do more than just a job but are part of a profession and members of the bar.
President Hicks will lead the OBA through a transformational year dominated by the search for a new executive director. He plans to embrace the task and enjoy the experience. For such a time as this.
Dawn Shelton is OBA strategic communications & marketing director.
Oklahoma Bar Journal – OBJ 93 Vol 1 (January 2022)