January 2017 | Meet Your Bar Association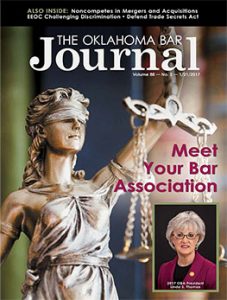 Feature Articles
Meet 2017 OBA President Linda Thomas
"My dad who had a big influence on me said to me one day, 'have you ever thought about going to law school?' At that time, I really had not thought about going to law school. Then over the next few weeks or months we talked about it, and decided that was something I really wanted to do. I applied at TU, got accepted and then moved to Bartlesville," she said.
Plus Articles
EEOC Takes the Lead in Challenging Sexual Orientation Discrimination
The Equal Employment Opportunity Commission (EEOC)1 is taking the lead in challenging workplace sexual orientation2 discrimination. In EEOC v. Scott Medical Center,3 the EEOC filed suit under Title VII of the Civil Rights Act of 1964, as amended (Title VII), alleging that a gay male telemarketer was subjected to a sexually hostile work environment perpetuated by his manager. The EEOC's complaint alleges that the manager repeatedly referred to the employee using anti-gay epithets and made inappropriate comments about his sexuality and his sexual relationship with his partner. The complaint further alleges that the employee reported the conduct to the company's president, who refused to take action, forcing the employee to quit. The EEOC has taken the position that Title VII prohibits workplace discrimination on the basis of sexual orientation.4
The Defend Trade Secrets Act: Is It a Game Changer?
Trade secrets are the commercially valuable designs, processes, techniques and other forms of information kept confidential by companies because, by virtue of their secrecy, they give companies an edge in a competitive marketplace."1 According to expert testimony provided to the United States House Judiciary Subcommittee on Courts, Intellectual Property and the Internet, "[t]rade secrets are an integral part of a company's competitive advantage in today's economy, and with the increased digitization of critical data and increased global trade, this information is highly susceptible to theft."2
Noncompetes in Oklahoma Mergers and Acquisitions
Imagine you get a call one afternoon from an old college friend. She is a small-business owner and her business has had a great few years. Earlier in the week, a competitor offered to sell his business to her. Your friend has run the numbers and the proposed transaction looks like a great deal. But, she is concerned that her competitor will sell out only to start a new competing business. Your friend's company is an Oklahoma limited liability company headquartered in Tulsa. Her competitor's company is a Delaware limited liability company also headquartered in Tulsa. The competitor owns 95 percent of the membership interests in the company, and the remaining 5 percent is held by passive investors. Both companies do business regionally, with customers in Oklahoma, Arkansas and Missouri. Your friend asks you, "If I buy this business, what can I do to make sure no one unfairly competes with me? What does the law say?" You would probably reply, "Well, in Oklahoma, it's a little complicated … but I have a few ideas." What follows is an introduction to Oklahoma noncompete law in the context of business acquisitions.
To Be, or Not to Be, a Doctor?
The direct Latin translation of the words juris doctorate is a doctor of law. Thus, it would not be completely inappropriate if an attorney was referred to as a doctor. However, most attorneys in the United States would probably shrug such a title off. After all, we didn't complete residency and only had to go to law school for three years after our bachelor's degree. I used to think the same.
MyOKBar Communities: Your New Online Communications Portal
The same way MyOKBar is your portal to all your OBA services like Fastcase and OBA-CLE registration, MyOKBar Communities is your new portal for all section and committee communications.