February 2017 | Energy Law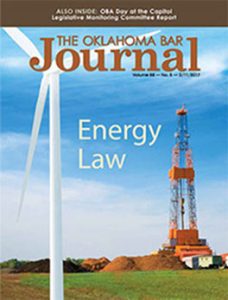 Feature Articles
Wind Energy - A Primer
Wind energy and other alternative energy sources are the future. Production of wind energy has increased substantially over the past decade. Since 2004, wind energy production in the United States has grown from less than five GWh to more than 190,000 GWh by the end of 2015.1 The United States currently leads the world in electricity production from wind.2 On at least one day in 2015, it has been reported that Germany, Scotland and Denmark each produced enough electricity from wind and solar to supply 100 percent of their electricity needs for that day.
Don't Forget About Us: Considerations for Nonoperating Interest Owners During Down Economic Periods in Oklahoma's Oil and Gas Industry
When Oklahoma's oil and gas industry hit its most recent downturn and oil prices began to fall, the impact on the state's oil and gas exploration and production companies was naturally the first matter for examination. It is easy to forget the other interest owners who are directly impacted by the same economic factors. Nonoperating interest owners, such as working interest owners and royalty owners, are akin to silent partners in a business in that they are not normally involved in the day-to-day drilling and production operations. These interest owners invest money in well operations and/or their leasehold interests hoping for a return or additional income realized from a once unproductive interest in land. Working interest owners and royalty owners rely on their well operators to accomplish these goals. As a result, these nonoperating interest owners will not only feel the pinch from the fallout of the waning market but also the accompanying actions of their well operators.
Interpreting Assignments of the Oil and Gas Lease
Under Oklahoma law, an oil and gas lease grants a cluster of rights in land,1 forming an estate in real property with the nature of fee.2 Like many of the sticks in the metaphorical bundle, the estate created under the oil and gas lease is freely assignable and divisible.3 As a result, oil and gas leaseholds can be transferred, in whole or in part, by the holder of the oil and gas lease, such practice being a central element to oil and gas development.4 Furthermore, the transfers of leasehold are usually executed and delivered by legal instruments ubiquitously titled "assignments," which are filed of record in the same manner as any instrument affecting title to real property.5 Given the history of Oklahoma's oil booms,6 not to mention Oklahoma's current role in the U.S. shale boom, assignments inundate many of the county clerk records where oil and gas exploration is prevalent. Therefore, it is likely that an examination of oil and gas land titles in one of these counties will require the interpretation of assignments.
Don't Space Out - Protecting That Empty Space for Your Next Natural Resource Client
A landman approaches a landowner to request a subsurface easement as part of a damage release for drilling an out-of-section well so an oil company can place a longer lateral during the fracture of the well — a scenario that plays out time and time again in Oklahoma. In this situation, the oil company must have the right to exceed the areas covered by its oil and gas lease.
Rollin' Along the River
A coalition of environmental groups led by the Sierra Club brought an inventive case in a federal district court in the state of Washington under the Federal Water Pollution Control Act, more commonly known as the Clean Water Act. In Sierra Club v. BNSF Railway Co.,1 the plaintiffs alleged that BNSF was and is illegally discharging coal, coal dust and coal byproducts into waters of the United States from the trains carrying coal produced from the mines of the Powder River Basin in Wyoming and Montana, through the state of Washington to export terminals in Canada and coal-fired power plants and other facilities in the region. Plaintiffs based their allegations on the alleged fact that "each and every coal train and each and every rail car carrying coal discharges coal pollutants to waters of the United States when traveling adjacent to, over, and in proximity to the waters of the United States."2