Annual Meeting | Chief
Hoskin
A
dvocates for
C
ollaboration
in Annual Luncheon Keynote Address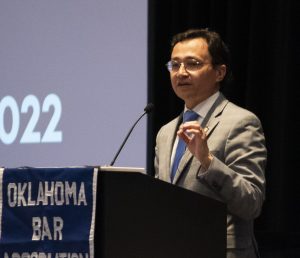 "Wado, Mr. President," Cherokee Nation Principal Chief Chuck Hoskin Jr. said as he took the podium at the Annual Luncheon during the 118th OBA Annual Meeting. Chief Hoskin was the keynote speaker during the meeting held Nov. 2-4 at the Oklahoma City Convention Center.  
During his speech, Hoskin gave a brief history of how the Cherokee Nation established a centralized government, discussed what comes next after the McGirt decision and how Oklahoma can rely on its 39 built-in partners to work together in pushing Oklahoma forward. 
"There is a saying," Hoskin said. "Cherokee people have existed through time immemorial." As he touched on the history of the Cherokee Nation, Hoskin stressed hope, survival and unity. He described the Cherokee as people of great determination. 
"In the early 19th century, due to the changing landscape and pressure on our resources, we changed the way we governed ourselves," he continued. "We established a centralized government, established a government based on rule of law. We leaned into diplomacy and intellect." 
However, Hoskin explained, the key to survival is to build bridges with neighbors – working with state and local leaders for a strong and prosperous future. 
And now, with the changing legal landscape, specifically after the McGirt decision, Hoskin described what the Cherokee Nation has already been doing in terms of how to govern.  
"There may be some uncertainty," he continued. "What does the future hold in terms of taxation? Jurisdiction?" 
Hoskin believes wholeheartedly that Oklahoma's future is in collaboration. He began to elaborate on ways the Cherokee Nation currently collaborates with local municipalities on issues regarding jurisdiction. 
"We are not falling short," he continued. "The Cherokee Nation is putting millions into the justice system. We have cross-deputization agreements in every jurisdiction across the Cherokee Nation. We often have agreements with municipalities. Traffic tickets, for example, the Cherokee Nation shares the revenue – the whole group keeps money in the small town."  
Hoskin ended his address to the more than 200 who were in attendance, championing partnership. 
"Think about our history – how much we've done in this state," he said. "From Oklahoma's favorite son, Will Rogers, to Maria Tallchief, to economic development, thousands of jobs, billions in economic impact, education. There are 39 tribes in Oklahoma – 39 partners. We have always prospered most when we worked together." 
Hoskin, who is an OBA member, has served as Principal Chief of the Cherokee Nation, the largest tribe in the United States with more than 430,000 members, since 2019. 
Originally published in the Oklahoma Bar Journal – OBJ 93 Vol 10 (December 2022)