December 2019 | Starting a Law Practice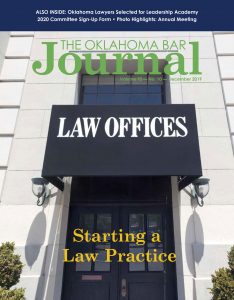 Feature Articles
The Nuts and Bolts of Opening a Law Practice
Opening a new law practice is, at its core, opening a new business. It is an experiment in entrepreneurship. Emotions are definitely involved. This can, and should, be exciting and thrilling.
Trust Accounting Basics
Safeguarding client funds and property is an important duty. Trust account management is simple and yet honest lawyers sometimes find themselves in disciplinary peril because they did not pay appropriate attention to their trust account.
Leveraging Technology
Starting a law practice is a daunting endeavor. Whether straight out of law school or savvy and seasoned, a lawyer's decision to start his or her own law practice will undoubtedly lead to scores of sleepless nights and days without enough hours. Some of the immediate questions will likely include: What is the best entity to form for tax considerations? How much malpractice insurance do I need? Where will I office? Can I afford an office? How much staff support do I need? How much staff support can I afford? What will be my business model, revenue goal and marketing strategy? What in the hell am I doing? Included on the list of initial queries will hopefully be the question: Can I successfully leverage technology to help build, grow and sustain my law practice? For if this question is asked, diligently researched and appropriately applied, any aspiring entrepreneur will undoubtedly conclude the answer to be a resounding "Yes."
Challenges of Practicing Law in Today's World: Technology Tools & Exposure
Much has been written, much has been said regarding the future of the practice of law. My crystal ball is just not good enough to become "that guy" who will add to the prognostications. There are plenty of changes, which are now realities, that we are forced to deal with today.
The 10 Do's and Don'ts of Legal Marketing
Sure, you already know how important it is to keep in touch with people, but studies show that businesses only get one-third of the referrals they should receive simply because they don't stay in touch with their contacts. The key is simple: You need to consistently stay in touch with everyone. It doesn't matter how you do it – email, social media, direct mail or something else – just do it! The lack of staying in touch is the single biggest missed opportunity for law firms.
Confessions of a Small-Town Attorney: A Day in the Life of a Ham and Egger
Establishing a solo law practice in a small town in Oklahoma can be daunting. However, obtaining experience while attending law school, tips on hanging out your shingle and maintaining your daily practice will be beneficial to your professional life.