Law Day Debrief: Continuing the Tradition of Celebrating our Children and Giving Back to Our Communities
By Ed Wunch
Law Day has a long tradition in Oklahoma. When reviewing some old newspapers last year, I found an article by Milt Phillips in the Seminole Producer from April 18, 1948. Hicks Epton and the members of the Seminole County Bar Association presented to the public to educate them about our profession. According to the article, back then, the OBA had about 4,000 active members and at least one staff person. We are quite fortunate to have incredible bar staff now in 2023, but they each probably have just as much on their plates as that one full-time paid secretary from 1948. Hicks Epton went on to serve as OBA president in 1953 and helped found what we now celebrate as Law Day.
After a few years of virtual or local ceremonies because of the pandemic, this year we were again able to celebrate our statewide contest winners in the Supreme Court Ceremonial Courtroom at the state Capitol. OBA President Brian Hermanson, Chief Justice John Kane and I each had the opportunity to speak to the students and families in attendance about Law Day and this year's theme, "Cornerstones of Democracy: Civics, Civility, and Collaboration." I especially enjoyed Chief Justice Kane's remarks where he recounted being sworn in and asking a question about Oklahoma legal history. He spoke to an expert on the subject, who just happened to be the then-current chief justice. It was important for these students to understand that regardless of their path, we all have a role to play in preserving our democracy through participation. We also have the benefit of living in this great state where our leaders are available and approachable.
County bar associations held numerous events across the state. I was fortunate to attend the Seminole County Bar Association Law Day Luncheon with President Hermanson and numerous judges and justices from around the state. The county bar association recognized student contest winners, and we heard from Sharon Hunt about an African-Creek lawyer, James Coody Johnson, from Wewoka in the early 20th century.
ASK A LAWYER
On May 1, volunteers answered questions from the public by phone and email for 12 hours. Volunteers participated in two-hour shifts, but I was pleased to be joined again for the full 12 hours by Dan Crawford and Mark Schwebke at one of the phone banks at the Tulsa County Bar Association. We had more phone lines available than any recent prior year, and it showed. We fielded 1,215 calls across the state, a 22% increase from last year. Speaking from my experience in the room, it was rare if you could finish a call and have a full minute before you received another call. In addition, Katheryn Bell returned as our email coordinator, finding volunteers to help respond to the 471 emails we received. Katheryn has worked behind the scenes for years to help us respond to email questions. The members of the public with whom we spoke and corresponded often replied with gratitude for addressing their needs through this free service. Volunteer attorneys provided direction, connected folks with resources or just helped put people's minds at ease.
As I conclude my fourth year as chair of the Law Day Committee, I want to thank all of you. We are all just temporary stewards of this profession, helping our neighbors and communities with some of the biggest challenges they face. Some may not have the resources to address their needs, but ORPC Rule 6.1 compels us to render pro bono public service as part of our professional responsibilities. In speaking with lawyers across the state concerning Law Day, I know that we take these obligations seriously, as lawyers are quick to volunteer. While we await next year's event, I encourage all of you to seek out pro bono opportunities that fit your schedule. Find more information about volunteer opportunities in your area by visiting the Pro Bono Portal, a project of the Access to Justice Foundation in partnership with the Oklahoma Bar Foundation.[1]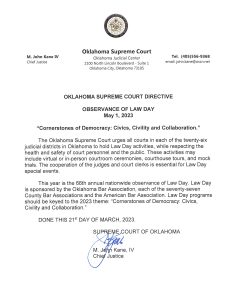 HISTORY OF LAW DAY
In 1951, the late Hicks Epton launched one of the most important public relations programs ever undertaken by the OBA: Know Your Liberties – Know Your Courts Week. This was one of the last weeks of April dedicated to educating the public about the legal system and celebrating the liberties we have as Americans. Learn more about the history of Law Day at https://bit.ly/OKLawDayHistory.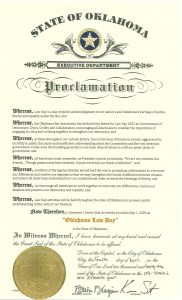 ---
ABOUT THE AUTHOR
Ed Wunch is a staff attorney with Legal Aid Services of Oklahoma Inc. He serves as the OBA's 2023 Law Day Committee chair and is a 2013 graduate of the University of California, Irvine School of Law.
[1] Visit https://okprobono.org.
Originally published in the Oklahoma Bar Journal – OBJ 95 Vol 6 (August 2023)
Statements or opinions expressed in the Oklahoma Bar Journal are those of the authors and do not necessarily reflect those of the Oklahoma Bar Association, its officers, Board of Governors, Board of Editors or staff.